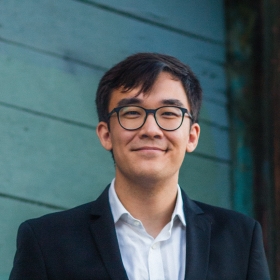 Visiting Assistant Professor, Music
B.M., New England Conservatory; M.M., DMA, University of Southern California
Alexander Zhu is a composer, producer, and arts administrator who teaches Musicianship and serves as the department's Production Manager.
Los Angeles based composer, producer and keyboardist Alexander Zhu is an established film and TV composer whose work has been showcased in film festivals across the US and Europe, and can be heard on Disney+, Netflix and TF1 (France). Equally accomplished as a performer, he has performed solo recitals, concerti and chamber, orchestral, pop, fusion and film music coast to coast in the United States, across Europe and China.
An avid proponent of new music, Dr. Zhu performed on the viral Yeethoven Kanye West/Beethoven mashup concert series, appearing in media outlets such as the USA Today, Washington Post, Los Angeles Times, Huffington Post, Reuters, and Agence France Presse. He is an expert in minimalism, performing the music of Terry Riley, Steve Reich, Philip Glass and John Adams in concert halls, art museums and nightclubs. He has presented lecture-recitals on the performance practice of minimalism; his dissertation focused on pioneering new analytical techniques for the style. 

Alexander serves on the faculties of Occidental College, Pierce College and the Pasadena Conservatory of Music. Prior to his current appointments, he taught at the University of Southern California. He holds a Doctor of Musical Arts degree from the University of Southern California. He earned a Bachelor of Music degree summa cum laude from New England Conservatory, and is the recipient of NEC's Tourjée Alumni Scholarship and USC's Distinguished Graduate Award. His mentors include Stewart Gordon, Ken Foster, Randall Hodgkinson, Stephen Drury, Rita Sloan, Lydia Artymiw, and Corey Hamm.