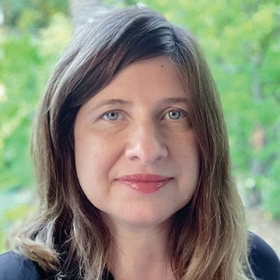 Assistant Professor, Media Arts and Culture
B.F.A., Maryland Institute College of Art; M.F.A., P.h.D., USC School of Cinematic Arts
Hours
Mon./Tues. 12-1pm; Wed. 4-5pm In person or on Zoom
Tasse has over 15 years experience working as an animator, designer, and director in the film industry and media art world.
Amanda Tasse studies aspects of science and data through the lens of cinematic arts practices to research and develop a new interdisciplinary mode for approaching science communication, which she calls poetic science world-building. She uses arts based research methodologies to explore how emergent and generative media can evoke multi-layered knowing through embodied, audio-visual, instinctive, and emotional means that mirror a wider range of human experience beyond the purely intellectual. She designs multi-platform immersive and ambient storytelling experiences for VR/AR, film, animation, apps, and games that foreground mental and environmental health and well-being, cycles of decay and regeneration, spatial awareness, and poetic science.
She works as an art director and animator for documentaries and immersive experiences that have screened at Sundance New Frontiers, the UN, LACMA, British Museum, HBO, and Showtime. Her short films have received a Student Academy Award and nomination, HBO Films Award, Animation Best in Festival designations, and grants from the Sloan Science foundation, Women in Film, and Lionsgate. Her research and scholarship has been presented at Siggraph, ISEA International Symposium on Electronical Art, CHI International Conference on Human- Computer Interaction, the conference for Body Computing, Society for Animation Studies, a forthcoming anthology of Interactive Storytelling from Routledge, and at tech and architectural companies such as Intel, Steelcase, and BMW.