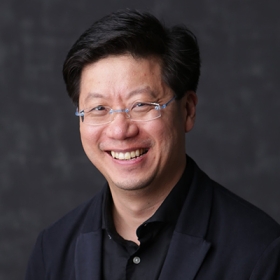 Choi Family Director of Instrumental Music; Resident Professor, Music
B.M., Northwestern University; M.M., University of Michigan at Ann Arbor
Chris Kim is the Choi Family Director of Instrumental Music and conductor of the Occidental Symphony Orchestra.
Read his Oxy Story profile.
Chris came to Occidental from Cornell University, where he directed the Chamber Orchestra and the Symphony Orchestra. The League of American Orchestras/ASCAP has recognized his advocacy of contemporary music by awarding him the Adventurous Programming Award six times between 2008-14. The American Prize has also recognized his work in multiple categories. Chris has premiered over 250 new works for orchestra, and he has sought to program worthy, unknown repertoire with orchestras.
In the 2016-17 season, all concerts by the Cornell Symphony Orchestra featured a work by a woman composer both present and past: Kristin Kuster, Gabriela Lena Frank, Jacqueline Keeyoung Kim, Tonia Ko, Joan Tower, and Lili Boulanger. During the 2017-18 season, jazz-influenced works permeated the repertoire of the Cornell Symphony Orchestra: Duke Ellington, Gunther Schuller, Charlie Parker, and Wynton Marsalis.
Cornell Chamber Orchestras was a featured ensemble at the CODA National Conference in 2012. The Cornell Orchestras have formed multiple collaborative relationships with the Royal Academy of Music in Dublin, Ireland, Conservatorio de Puerto Rico in San Juan, PR, Sinfónica del Neuquén in Argentina and have taken multiple visits to these sister cities. In January 2019, Cornell Orchestras embarked on a tour to Taiwan to collaborate with the Taipei Symphony Orchestra as well as Engagement activities with five different student orchestras across the city of Taipei.

Chris has appeared with orchestras in the United States and abroad, including ensembles such as the Louisiana Philharmonic Orchestra, Delta Festival Ballet, Symphoria, Divertimento Ensemble of Milan, Italy. He has appeared in music festivals such as Kinhaven Music Center, Skaneateles Music Festival, and International Bartók Festival in Szombathely, Hungary among others. Each summer he is a part of the faculty at Cortona Sessions for New Music, where he teaches conducting and helps premiere new works by composers from around the world.