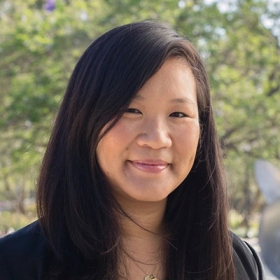 Associate Professor, Economics
B.S. Harvard University; Ph.D. University of California, Berkeley
Hours:
M 2:30-3:00 in person, T 1:00-1:45 via Zoom, W 1:45-3:15 in person, R 2:45-3:30 via Zoom, F 2:00-2:30 in person. All office hours by zoom for the first two weeks of class (1/24/22 - 2/4/22). Zoom Office Hours link https://occidental.zoom.us/j/86524266575
Diana Ngo's research interests are in Applied Microeconomics and Development Economics.
Her current research focuses on measuring living standards in developing countries, evaluating pay-for-performance health systems reform, and examining school choice policies in large urban centers.  She currently teaches courses in Intermediate Micro-Economic Theory, Development Economics, and Health Economics.
Prior to joining Occidental, Ngo earned her Ph.D. and M.S. in Agricultural and Resource Economics from UC Berkeley and her S.B. in Biomedical Engineering from Harvard University. She has also worked as a consultant at the World Bank, a summer associate at the RAND Corporation, and a post-bachelor fellow at the Harvard Initiative for Global Health, where she published in journals such as The British Medical Journal, The Journal of the American Medical Association, and The Lancet.