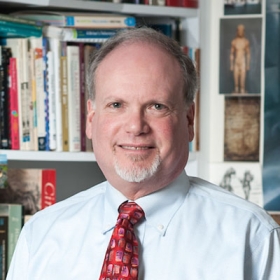 Professor, Art and Art History; Emeritus (1986-2021)
B.A., Dartmouth College; M.A., Syracuse University; Ph.D., New York University
Hours:
Tuesday & Wednesday 4:00-5:00 or appointment
A fellow of the American Academy in Rome, Eric Frank's academic expertise is in Italian Renaissance art.
Educated at Dartmouth College and New York University's Institute of Fine Arts, Eric Frank is a Fellow of the American Academy in Rome and an expert in Italian Renaissance art with a special interest in the history of the classical tradition in Western art, from Greece to the Early Renaissance. A noted scholar, Dr. Frank has served as Chair of the Department of Art and Art History, Chair of the National Test Development Committee for the AP Art History Curriculum, and Chair of the Renaissance Society of Southern California.  He was Dean of the College and Vice President for Academic Affairs from 2005-2010. In August 2016, he was awarded The Linda and Tod White Teaching Prize, which recognizes faculty who are exceptional teachers and mentors.  His current scholarship focuses on Giotto's paintings in the Arena Chapel in Padua. 
Courses
ARTH 170 Introduction to Early European Art
European painting, sculpture, and architecture, from the Prehistoric Aegean to Renaissance Italy. Although the course will proceed chronologically, its goals are to introduce the student to a range of art historical skills and issues, including: stylistic analysis, iconography, the relationship between image and the artist's biography, and the relationship between the image and its historical context. Museum visits required. Not open to seniors.
ARTH 272 Greek and Roman Art
An investigation of the art and architecture of ancient Greece and Rome from the Helladic era (c. 1500 BCE) to the appearance of Christianity in late Roman antiquity. Sculpture, metalwork, mural painting, vase painting, and architecture will be considered, with particular interest in how these forms are reflective of the fundamental political, spiritual, and philosophical developments during this era - as well as how these artistic forms serve as the foundational elements for European Art History.
ARTH 275 Early Christian and Medieval Art
An introduction to the major works and issues of the period through an examination of key moments in Europe and the Mediterranean basin, from c. 300 CE to 1500 CE. A study of the forms, language, and uses of medieval visual culture will be related to the circumstances associated with the demise of the Roman Empire, migrations of Northern European peoples, the increasing power of secular rulers, the development of monasticism, and the theological perspective of the Roman Christian Church. Art and architecture associated with contemporary monotheistic religions (Judaism, Islam) will also be considered.
ARTH 280 Michelangelo
This course is designed as an introduction to the life and work of Michelangelo Buonarroti (1475-1564). We will investigate his painting, sculpture, and architecture, while considering its context within the major urban cultural centers in which he worked: Florence and Rome. The course will proceed chronologically, but will vary from week to week as to relevant themes and methodological approaches to the career of, arguably, the most influential of all Renaissance artists. Among those topics to be explored: development and dissolution of a classical vocabulary, relationships between style and technique, art biography and self promotion, the relationship between Christianity and sexuality for Michelangelo and the Cinquecento, patronage and context in Florence and Rome, the development of classical form, and meaning in the restored Sistine Chapel.
ARTH 283 Renaissance Architecture In Italy
This course examines the development of Italian Renaissance architecture, from about 1300 to about 1550. It will consider buildings in the civic and ecclesiastic context, both sacred and secular. The evolution of this tradition will be studied in relationship to issues of function and structure; contemporary writing; and religious, political, and economic influences.
ARTH 372 Venetian Renaissance Painting
This course examines the development of Venetian painting in the 15th and 16th centuries. Among the artists considered will be Carpaccio, Giovanni Bellini, Titian, Tintoretto, and Paolo Veronese. This course will focus on the unique geographic and historical context of Venice, "the most serene republic" (La Serenissima), and its (WHAT IS "IT") extraordinary influence on the history of European painting.
ARTH 373 Major Figures in the Italian Renaissance
Painting, sculpture, architecture, and urban planning of Michelangelo Buonarroti. This course considers the development of the artist, from his apprenticeship in the shop of Domenico Ghirlandaio, through his late paintings in Rome. All works are considered for their stylistic, iconographic, and social context. Particular attention will be paid to the urban and specific patronage context of each work, which is critical in order to develop a more complete understanding of Michelangelo's art and intellectual development. This course requires travel to Italy during the winter break.
ARTH 374 Art of the Early Italian Renaissance
A survey of the painting, sculpture, and architecture of Italy, from about 1300 to 1500. All major figures, including Giotto, Ghiberti, Donatello, and Botticelli, will be considered. Works will be examined in terms of setting, patronage, and cultural context, in addition to questions of style and meaning.
ARTH 376 Sixteenth Century Italian Art
High Renaissance and Mannerism. Among the artists considered are Leonardo da Vinci, Michelangelo, Titian, and Raphael. Of special consideration is the nature of the Papacy, as a patron of art, and the city of Rome, as a context for artistic activity. The course will also consider the reasons for the dissolution of the classical tradition during this time by artists such as Pontormo, Parmigianino, and Giulio Romano.
ARTH 378 Art of the Northern Renaissance
An examination of the artistic traditions of Northern Europe from c. 1400 to 1600 CE. Points of consideration include significant artistic personalities and individual works, the relationship between patron and image, territorial distinctions, in addition to the connection between Northern and Southern (Italian) visual developments during this period.
ARTH 490 Senior Seminar in Art History
Open only to senior Art & Art History majors with an emphasis in History of Art.