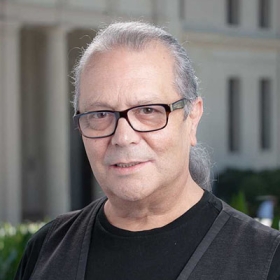 Visiting Senior Instructor, Theater & Performance Studies
Francisco Martinez is Artistic Director of the Francisco Martinez Dancetheatre and a multi-award winning choreographer.
He began his dance studies in Monterrey, Mexico in 1959 in Mexican Folk Dance, Flamenco and Spanish Dance at La Casa de la Cultura. Formal dance training started at the University of Arizona and Texas Christian University with subsequent studies in NYC at the Nikolais/Louis Dance Studio, The Martha Graham Dance School and the Harkness Ballet.
Francisco has taught at CSULA, CSULB, LACHSA and developed the ballet program at Plaza de la Raza in Lincoln Heights where he taught for 15 years. Since 2001, he has been the head of the dance program at Occidental College and is also currently ballet master at Dance Conservatory of Pasadena. He has accumulated an impressive body of work for the concert stage. His works The Colorado, Miniatures and Te Verde received the Lester Horton Dance Award for Outstanding Achievement in Choreography—Long Form in 1999, 2000 and 2006, respectively.
Francisco is a sought-after classroom artist throughout Southern California under the auspices of the Education Division of the Music Center of Los Angeles County. He was invited to join MCED in 1990 and through this agency, Mr. Martinez continues his passion for teaching 3rd grade students improvisation and choreography that mesh with their curriculum.
He founded Francisco Martinez Dancetheatre in 1981.