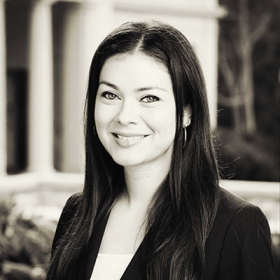 Visiting Assistant Professor, Critical Theory and Social Justice
B.A., Yale University; M.A., Loyola Marymount University; J.D., U.C. Berkeley
Hours
Thurs 5-7pm or by appointment
Marisol León teaches courses related to critical theory, resistance movements, inequity, and the law.
Professor León is a civil rights attorney with the California Department of Justice, where she conducts large-scale civil and criminal investigations and litigates matters related to immigrants' rights, consumer protection, conditions of confinement in jails and immigration detention centers, police practices, and Title IX. She previously conducted research and lived with Brazil's Landless Rural Workers Movement, and worked with Friends of the Earth-Mexico in Chiapas, Mexico, collaborating with social movements organizing against mega-development projects displacing rural communities and undermining indigenous autonomy.
She has published autobiographical pieces, editorials, and research articles in the Los Angeles Times; Windows into My World: Latino Youth Write Their Lives; the Yale Journal of Latin American Studies; the Harvard Journal on Racial & Ethnic Justice; Diálogo, a publication of the Center for Latino Policy Research at DePaul University; and the Inter-American and European Human Rights Journal. Professor León is the recipient of the Paul and Daisy Soros Fellowship for New Americans.