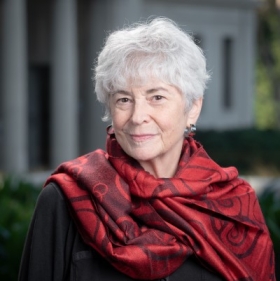 Professor, History; Anita Johnson Wand Professor of Women's Studies
A.B., Harvard University; M.A., Ph.D., University of Chicago
Hours
Mondays, 11:00am-1:00pm in person in my office, Swan 303 and Wednesdays, 3:30-4:30pm by zoom
Nina Gelbart is Professor of History and Anita Johnson Wand Professor of Women's Studies at Oxy. Before joining the History Department, she first started teaching in the Core Program at Oxy in 1975, in the Western Civilization course for first-year students. Her teaching specialties are Early Modern Europe, The Enlightenment, The French Revolution, History in Film, Women's History, and the History of Science and Medicine.
Her newest book, Minerva's French Sisters: Women of Science in Enlightenment France, featuring a mathematician, an astronomer, a field naturalist, a botanist, an anatomist and a chemist, was published by Yale University Press just last year in 2021. She is also the author of Feminine and Opposition Journalism in Old Regime France: Le Journal des Dames (1987), and The King's Midwife: A History and Mystery of Madame du Coudray  (1998). Both of those books won the Sierra Prize and The King's Midwife also won the 1999 Biography Prize from the American Society of Eighteenth Century Studies (ASECS) and a CHOICE Outstanding book award.  She was invited to write the introduction to a new translation of Fontenelle's popular 17th century classic, Conversations on the Plurality of Worlds, and has published articles and book reviews in numerous scholarly journals. Her current research concerns a famous murder during the French Revolution, the killing of the deputy and journalist Jean-Paul Marat in his bathtub by an unknown young woman from Normandy, Charlotte Corday, the dramatic consequences of that act for France's politics, and the numerous and varied depictions of this fateful encounter by artists across the centuries.
Gelbart received her B.A. from Harvard in 1968 and her Ph.D. from the University of Chicago in 1974. Her research has been supported by year-long grants and fellowships from the National Science Foundation, the National Institutes of Health, the National Endowment for the Humanities, the American Council of Learned Societies, and most recently by the Guggenheim Foundation.