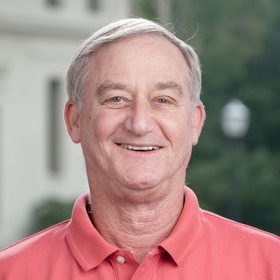 Elbridge Amos Stuart Professor of Economics, Emeritus (1978-2019)
B.A., Pomona College; A.M., Ph.D., Harvard University
Robby Moore's research interests include the economics of higher education, taxes, various issues in personnel economics, and the scholarship of teaching and learning.
Moore joined the Occidental faculty in 1978. Prior to that he was an assistant professor of economics at Harvard, where he was in charge of the introductory economics course.
At Oxy, he taught a variety of courses including introductory economics, intermediate microeconomic theory, public sector economics (public finance/expenditure analysis), freshman writing seminar, and the Economics of Human Resources Management (personnel economics).
Moore conducted teaching workshops at colleges and universities throughout the country, and is the current director of Oxy's Center for Teaching Excellence. In addition to authoring four textbooks, he published numerous articles in such journals as the Quarterly Journal of Economics, the American Economic Review, the Review of Economics and Statistics, Economic Inquiry, the National Tax Journal, and the Journal of Economic Education. His current research deals with the financing (and appropriate taxation) of investments in a college education as well as the effect of group composition on student learning in introductory economics. Moore received Occidental's Graham L. Sterling Memorial Award and the Io Triumphe Award.