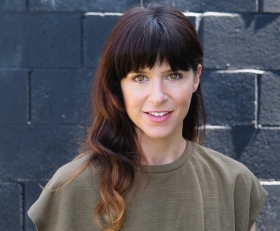 Associate Professor, Theater & Performance Studies
B.A., Wesleyan University; M.A., Ph.D., New York University; Post-doctorate Fellow, Occidental College
Department Chair, Theater & Performance Studies
Sarah Kozinn teaches acting, literature and directs various productions.
Sarah Kozinn is a Theater and Performance Studies scholar and a performer who has trained in western and non-western acting and experimental theater methods such as Balinese mask and shadow puppetry, biomechanics, RasaBoxes, and improv comedy. She received her MA and Ph.D. in Performance Studies from New York University, and her dissertation won the Brooks McNamara Memorial Award. She was also the recipient of the NYU Performance Studies Award and the Paula Goddard Award in performance scholarship.
Sarah taught for several years in the Department of Drama at NYU's Tisch School of the Arts and at the New York Film Academy before coming to Occidental College. She maintains a professional career as an actor, writer, and director in film, theater, and television, and a few of her most recent performances include the documentary play Shout! about the experiences of LGBTQ+ service members serving under "Don't Ask Don't Tell" (Summer 2021) and the Amazon series Undone. She recently authored the play Homosexual Conduct about the 2003 US Supreme Court case Lawrence v. Texas, and she was the 2020 recipient of the Graves Award in the Humanities. Her upcoming article "Theater's On-Screen Persona" will be published in the Fall issue of TDR. Sarah is the author of the book Justice Performed: Courtroom TV Shows and the Theaters of Popular Law, which was published by Bloomsbury Methuen Drama.