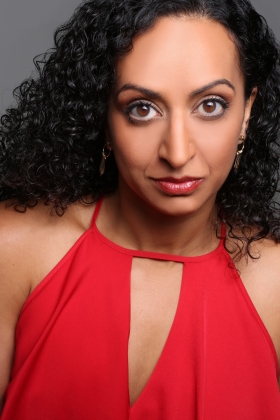 Visiting Instructor, Theater and Performance Studies
B>A, University of Southern California
Actress, Dancer, Choreographer
An internationally recognized artist, Shivani's specialties include Bharata Natyam (Indian classical), Bollywood, Tap, Jazz, and Ballet. Balancing a commitment to artistry and commercial dance, Shivani choreographs with an eye to creating quality work that was constantly unique and at the forefront of the field. She is the Founder & Artistic Director of MKM Bollystars Dance Company.
Shivani has performed in India, Japan, USA, and Canada, including prestigious tours where she has performed as both lead and soloist. Credits include TV/Film work for Disney, CW, Fox, Nickelodeon, Omni Television (Canada), Intel, and UTV Motion Pictures (India). She has presented work at numerous dance festivals including IAAC's Erasing Borders: Festival of Indian Dance (New York, NY), Battery Dance Company's Downtown Dance Days (New York, NY), DC Dance Festival at Dance Place (Washington, DC), Indian Film Festival Los Angeles (IFFLA 2013, 2014, 2015), USC's Visions and Voices (Los Angeles, CA), the SoCal Dance Invitational, San Pedro Dance Festival, Mix Match Dance Festival (Los Angeles, CA), Pasadena Dance Festival, Club Jete (Los Angeles, CA), Feats Festival of Dance (Edmonton, AB), multiple performances in the Chennai Dance Season (India), and at museums including Smithsonian, LACMA, Skirball Cultural Center, Glenbow Museum (Calgary, AB).  Her tours have included lead performances with Bellydance Superstars, Bellytwins Dance Company, and the National Canada tour of her original work Dvaya: A Confluence of Male Female Spirits. She is also currently a principal dancer with Ovation
Award Winning company Navarasa Dance Theatre under the direction of Aparna Sindhoor. Shivani has been engaged on various choreography projects which have included work for Girish Karnad's Naga Mandala (University of Southern California), A Dream Play (University of Southern California), Mary Zimmerman's Metamorphosis (Occidental College), Rise and Shine (Anil Kumar Bharadwaj Solo Show), Dance Montage (University of Calgary), and numerous dance companies across the US, Canada, and India. Most recently, her dance company, MKM Bollystars, has been in residency at A Noise Within Theatre as part of their Noise Now program, in which they have been engaged in a variety of programming in both live and streaming formats.
She is currently a faculty member at American Musical and Dramatic Academy (AMDA) Los Angeles and Occidental College. As a teacher, Shivani has had the opportunity to work with studios and companies across the USA, Canada, New Zealand, & India. She enjoys working with all ages, and is currently obtaining her child development credentials through UCLA Extensions to further enhance her work with children. She is a recognized artist listed with the LA County Arts Commission for their Arts for All in school programming. Shivani has developed and successfully presented children's shows for the Skirball center, presented her dance company in LA Philharmonic's Summer Sounds program at the Hollywood Bowl, and for presented original work at 24 th Street Theatre. Shivani has also been engaged to choreograph the production Bucket for Blessings for the Theatre for the Very Young program at Alliance Theatre, Atlanta. Shivani is a teaching artist with Will Geer
Theatricum Botanicum. She has been an artist in Residence for spring and fall of 2021 at California Creative Learning Academy.
In addition to dance, Shivani has trained extensively in theatre. She holds a BA cum laude in Theatre (minor tv/film production) from University of Southern California, has classical training from Will Geer Theatricum Botanicum, Viewpoints/Scene Study/ Improv with Steppenwolf Theatre, and Foundational technique under the tutelage of Howard Fine. Credits include assistant director on the production of Anna Christie (Odyssey Theatre), directed by Kim Rubenstein and starring Jeff Perry, Kevin McKidd, and Zoe Perry; the West Coast premiere of Omnium Gatherum (Theatricum Botanicum), Antony and Cleopatra (Theatricum Botanicum), A Midsummer Night's Dream (Blue Sphere Alliance), Raincoat (Blue Sphere Alliance), Cinders (Blue Sphere Alliance). Most recently Shivani acted as Belinda in the Motion Picture Institute Independent Short "Melons" and is currently engaged as both an actor and choreographer on the Feature Film "Four Samosas" directed by Ravi Kapoor.