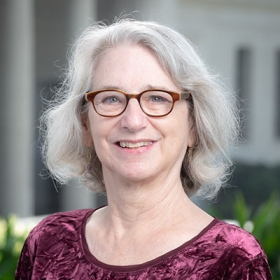 Professor, Theater & Performance Studies, Emerita (1985-2022)
B.A., M.F.A., University of Michigan
Department Chair, Theater & Performance Studies
Hours
W 9:15am-10:45am & Th 3pm-4:30pm
Susan Gratch designs scenery and lighting for many Occidental productions, and for theaters large and small throughout the Los Angeles area and beyond.
Susan's award winning designs, beginning with her work for Occidental Summer Theater Festival, are familiar to Los Angeles area audiences where she has had the privilege and inspiration to collaborate with directors who discover insightful ways to reimagine classics and who create bold presentations of new work.  Recently, Susan designed scenery for two productions of David Ives' adaptation of The Liar, the first in November 2014, directed by Edgerton Guest Director M. Graham Smith for the Occidental Theater Department and the second in May 2015, directed by Dámaso Rodriguez for Artists Repertory Theatre in Portland, OR.
Other designs have included scenery Dan LeFranc's The Big Meal at Artists Repertory; The Doctor's Dilemma at A Noise Within; puppet design (Ovation Honors Award) for The Children and scenery for God Save Gertrude (Ovation Nomination for Scenic Design, Smaller Theater) at The Theatre@ Boston Court; and scenery for Breadcrumbs and scenery and puppets for The Winter's Tale for Theater 150 in Ojai, CA. Other projects: The Theatre@Boston Court (Othello, Bleed Rail, Winchester House, Mother Courage, Cold Tender); A Noise Within (Ghosts, Arms and the Man); The Colony Studio Theatre (The Thousandth Night, Indoor/Outdoor, The Man Who Came To Dinner, Putting It Together, Heartbreak House, Could I Have This Dance?); The Geffen Playhouse (War Music); 24th Street Theatre (Kate Crackernuts); International City Theatre (Visiting Mr. Green, Amy's View, The Servant to Two Masters, Swinging on a Star); Los Angeles Theater Center (War Music, Ian McKellen's A Knight Out in Los Angeles); and Bottom's Dream Theatre Company (premiere's of Eric Ehn's Fire Flow, Choke Cherry, Ruth Margraff's Elektra Fugues and Mac Wellman's The Lesser Magoo). 
Susan's non-theatrical projects include: Spirit of Liberty Awards presented by People for the American Way; Achievement Awards presented by the Fulfillment Fund; and pageant puppet design development and execution for the 1996 Atlanta Centennial Olympics Closing Ceremonies and the 2002 Salt Lake Winter Olympic Opening and Closing Ceremonies.
In her position as Professor and head of design in the Theater Department at Occidental College, Susan finds great satisfaction in sharing her professional experience with her students both in the classroom and in the production program at Oxy.