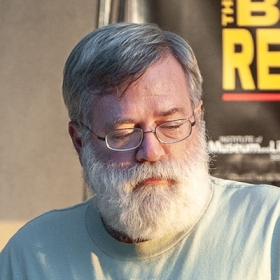 Associate Professor, Writing & Rhetoric
B.A., Pitzer College; M.A., Ph.D., UCLA
Hours:
MW 1:30-2:30; T 3:30-4:30
Thomas Burkdall has published articles and presented papers on James Joyce and film.
In addition to essay-writing courses, he has taught American Fiction and Film and Visions of Utopia in the cultural studies program. He is editing an anthology of popular culture readings for use in writing courses. Along with cinema, British and Irish modernism, and popular culture, Burkdall has been investigating the effect of computers and the Internet on rhetoric and writing.