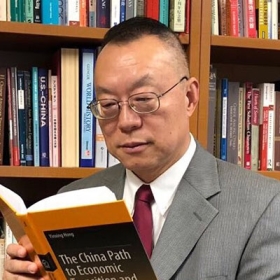 Professor, American Studies
B.A., Nanjing University; M.A., Ph.D., Harvard University
Hours:
Monday 2:00 - 3:30pm or by appointment.
Xiao-huang Yin specializes in Asian American studies, U.S.-Asia relations, and modern China.
Xiao-huang Yin is Professor of East Asian Studies and Special Adviser to the President on Chinese Initiative. He is on leave in fall 2018 to serve as Dean of School of Foreign Studies at Northwestern Polytechnic University in Xi'an, China. He also served as a Fulbright Distinguished Chair Professor in China and Founding Director of Global Studies in the Arts & Humanities at Michigan State University. Specializing in Chinese American transnationalism, U.S.-China relations and modern China, he is the author of Chinese American Literature since the 1850s (Illinois), co-editor of The Expanding Roles of Chinese Americans in U.S.-China Relations (M.E. Sharpe), and translator of The China Path to Economic Transition and Development (Springer). He is also a contributor to New Americans: Immigration to the United States since the 1960s (Harvard), The Oxford Encyclopedia of American Social History (Oxford), What's New about the New Immigration to the US (Macmillan), The Blackwell Companion to American Immigration (Blackwell), Chinese American Transnationalism (Temple), Diaspora Philanthropy and Equitable Development: Perspectives on China and India (Harvard), American Babel: Essays on Language, Immigration and Translation (Harvard), The Outlook of U.S.-China Relations (Hong Kong), and Multilingual America: Transnationalism, Ethnicity, and the Languages of American Literature (NYU) and many other books as well as journals/magazines such as American Quarterly, American Studies, American Periodicals, Arizona Quarterly, Journal of American-East Asian Relations, Pacific Affairs, Atlantic Monthly, etc. In addition, he has published extensively in Chinese, including An Anthology of Global and Transnational Studies (co-edited, Nanjing University Press, 2014).