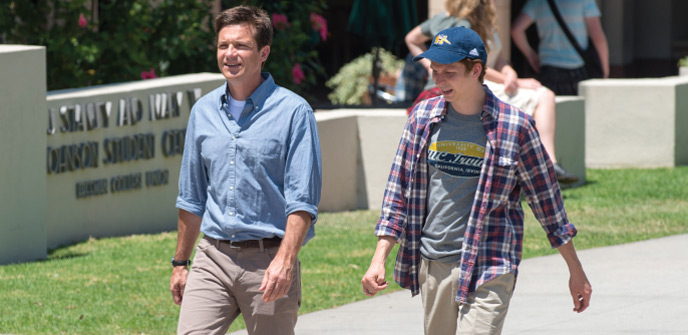 In a banner year for TV and film production at Oxy—including "NCIS," "Private Practice," and "CSI"—"Arrested Development" sneaks onto campus as the Bluth family saga springs back to life
Those plain yellow placards that denote location filming in Los Angeles are typically cryptic in their shorthand, all the better to keep curiosity seekers at bay. So when it was announced that a production called "The Next" was doing a couple of days' filming at Occidental in August, nary an eyebrow was raised.
But when the Bluth Company stair car was parked on campus—above the softball field and behind the library—social media was quick to spread the word: "Arrested Development" was coming to Oxy.
The most eagerly anticipated revival since "Family Guy" came back from the dead, "Arrested Development" is (in the opinion of this writer) the greatest sitcom of the 21st century, and one of the best sitcoms of all time. Intricately plotted, deftly written, and impeccably performed by a comic ensemble led by the ever-deadpan Jason Bateman, "Arrested Development" bounced around the Fox schedule for three seasons before being banished to prime-time purgatory, with the last four episodes burned off on Feb. 10, 2006 —opening night of the Winter Olympics.
Thanks largely to DVDs (with an assist by cable channels G4 and IFC), the Emmy-winning comedy found a new audience after death—fueling countless rumors that the cast would reunite for a big-screen continuation of the Bluth family saga. But the announcement last year that the show was returning, its cast intact, for a 10-episode revival, to be streamed next year via Netflix, was beyond the wildest dreams of most.
So what can we tell you about the return of "Arrested Development," which filmed snippets for three different episodes at Oxy? George Michael (Michael Cera) has grown (and shaved) a mustache, enrolls at a UC Irvine branch in Spain, and watches haplessly as a buddy dings the company stair car on the underside of a UCI underpass. He also applies for a job at Google (shot inside Oxy's Center for Digital Learning + Research). As for the rest, you can Google it for yourself. Or just study the accompanying images, and draw your own conclusions.
(Note to Ron Howard: We're all ears.)