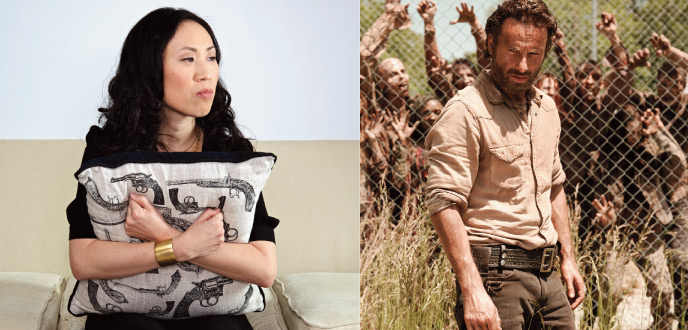 Having survived her share of video corpses, Angela Kang '98 finds her footing as a writer/producer on TV's hottest series, AMC's "The Walking Dead"
By George McIntire '11
In an alternative universe, Angela Kang '98 is conducting research somewhere in a remote area of the Pacific Ocean, investigating the effect of climate change on the migratory patterns of the yellowtail grunt fish. In the here-and-now, however, she's a writer/producer for television's hottest show, AMC's post-apocalyptic zombie thriller "The Walking Dead."
Based on the popular comic book by Robert Kirkman, "The Walking Dead" has rewritten the record books for a basic cable series, scaling new heights with each passing season as the body count grows ever higher. Not only is the series a critical success—each of its first three seasons has a rating of 80 percent or better on the Metacritic aggregator website—but "The Walking Dead" continues to attract more and more eyeballs to AMC (including a gargantuan 16.1 million viewers for the fourth-season premiere October 13, up 30 percent in the 18-49 demographic from the Season 3 finale last March).
How hot is "The Walking Dead?" So hot that Kang is working 16-hour days in the unforgiving heat and humidity of the Deep South (she is mum on her exact location—somewhere in the suburbs outside of Atlanta—because of the zombie-like stalkers who have followed both cast members and writers). Talking prior to the Season 4 opener, she is equally tight-lipped with any clues about storylines, promising only that this season "will have the audience on its toes and will be very different than anything seen before."
For Kang—who joined the series as a story editor in January 2011—the complex plot arcs, dramatic character feuds, and prescient theme of survivalism that she weaves into "The Walking Dead" spring from her rigorous liberal arts education. "It has helped in terms of coming up with story ideas, and it was very helpful that I took a class in Gothic Romanticism," she says. "Having classes that talked about politics in different eras was beneficial to me and was valuable in thinking about the world, people, and characters."
Kang was born and raised in Irvine, a child of immigrant working-class high school-educated parents. ("I did drama and music and painted s*** and always wrote from the time I was a little kid," she said in a Nerdist podcast interview.) She arrived at Oxy with the intention of pursuing marine biology, but quickly pivoted toward theater and English, she says, attributing the switch to a change of heart: "Oxy was where I solidified that love for writing."
Culture and Image, a freshman Core class taught by professors Dan Fineman and Warren Montag (English and comparative literary studies) and Salvador Fernandez (Spanish and French literary studies), made a huge impact on her. One of the assigned readings was a book titled Understanding Comics by Scott McCloud, which Kang describes as "helping me see things visually. It explains how 2-D visual media really works, and that was very influential for me."
If Oxy taught her what and how to write, the USC School of Cinematic Arts taught her how to get her work published and produced. "Film school is only helpful if you already have ideas and things to say and a perspective on the work," says Kang, who graduated with an MFA in writing for screen and television in 2009. "Film school is sort of vocational school. It teaches a certain set of skills, but it doesn't teach you how to think, and it doesn't teach perspective—you have to come with that already in place. My undergraduate education was much more helpful in making me the type of storyteller that I am."
In the nine years that passed between Oxy and USC, Kang juggled numerous day jobs, from a restaurant to a consulting firm to interactive media company Digital Lava. But she spent much of her free time working in theater all over L.A. That included Orphans Theater Company, the Oxy-heavy collective founded by Maurissa Tancharoen Whedon '97 and Marjie Gum Scott '98 (other participants included John Campana '98, Mike Newman '98, Mark Sweeney '98, Aimie Billon '99, Erik Patterson '00, and Laurel Devaney '01).
Drawing on her Korean heritage for inspiration, her biggest stage hit was a 2003 adaptation of several Korean folktales titled When Tigers Smoked Long Pipes. The play, which was both a critical and commercial success at Burbank's Victory Theatre Center, was a collaboration between OTC and Lodestone Theatre Ensemble, an Asian-American group. "A lot of the writing style I learned at Oxy I brought to that play," says Kang, who wrote two one-acts for the College's New Play Festival: Clacking, produced her sophomore year and starring Tancharoen; and Jazzin', which won first place for playwriting in a campuswide literary contest her senior year.
After completing a writers mentoring program at CBS and graduating from USC, Kang landed a job as a staff writer on an NBC sci-fi series titled "Day One." If you don't remember "Day One," you're not alone: The show never made it to air. Undaunted, Kang found another job almost immediately, on an FX series called "Terriers." Kang's first TV credit as a writer was on the series' sixth episode, titled "Ring-a-Ding-Ding," an experience she remembers as "nerve-racking and exciting." Although the series came and went after 13 episodes, "Terriers" found a second life on Netflix, and Kang is often approached by fans who mourn the show's passing.
While working on "Terriers," Kang developed a close professional relationship with executive producer Tim Minear, whose mentorship has been fruitful in her current gig on "The Walking Dead." "She instinctively understood the relationship of character to structure," Minear says. "Being able to turn out a good script can make one a writer. Being able to break a story in the context of a season in a room with other writers makes one a TV writer."
By the time "Terriers" debuted in fall 2010, the show had wrapped production, and Kang had nothing to work on. Her manager encouraged her to write a spec script to shop around town, so she came up with a story about a survivalist militia. On the strength of that script, she got a meeting with "The Walking Dead" executive producer and showrunner Frank Darabont. Within hours of their meeting, she was hired as a writer for the show's second season. (Darabont's sudden departure from the show six months later, midway through the season, "was a huge kerfluffle," Kang said in the Nerdist interview, but the short-staffed writing team powered through.)
Kang has written five episodes that have aired to date, most notably Season 2's "Judge, Jury, Execu­tioner." (Spoiler alert follows for those who are way behind in their viewing.) The episode was a game-changer in the series' narrative arc, as it was the first to dispatch with a major character. Asked how she felt about penning the demise of Dale Horvath, Kang says, "It's hard, because you get emotionally invested in the actors and characters. I really love and admire [actor Jeffrey DeMunn, who played Dale] a lot. It was hard to kill him off, but you have a duty to do it in the best story way that you can."
A number of the actors lucky enough to survive on the show (so far) expressed their admiration for Kang's ability to craft compelling human drama. "I can say that Angela was responsible for building the amazing relationships that my character has had to play out," says Steven Yeun, who plays the scrappy Glenn Rhee. "I think she has a way of capturing such honest, true dialogue and an ability to really fill out and build the world of 'The Walking Dead.'"
Andrew Lincoln, who plays the embattled former Sheriff Rick Grimes, lavishes this piece of poetry on Kang: "Angela's demure and faultlessly polite demeanor belies an anarchist soul and brilliantly subversive wit. As we became better acquainted and her episodes became more frequent, I realized there were untold depths to her talent as well as her macabre sense of humor."
Now that she has her own walker—15-month-old Ethan Charles—to contend with at home, Kang must strike a balance between motherhood and mayhem every day. But if anyone's up to that the task, it's a self-proclaimed geek with a liberal arts degree.
George McIntire '11 of San Francisco wrote "Bright Idea" in the Summer issue.