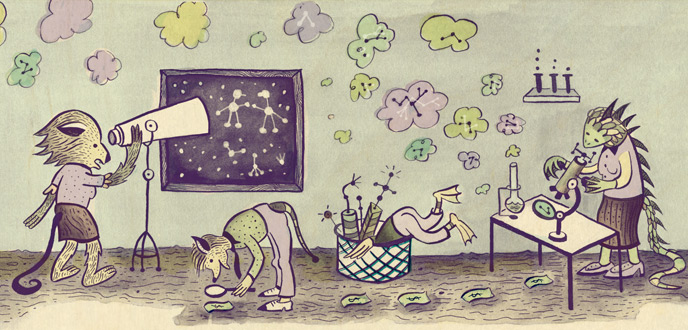 The search for the right profession can take students down many paths. Oxy's Career Development Center is making that task a little easier by expanding its offerings as it prepares to enlarge its campus footprint
Christopher Walken—the 70-year-old Oscar-winning actor whose resume spans everything from The Deer Hunter and Pulp Fiction to multiple stints as a guest host on "Saturday Night Live"—isn't the first name to come to mind when you think about career development. Yet his mug has been splashed on flyers across campus for the last few months now (unauthorized, mind you) in a tongue-in-cheek promo for Oxy's Career Development Center. The accompanying tagline: "Stop On By, Walkens Accepted."
That playful approach runs counter to the preconceived notion that career development is a process that is daunting to some or just plain serious. But through a combination of social media, targeted programming, new resources, and a higher campus profile, career development is becoming an increasingly integral—and accessible—part of the Oxy experience. "The beauty of a liberal arts education is that students are freed up so that they have time to explore," says Valerie Savior '85, CDC director and a 14-year veteran of the office. "Career development is part of that process." 
President Jonathan Veitch has expressed his commitment to bolstering the College's career development efforts, and the fruits of that labor—expanding the staff as well as corralling two significant gifts—have aided the CDC in expanding its reach. In the 2012-2013 academic year, 50.2 percent of Oxy's 2,117-student population utilized career services. The center hosted 132 programs in the 2012-2013 academic year, up 32 percent from the previous year, and student attendance rose 59 percent over the same period. Counseling appointments jumped nearly 25 percent, and Walkens—or rather, walk-ins—have more than tripled over the last two years.
Courtney Stricklin '03, who joined the CDC last fall as assistant director for employer relations, recently surveyed graduates of the classes of 2012 and 2008 to see how they were doing one year and five years, respectively, since their graduation from Oxy. Of the 39 percent of all 2012 graduates who responded, 73 percent were employed; 30 percent were enrolled in graduate school; 1 percent were serving in the military; 2 percent were not seeking employment for personal reasons; and only 5 percent were unemployed. (A number of respondents selected multiple answers, such as working and going to graduate school.) The results were strikingly similar for the Class of '08, 73 percent of whom have earned, or will earn, a graduate degree. "My years at Oxy were some of the best, most formative years of my life," one '08 alum wrote. "I'd do it all over again given the chance."
To foster future generations of job-seekers, the CDC is moving away from delivery of services as a "smorgasbord," as Savior puts it, in favor of a strategic plan that touches students intentionally every class year. Rita Soultanian, assistant director for career counseling, offers students their first exposure to the office through Oxy's First Year Residential Education (FYRE) program, which includes a week devoted to career.
A Sophomore Success Program provides individual counseling services to second-year students. Sophomores are also the focus of Walk In My Shoes Away, which last January placed 20 undergrads in one- or two-day job-shadowing programs in six cities nationwide ("Shadow Diplomacy," Spring 2013).
The capstone of the junior year is Oxy's summer internship program in Los Angeles and Portland, Ore. InternLA and InternPDX evolved out of the CDC's Community Arts and Public Service (CAPS) program, which ran for seven years. Thanks to an endowed gift from trustee Joan Payden (founder, president, and CEO of Payden & Rygel, a leading global investment management firm), the College is able to fully fund 40 hours a week for the core group of students selected for InternLA, most of whom gain meaningful work experience across six occupational sectors through the 10-week employment period.
In addition, an endowed gift to Oxy from the J.M. Kaplan Fund recently created the Richard Cornuelle Fellowship Program. InternLA participants Lillian Krovoza '15, an urban and environmental policy major, and Emma Lalley '14, a diplomacy and world affairs major, divided their summer between doing rigorous research and working at Community Partners, which shepherds civic improvement projects in Southern California.
In rolling out the InternLA program, "We started in our backyard, approaching alumni employers, friends of the College, or partners who had retained talent before," Savior says. "Ultimately, we'll expand past that group and ask for suggestions from faculty to build that concentric circle outward."
This past summer, 22 students participated in L.A.-based internships, while another eight worked in Portland. "Our current plan is to get L.A. up to about 40 sites," Savior says. "L.A. will always be our flagship program, because it allows us to deliver our Impact program on Friday mornings, where we teach them career pedagogy—everything from discerning their skills to networking to how to do an informational interview. It's basically a peer symposium where they talk about what they're learning."
Two years into the Portland initiative, the CDC has established both pre-program training and a midsummer leadership program in lieu of a weekly program, with positive feedback. "I think we're in a place where we have fine-tuned how we can deliver career education in an away model," says Savior, "and we will ultimately replicate that in our other five ­target cities"—Chicago, New York City, San Francisco, Seattle, and Washington, D.C.
In the hope of increasing student traffic, the CDC opened a satellite Career Corner in the newly renovated Rose Hills Foundation Student Activities Center this fall. In the not-too-distant future, undergrads will have an even more inviting space to ponder their postgraduate opportunities: Pending completion of a $1.5-million fundraising effort, work will commence in 2014 on expanding the CDC's space in the Arthur G. Coons Administrative Center to provide a modern and centralized home for career discernment, pre-law and pre-health advising, and fellowship and national awards advising. Plans include a seminar room, a networking patio, and a central room for student engagement. But what excites Savior most is the increased visibility the new center will bring. And that's the kind of street cred flyers can't buy.