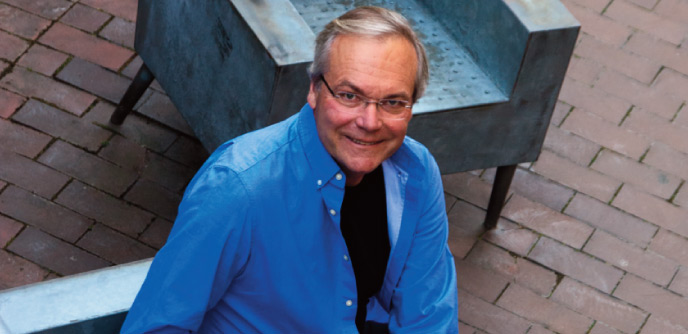 Richard Andrews '71 connects visionary artists such as James Turrell—a Pomona graduate—with the means to make transformative art a reality
Few places speak to the transformative power of art like the extinct volcanic cinder cone rising from the quiet of the Colorado Plateau. Some 40 miles southwest of Flagstaff, Ariz., James Turrell's Roden Crater project casts an unblinking eye to the cosmos. But this is no ordinary art installation.
Thirty-seven years in the making and one-third finished, Roden Crater promises viewers an experience that fuses art, engineering, and astronomy in a way no artist has accomplished to date. When completed, Turrell's creation will encompass a series of 20 spaces in which celestial events can be observed—including sunrise and sunset, or lunar standstills (when the range of the declination of the moon reaches a maximum) that occur every 18.6 years. While some artists use paint and clay, Turrell relies on light, most of it from the sun, moon, or stars, to alter and in all likelihood confound the bounds of human perception.
Turrell, a 1965 graduate of Pomona, has not set a completion date for his work in progress—it's hoped the public can visit part of the project in the years ahead—but building Roden Crater is also a primary goal for Richard Andrews '71, who's working to make Turrell's "naked-eye observatory" a reality. As president of the nonprofit Sky­stone Foundation, he is both booster and chief fundraiser for a project The New York Times wrote will "stand in a class of its own."
"It's a point at which we, as humans living on the skin of the Earth, can reconnect or connect to this sort of colossal infinity that surrounds us," says Andrews, who regularly travels to northern Arizona from his Seattle home. "It's a place people will come to and recognize, in some ways, their fundamental connection to the great world outside us—the realm that our Earth is passing through—in a much more direct way than they can in the city."
For Andrews, good art—lasting, transformative art—is about the art of the possible as much as it is the finished product. He's spent his career advocating on behalf of artists and public art as director of the Henry Art Gallery at the University of Washington, and as director of the Visual Arts Program at the National Endowment for the Arts. And those who know Andrews best say Roden Crater, despite its massive scale and scope, is a challenge for which he's well-suited.
"The people around Turrell need somebody who can keep the ball moving forward and think strategically about what's going to come next," says Stephen Rountree '71, president and CEO of the Music Center in Los Angeles, and Andrews' freshman roommate in Bell-Young. "As much as they're fascinated by being around an artist like James Turrell, donors need somebody they can trust in to do the blocking and tackling and get things done. Dick is exactly that kind of person. His artistic sensibilities mix in with this calm, organized, common-sense kind of guy."
Despite his career path, the arts were never a preordained course for Andrews. A descendant on his mother's side of Harrison Gray Otis, the onetime owner of the Los Angeles Times, Andrews grew up in San Marino and enrolled at Oxy for its size and location. He started as a math major, but after taking a summer art class at Long Beach State, he switched his major to art to indulge his latent interest in theater and stage design. Andrews took a job as assistant stage manager at Thorne Hall, where he worked in the projection booth.
He took courses in philosophy and ethics at Occidental ("Those things broadened my world so incredibly, and made me less daunted to look at subjects that I'm not familiar with"), but also art classes from George Baker '58, Robert Hansen, and Connie Perkins. Andrews found his own artistic voice in sculpture while at the College, even helping Baker—known for his large sculpture installations, including the Lucille Y. Gilman Memorial Fountain (Water Forms II) near the Campus Road entrance to Oxy—with a pair of projects in Nebraska and Germany. "This was a challenging and completely new world for me," Andrews says.
But Baker made an impression in other ways on his protégé. Visiting his home in Altadena, Andrews noticed a clash of art objects he'd never experienced—much as public art represents a broad swath of human expression. "Whether it was something from Indonesia or Africa or contemporary art, it was all brought into his home and seemed normal," Andrews says. "For me, that was really a revelation, that the source of inspiration could come from so many places."
Andrews' future in the arts, however, was far from certain as the Vietnam War raged half a world away. With graduation approaching, so did the prospect of being drafted once his deferment expired. Two years earlier, Andrews, a conscientious objector, drove Rountree and other classmates to San Francisco, where the Oxy contingent took part in an anti-war march.
"I think Dick had a Westinghouse electrical repair van with no windows and probably no seats," recalls Rountree, who was executive director and vice president of the Getty Center for 22 years. "A whole bunch of us crammed into this van, slept the night in Berkeley, and then went to see Crosby, Stills, Nash & Young in San Francisco. We shared things politically and in terms of student activism."
Andrews successfully lobbied the draft board for an exemption. In exchange, he had to find work within 30 days or be placed for two years in a job of the government's choosing. He took a job as a house parent for the Seattle Children's Home Society for troubled boys. He went on to earn bachelor's and master's degrees in fine arts from the University of Washington.
Following him to Seattle was his girlfriend and future wife, Colleen Chartier '74, who met Andrews at Oxy's Art Barn (today's Samuelson Pavilion). There, Andrews was working on a plaster model for a sculpture, while Chartier and friends were engaged in their own brand of creative expression: stretching the neck of a bottle with a welding torch. Andrews—the only other person in the building—quickly noticed the perils of their ways and intervened.
"He basically saved us from hurting ourselves," says Chartier, a photographer and co-owner of Art on File, a business that photographs contemporary architecture around the world. She stuck around the Art Barn to talk to her protector, and the pair soon went on their first date: a Richard and Mimi Fariña concert. "On top of being attracted to him instantly, there were a lot of things we were both curious about," says Chartier, art being among them. "And, of course, he was handsome."
Over the years, Andrews turned away from his own work as a sculptor in the face of career demands and a desire to help other artists bring their artistic visions to reality, often in public spaces. At the NEA from 1984 to 1987, he administered $6 million in fellowships and grants, much of which aided in the creation of public art. Such creations aren't only free for the viewing, Andrews says, but they're also meant to edify the public. "Art is intended to be uplifting, interesting, and transformative of the public realm, which can get pretty hardcore—either highly corporate or antithetical to the soul."
As humankind crams itself into smaller and smaller spaces, public art, like parks, is an important outlet, Andrews adds: "Art is another aspect of what we can do to represent the fundamental creative ability of mankind and is hopefully both optimistic—because it's about creativity and not destruction—but also enlightening, enriching, and raises questions."
For now, Andrews is throwing himself headlong into Roden Crater, raising money for a project that, when the global recession struck in 2008, saw "the bottom fall out," he says. "What we ended up focusing on over the last four years, which in the end was a very good thing, is the completion of all of the design."
These days, Andrews is back in fundraising mode—an art he knows well. As head of the Henry Art Gallery from 1987 to 2008, Andrews spearheaded a $24-million campaign to renovate the facility and add 37,000 square feet of gallery space (as well as to commission a Turrell "Skyspace" that's in the Henry's sculpture court). Work on the structure—the Pacific Northwest's leading museum of contemporary art—was done by noted architect Charles Gwathmey, who renovated New York's Guggenheim Museum.
And while the financial climate has improved, Turrell's cachet in the art world is similarly enjoying a spike. Andrews curated exhibitions on Roden Crater this year for the Pace Gallery in New York and the Kayne Griffin Corcoran Gallery in Los Angeles. In addition, Turrell retrospectives are being held this year at the Guggenheim Museum, the Museum of Fine Arts, Houston, and the Los Angeles County Museum of Art, whose exhibit runs through April 6, 2014.
All of this comes two years after Andrews curated a survey exhibition of Turrell's work for the Garage Center for Contemporary Culture in Moscow. Andrews met the artist in 1979, when, as manager of the Seattle Art Com­mission's Art in Public Places program, he and other artists set out to bring more contemporary art to the city. They zeroed in on Turrell, whose work had earlier been exhibited at New York's Whitney Museum of American Art, and Andrews sought donations to make it happen. The group secured a dilapidated building in Seattle's Pioneer Square, where Turrell formed an installation that used light to full artistic effect. Turrell stayed in Andrews' home, and the pair have been friends ever since.
Andrews is highly regarded in the Seattle community, both as an arts administrator and an aficionado. "There's no one more fun to look at art with than Richard, because he brings such varied experience," says longtime friend and Henry board member William True, who owns Western Bridge, a contemporary exhibition space in the city. "Fundamentally, he's looking at art as an artist. His job is to make the artist make the best work they actually can. That means trying to get out of their way and help them at the same time."
It's a mindset Andrews will go lengths to preserve. Even to the bowels of a volcano. "I don't expect to disappear from view altogether," he says. "There are many more interesting things to be done in this life in art."
Freelance writer Andy Faught of Fresno wrote "Civil Servant" in the Spring issue.