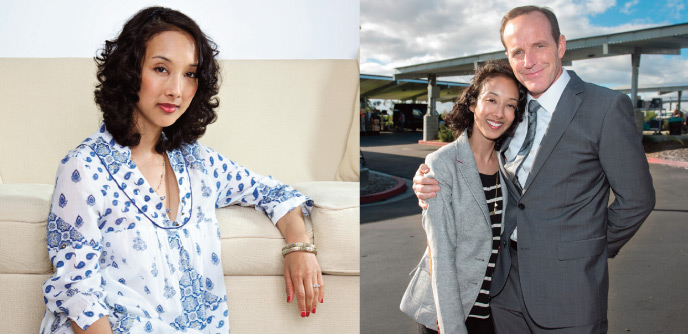 From singing in a Motown girl group to writing banter for Britney Spears, Maurissa Tancharoen Whedon '97 knows the fringes of the pop-culture circuit. With TV's "Agents of S.H.I.E.L.D.," she's now at the center of the Marvel universe
By Dick Anderson
It's the last Monday in October, and with a stealth that Agent Phil Coulson would doubtless approve of, executive producer Maurissa Tancharoen '97 and the crew of "Marvel's Agents of S.H.I.E.L.D." have descended on campus for the series' 10th episode, shooting under a code name to keep spoiler-minded fanboys at a distance. But if the sight of Coulson's red 1962 Corvette in the Quad was not enough to blow their cover, Tancharoen Instagrammed a photo of a production truck parked in front of Keck Theater, with the hashtag #OxyForever.
Actor Clark Gregg—who stars as Agent Coulson and links the series to the entire Marvel universe of films dating back to 2008's Iron Man—remarked to Tancharoen, "You went here? This is like paradise." Through a serendipitous turn of scheduling, what could have been just another location shoot turned into a homecoming for Tancharoen, who majored in English and comparative literary studies and minored in theater. Even though rain would shut down the production on Oxy's soccer field late in the day, "I'm very excited it all worked out," she says.
Less than two months into the start of the new TV season, the landscape is already littered with corpses of half a dozen new series that have been cancelled (RIP, NBC's "Welcome to the Family," which filmed ­portions of its pilot at Oxy last March). Conversely, one of the first shows to earn a full-season renewal was "S.H.I.E.L.D."—the highest-rated new series in the prized 18-to-49 demographic, ABC's most successful drama launch in more than four years, and the linchpin of Marvel's plans to expand its Hulkishly successful movie empire to the small screen. And the springboard for those plans was a deal that ABC and Marvel's corporate parent, Disney, made with Tancharoen's brother-in-law, The Avengers screenwriter and director Joss Whedon. (In 2009 she married her longtime writing partner, Jed Whedon, Joss' younger brother.)
When you're negotiating to make the sequel to the third-highest-grossing film of all time, you have some clout in the business. "When Joss signed on to do The Avengers 2, there was also a deal for him to do a live-action TV show with ABC," Tancharoen says, "and his idea was a series built around Clark Gregg as Agent Coulson"—who seemingly died in The Avengers, but small details be damned. "The world of S.H.I.E.L.D. [the espionage and law-enforcement agency first introduced into the comics in 1965] just lends itself to a procedural drama format," she adds. Once the deal was in place, Joss called his brother and sister-in-law, and said, "I need to make a TV show, and I want you guys to write it with me." On Labor Day weekend last year, Maurissa, Jed, and Joss Whedon got together, and in short order, she says they "had a pretty solid idea" of the cast of characters that populate "S.H.I.E.L.D."
The daughter of Asian immigrants, Tancharoen was practically born into the business. Her father, Tommy, got his first job in Hollywood as a driver for Farrah Fawcett-Majors on "Charlie's Angels" and worked his way up to transportation coordinator on feature films. "J.J. Abrams and Steven Spielberg have him on speed dial," she says. "He's now slumming it on our show, but it's nice to have my dad on set every day."
By the age of 5, Tancharoen was taking dance classes. If there was a musical playing on TV—from The Sound of Music to anything Sondheim—she'd watch it. "It was something I naturally wanted to do," she says. (Brother Kevin, who is eight years her junior, has gone on to a career as a choreographer and director, including 2009's Fame remake and 2011's Glee: The 3D Concert Movie.)
Her first noteworthy role was in Michael Jackson: Moonwalker, a 1988 anthology of short films based on songs from the Bad LP. Tancharoen was cast as "a Chinese boy gangster" in "Badder," a musical parody of Martin Scorsese's "Bad" short. A few years later, she found herself singing and dancing alongside Chaka Khan's daughter, Milini, in a five-girl group named Pretty in Pink. The Motown act toured the country with Jodeci and Boyz II Men and performed on "Arsenio" and "Soul Train" on the strength of its only hit, "All About You," which charted in 1991.
Just before she turned 16, Tancharoen's life changed dramatically. Pretty in Pink disbanded, and she was diagnosed with lupus, an autoimmune disease that attacks healthy tissue within the body. "It started off very mild," she recalls. "I was a kid at Oxy, and I wanted to participate in everything and party with my friends. With lupus you may look fine, but you feel terrible. I would suffer from some pretty bad joint pain and rashes."
Despite a couple of serious flareups over the years—the worst of which sidelined her for most of 2011—"Lupus is just something that's a part of me," she says. "It does not define me, and, if anything, it plays into my work on a show about ordinary people up against extraordinary circumstances."
Even as a student, the disease didn't prevent her from putting her all into Oxy theater. Tancharoen had to climb ropes and scale walls inside Keck Theater in a 1997 play by then-professor of theater Alan Freeman '66 M'67 titled Wall Scaling. "There were times I didn't feel up to it, but we worked around it. Alan was a huge part of my venture into writing for theater," she adds. "I kept a journal growing up, and I wrote in it every day pretty diligently. A lot of my play ideas had spawned from journal entries."
For her contribution to Oxy's New Play Festival as a senior, Tancharoen wrote the one-act Sticks and Stones, which details the relationship between a "super slutty" single mom and the daughter who takes care of her. In the play the daughter ties the mother to a chair, duct-tapes her mouth shut, and tells her everything that she's bottled up inside. ("My poor mom was in the first row," she said in a Nerdist podcast interview.)
Tancharoen continued writing for the stage after graduating, co-founding Orphans Theater Company with Marjie Gum Scott '98. She got her first big break as a writer from Revolution Studios partner Todd Garner '88, who in 2001 bought her pitch for a potential Jackie Chan vehicle about two Asian-American FBI agents who pose as Korean grocery store clerks to infiltrate a gang in South Central L.A. "I actually wrote to him after I saw him on the cover of Occidental Magazine [the Spring 2001 issue]," she says.
On the strength of a "Sex and the City" spec script, Tancharoen landed her first staff writing job on a short-lived Fox sitcom, "Oliver Beene." After cutting her teeth as an assistant on hourlong dramas, this was her first exposure to a half-hour comedy room. "It was a very scary experience," she recalls with a laugh. "I was a newbie, the youngest, the only woman, the only minority."
Around that time, Tancharoen began writing with her future husband, Jed, a collaboration that includes the 2008 online musical Dr. Horrible's Sing-Along Blog, the TV series "Dollhouse" (Fox, 2009) and "Spartacus: Gods of the Arena" (Starz, 2011), and some uncredited work on The Avengers. "I first enlisted Jed's help when I was writing a comedy pilot for Fox," she says, "and we would bounce jokes back and forth." Soon after, brother Kevin was directing Britney Spears' 2004 tour, and he enlisted Maurissa and Jed to write the pop princess' interstitial stage banter—everything from "What's up, Los Angeles?" to jokes about her 55-hour marriage to Jason Alexander.
Unlike the most of the Whedon family's previous collaborations, "S.H.I.E.L.D." has been under the microscope from the get-go. "We immediately feel the history of what the Marvel name means," Tancharoen says. "If we thought about it every day, we'd be curled over in a corner rocking ourselves in our own feces." Instead, they quickly decided, "We'll make a show that we would like."
With a production team that includes veterans of "Angel," "Heroes," and "Smallville," "S.H.I.E.L.D." boasts an experienced staff, up to the grind of episodic TV. But as far as Tancharoen is concerned, Joss and Jed can have the family name to themselves. "There are already enough Whedons in the credits," she says. "And using my own last name makes my mother and father proud."