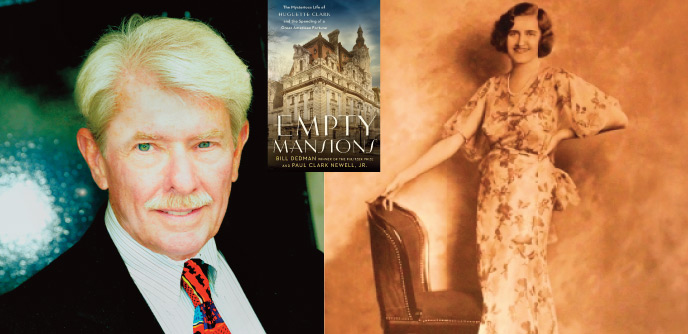 Paul Clark Newell Jr. '58's ties to eccentric heiress Huguette Clark fuel a New York Times best-seller
By Samantha B. Bonar '90
Realtor Paul Clark Newell Jr. '58 was researching a book on his great-uncle—entrepreneur and Montana Sen. W.A. Clark (1839-1925)—when he heard a nosy reporter was asking questions about Clark's daughter and Newell's cousin, Huguette Clark. Bill Dedman of NBC News had "discovered the oddity of Huguette's situation," as Newell euphemistically put it.
An extremely wealthy heiress and eccentric, doll-collecting recluse, Clark had a habit of buying multimillion-dollar properties, furnishing them lavishly with art and antiques, and never occupying them. For the last 20 years of her life (she died in 2011 at 104), she had lived in Beth Israel Medical Center in New York City, even though she had no major health problems. "She had all these marvelous places where she could reside [including the largest condo in Manhattan—15,000 square feet], but she chose instead the privacy and the comfortable emotional experience of being in a cocoon," Newell says. "It's questionable ethically whether they should have allowed her to stay in the hospital, though."
In 2009, while house-hunting in Connecticut, Dedman had come across one of Clark's meticulously maintained empty mansions—uninhabited since Clark purchased it in 1951—and set out to find the story behind it. "One of my cousins called me and told me about him and said, 'I think you oughta meet this guy,'" Newell recalls. The self-described "family historian," Newell told Dedman he'd meet him if he came to Los Angeles, "but I'm not just going to be a source for your book." That meeting went well, so Newell invited the Pulitzer Prize-winning journalist down to his home in Warner Springs and shared some family materials with him.
"We talked about how we might approach the project together, and agreed to co-author a book," says Newell, who was editor of the Occidental Weekly as a political science and psychology major. "As we got further with it, it seemed clear that the real story was Huguette, not her father. … We ended up writing about the family generally, but Huguette is the centerpiece of the story."
The resulting product, Empty Mansions, was published by Random House to rave reviews in September and debuted at No. 4 on the New York Times hardcover nonfiction bestseller list, spending four weeks in the top 15. Now he and Dedman are negotiating the film rights to Huguette's story.
Newell had known of Huguette, his father's first cousin, since he was a child. (Though less celebrated than his compatriots Rockefeller and Carnegie, Huguette's father—a copper and railroad baron who helped found Las Vegas—was at one time wealthier than they, and so was his daughter.) She was a regular in the society pages during her youth and even married briefly. Later in life, she slipped into her own world and stayed there.
Though the two never met, Newell and Clark communicated by mail and phone for years, speaking for the last time in 2004. "We talked five or six times a year—long conversations," he says. "She was an affectionate friend. I had always accommodated Huguette's desire for privacy, so I had never spoken much about my years of conversations with her."
When it was finally settled in October after two years of litigation, the bulk of Clark's estate went to the city of Santa Barbara in the form of her 24-acre estate with its mansion Bellosguardo, which had stood empty for 60 years. The property—"beautifully and expensively furnished," according to Newell—was valued at $150 million. It will be made available to the public. "There were some winners and some losers in there. Whether it's been an equitable settlement, who can say," says Newell, who did not receive anything from his late cousin.
"Even as a child she was kind of a loner, a shrinking violet," he says. "But she was very intelligent, very capable of meaningful conversations with people. It may be that she had difficulty with people she didn't know."
If there's one stereotype that the authors roundly dismiss, it's that of Huguette as the "poor little rich girl." In the pages of Empty Mansions, they instead invoke To Kill a Mockingbird, calling their subject "a modern-day 'Boo' Radley, shut up by choice, safe from a world that can hurt."