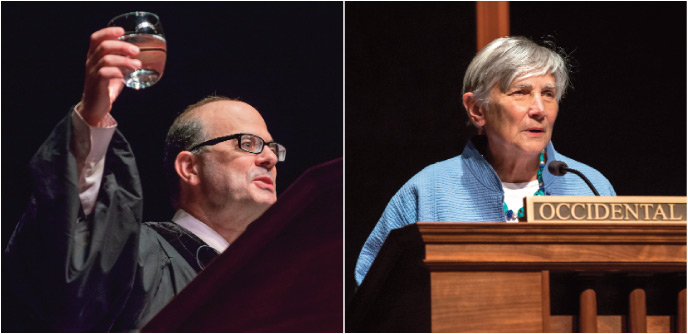 Words worth repeating from Convocation speaker Charles Fishman, education reform critic Diane Ravitch, and professors Martha Ronk and Stuart Rugg
"The more water we have, the happier we are. Wet is the happy state of humanity."
—Charles Fishman, author of the best-selling The Big Thirst: The Secret Life and Turbulent Future of Water, kicking off a year-long, campuswide discourse on the relationship between water and power at Oxy's 127th Convocation ceremony August 28. He also urged the Class of 2017 to start tackling the global water problem locally by asking questions about their own campus' water use.
"School choice turns parents into consumers, not citizens. … We have a civic responsibility to support public education."
—Diane Ravitch, education reform critic and author of Reign of Error: The Hoax of the Privatization Movement and the Danger to America's Public Schools, speaking in Thorne Hall on October 1. The real purpose of public education, she says, "is to prepare children for the duties and responsibilities of citizenship."
 "Poets write in great privacy, and I am always surprised when someone tells me of reading my work."
—Martha Ronk, Occidental's Irma and Jay Price Professor of English Literature and a finalist for the 2013 National Book Award poetry prize (to be announced November 20). Ronk made the longlist of 10 with her new collection Transfer of Qualities (Omnidawn Publishing; $17.95). She joined the Oxy faculty in 1980.
 "We are built to move. … So the fact that we can spend as much time as we do sitting seems counter to the way we're designed."
—Stuart Rugg, professor of kinesiology, speaking to NBC4 News medical correspondent Dr. Bruce Hensel on the health benefits of standing rather than sitting at work for extended periods of time. James Uhrich, Oxy's chief technology officer, also was shown working at his standing desk in the October 21 report.