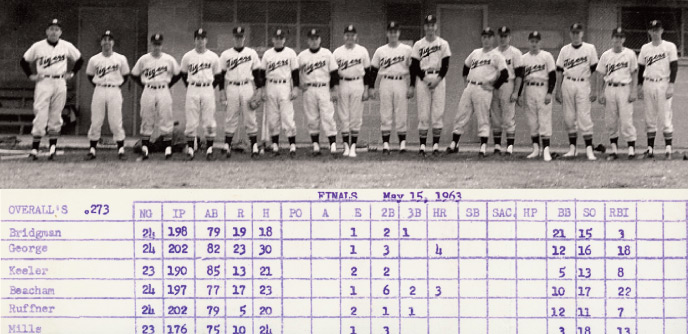 When the 1963 Oxy baseball team took the field against intercity rival USC, a casual fan would have predicted a Trojan blowout. But Coach Grant Dunlap '46 had a not-so-secret weapon on the mound—and a spring classic would follow, as first baseman Doug Beacham '64 remembers
Occidental College first played baseball against USC in 1895, and the overall record between the two schools stands at 17-27-1. In the early years of the rivalry, Oxy enjoyed some success, notching numerous victories in the late-19th and early-20th centuries. Bud Teachout '27—who later spent three seasons in the major leagues—beat USC with a one-hitter and a three-hitter in 1926, and again on a five-hitter in 1927.
In the years after World War II, however, the Trojans began to control the series. In the late 1950s and early 1960s they became the dominant team in all of college baseball, winning 10 NCAA Division I national championships between 1958 and 1978. The Tigers lost four straight times to the Trojans from 1959 to 1962, the last of them a humiliating 10-0 shutout.
USC had no reason to think the results would be any different on April 22, 1963. After a bumpy start to the season, coach Rod Ledeaux, in his 15th year at the helm, had fielded another great team that would eventually win his fourth national champion­ship. The Tigers, meanwhile, had enjoyed success the previous season, winning the SCIAC title with a conference record of 14-1 (18-6 overall). Coach Grant Dunlap '46, in his ninth year at Oxy, knew how to get the best out of a group of talented, hungry, and frustrated young players who had had enough of getting their butts kicked by USC.
Oxy's lineup that day included John Keeler '65 at third base, Tracy Wheeler '65 at shortstop, Carlisle George '63 at second, myself at first, Daryl Rice '63 in left, Clark Bridgman '64 in center, and Ted Mills '65 in right. Bob Ruffner '64 did the catching, and Don Hagen '64, Bob's battery mate from Glendale High School and a remarkable 5'10" flamethrower, was on the mound.
Ken Long '64, the Occidental sports writer who traveled to Bovard Field to cover the game, noted in his article of April 26, 1963, that 19 pro baseball scouts were among the 200-300 fans in attendance. When Don toed the rubber to start the game, he led the entire nation in earned run average and was No. 2 in strikeouts. It's also ironic that Don had been recruited by USC, but Coach Dedeaux had not been able to assure him he would pitch a lot since the Trojans had their pick of prime recruits from all over Southern California. Uncomfortable with his prospects at USC, he wound up at Occidental, where his father, Ben Hagen, had graduated in 1937.
From the start, Don's pitching was something special that day. He was as focused as I had ever seen him. Conversation was at a minimum on the mound and in the dugout. Though he didn't have his curveball (it never was that good anyway) or his changeup, his fastball was incredible in its velocity and location. He was throwing heat!
With the exception of two walks (both runners were gunned down on the base paths), Don dominated the Trojans. He was locating his pitches perfectly for Ruffner, climbing the ladder—low strike, belt-high strike, and finally high smoke. Covering the game for The Daily Trojan, future Los Angeles Times sports reporter and columnist Alan Malamud described Don as "a small right­hander who practically falls on his face after each delivery."
As the game progressed, I could feel uneasiness mounting in the Trojans' dugout. Don struck out 15 batters, allowing his only hit in the eighth when Darryl Wilkins hit a wind-aided fly ball to right-center field at the 360-feet sign on the outfield fence that barely cleared the top for a home run—just Don's second earned run of the season. Don even fanned College World Series MVP Bud Hollowell three times that day—the last of them a letter-high fastball trailing smoke as it crossed the plate heading into the setting sun. 
Offensively, Don drove in Tracy Wheeler for our first run with a double in the second inning. We added two more runs in the third when George and Keeler scored on my double, and Mills drove me in with a single after I was hit by a pitch in the eighth. Final score: Oxy 4, USC 1.
After the game, Coach Dedeaux told Coach Dunlap that no pitcher had ever dominated USC with just a fastball. (And while the loss probably made no difference to the Trojans—other than the embarrassment of losing to a small college team—USC only scheduled the Tigers once after that, in 1968.)
I think our victory shows that a group of good baseball players, who had only a fleeting hope of playing baseball beyond college, can accomplish something special if they are focused, execute well, and have an exceptional pitcher and coach. Don went on to play several years in the St. Louis Cardinals organization before retiring to become an educator and administrator. Ruffner played a year of minor league ball. The rest of us never played professionally.
Over the years, I have gone to baseball games at USC. Behind the stands around the infield, plaques are mounted commemorating their national championship seasons, and I am always drawn to the one for 1963. I run my hand over the raised letters and smile. "We beat you guys," I say out loud. "For one day, we were better than you."
Isn't that why we play the game?
Doug Beacham '64 lives in Grants Pass, Ore.­­ (gpdougb@gmail.com).