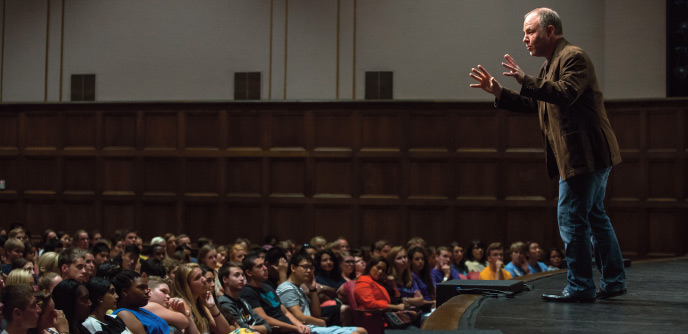 As a national conversation emerges, Oxy refines its approach to sexual misconduct with new policies, resources, and programs
Occidental moved aggressively over the summer to enhance its approach to the issue of sexual misconduct, revising its policies and procedures, adding new resources, and increasing educational programs. The College's efforts came as the U.S. Department of Education informed Oxy on September 10 that it had launched a second investigation following a complaint from students and faculty alleging that the College underreported the number of sexual assaults on campus. (The first, announced May 8, is in response to a separate complaint alleging that Occidental mishandled sexual misconduct cases.)
The filing of complaints against the University of Connecticut and Emerson College in October brings to 25 the number of colleges and universities whose handling of sexual misconduct cases has come under fire. "All the steps we are taking are based on a single goal: We are determined to be a national leader on this issue," says President Jonathan Veitch.
On August 23, Oxy unveiled a new interim sexual misconduct policy, drafted with the assistance of attorneys Gina Smith and Leslie Gomez. Drawing on the latest thinking about effective practices and recommendations from the Occidental community, it offers clear guidance about reporting options; an expanded discussion of available resources; and more detailed definitions of what constitutes sexual assault, consent, coercion, and incapacitation. It also underlines the College's commitment to encouraging bystander engagement and intervention.
The new Sexual Misconduct Advisory Board—a permanent committee of faculty, staff, and students chaired by Mary Christianakis, associate professor of critical theory and social justice—has been asked to conduct a review of the new policy and offer recommendations for possible changes next spring.
When students returned to campus this fall, they also found a new around-the-clock confidential telephone hotline, a full-time survivor advocate, an ongoing search for a full-time Title IX coordinator, and a Project SAFE staff doubled in size to carry out its advocacy and education work. Even before they arrived on campus, all new and returning students were required to complete an online preventative educational program. The amount of time spent on the issue at Orientation more than doubled, and edu-cation efforts have continued through residence hall programming and a series of campus speakers.
The College's most vocal critic on this issue was unimpressed. "We applaud these steps, but they do not constitute substantial changes to policy, personnel, or the processing of sexual assault cases," said a statement by the Oxy Sexual Assault Coalition distributed at the August 26 faculty meeting.
The College also carried out a comprehensive internal audit of its reporting procedures mandated by the Clery Act, the federal law that requires colleges and universities to report annually on sex offenses and other serious crimes that occur on or near campus. As a result, the College's latest Clery report, released October 1, revised its sex offense numbers for 2010 and 2011, chiefly because the results of an anonymous written survey conducted by Project SAFE in 2010 should have been included in Oxy's Clery statistics, but were not. "The safety of our students is our primary concern, and we need to get this right," said Jim Tranquada, director of communications.
Officials with the Department of Education's Office of Civil Rights and the office of Federal Student Aid have not disclosed when the results of their investigations will be made public. (Both offices were closed and all investigations suspended during the recent government shutdown.) In the meantime, Smith and Gomez are scheduled to deliver an interim report later this semester that will provide an analysis of Occidental's handling of the previous two years of sexual misconduct cases.
All of this suggests that the issue of sexual misconduct will remain at the forefront of the campus conversation this year—and that change is beginning to make itself felt. "There has been a heightened sense of awareness on campus regarding hooking up and partying," Occidental Weekly editor Juliet Suess '14 reported in a lengthy October 2 analysis. Although much has been done, Suess wrote, "there needs to be an emphasis on education and healing for the campus."