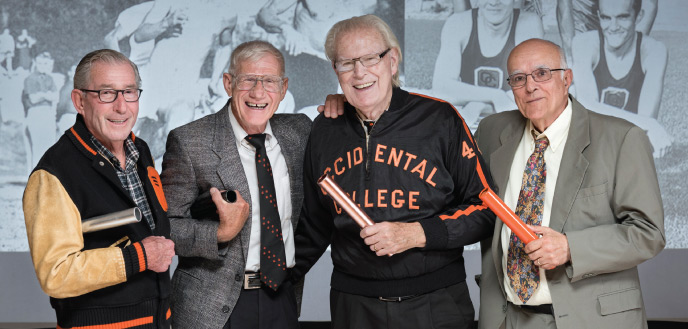 When Bob Gutowski soared his highest, and Oxy's fab four ran their fastest, Chuck Coker's 1957 track team trampled all over the record books
Payton Jordan was a hard act to follow. In 10 seasons as head track and field coach, his squads won 10 SCIAC ­titles, culminating in 1956 with the Tigers' first NAIA championship over Abilene Christian. When the 39-year-old Jordan left Oxy to take a coaching job at Stanford, President Arthur G. Coons '20 turned to 1927 graduates Ted Brodhead and Sam Peck for their assistance in recruiting his successor.
According to the 1957 Oxy track and field guide, the ideal candidate would have to be "a top flight educator, able to make a sizable contribution to the overall job of helping boys mature in the mental as well as physical sense. … He would have to know his track and field, to know how to correct a fault which might be preventing a 200-foot javelin thrower from realizing his potential. He would have to know how to help a boy who had been running a mile in 4:20 want to run 4:15, and then 4:10, and then better than that."
Their top selection was 34-year-old Chuck Coker, a 1949 Stanford graduate who never lost a dual meet in his five years as coach at Modesto Junior College. Coker "has a deep and sincere love of competitive athletics and the role it can play in the educational process," Oxy's track and field guide noted. "At the same time, he is a firm believer that winning is better than losing," and inheriting a squad of student-athletes largely recruited by Jordan, Coker "doesn't discourage talk that this coming season would be the greatest in Occidental history."
Coker's players backed up the talk with a season that, six decades later, stands at the apex of Oxy's most esteemed sports program: two world records, four NCAA records, a second dominating NAIA champion­ship, and now the distinction of being the first team inducted into Oxy's Athletics Hall of Fame.
"For the people who are in the Hall of Fame, the bar is set very, very high," says Tod White '59, who ran a 4:20 mile in high school to win the California state championship and set a national record ("It didn't last very long—some kid in New Jersey broke it about a week later") before enrolling at Oxy. "So for someone to think that our whole team is capable of approaching that bar is quite an honor."
"When the idea of creating a hall of fame was born, we knew, at five years, that we wanted to do something special," says director of athletics Jaime Hoffman. "While the members of the 1957 track team are unbelievably accomplished, they are equally humble."
In the golden age of Oxy track and field, "We were all fans," says Suzo McKellar '58. "People would go down between classes and watch when they were practicing."
Turning back the calendar to 1957, let's revisit the hurdles, the hopes, and occasional disappointments of that season through the words and memories of those who lived it.
Tod White '59: Most of us came here because we were recruited by Payton Jordan. Among his many qualities was a flair for showmanship. And you would swear on a track meet day, it was a super special car dealership. He really believed if you came out and looked like a winner, you would perform like a winner.
Darel Sorensen '58: My family lived in the San Joaquin Valley, in the Fresno area, and Payton Jordan came and recruited me. I did not know much about Occidental, but it was like God walking through the door. He said, "Come with me," and I went with him.
White: Payton Jordan was a fantastic guy, great charisma, great coach, and then he left for Stanford, and so the 1957 team was the very first under the tutelage of Chuck Coker. The major thing it gave us was the incentive to never be defeated by Stanford after he went up there.
Bill Reay '57: Chuck came in, and it was a breath of fresh air. He was encouraging to all levels of student-athletes.
Bob Lord '58 M'61: When Coker came in, he was so impressive immediately that I think Jordan was history.
White: Jordan was very much a disciplinarian. Coker was very innovative. He believed in nutrition. We were drinking skim milk laced with powdered skim milk laced with desiccated liver. It was awful. We took a lot of vitamins, and we did a lot of weight­lifting, which we did not do under Jordan. And the weights then were literally like cans filled with cement on each end of a steel pipe.
Bill Spellman '58: One time he had a weightlifting contest at the College. I sat in and watched. It was pretty interesting.
Ty Hadley '58: There's a tree [close to Patterson Field] where some people worked so hard that they went over there and lost their lunch. Twenty years afterward, a friend of mine went over there to see if the grass had grown back.
April 6: 1957: USC 70 2/3, Oxy 65 1/3
The Trojans—undefeated in dual competition since 1945 and the Tigers' Kryptonite—were the prohibitive favorites going into the biggest dual meet of the season. But Oxy made it as close as any team had since 1912. Pole vaulter Bob Gutowski '58 cleared the bar at 15'4", soaring over USC's Ronnie Morris by six inches to set a new NCAA record.
With Oxy leading by 3 1/3 points after the Trojans were disqualified in the mile relay, attention focused on the day's last event, the discus throw. USC swept all three spots to pick up nine points for the win.
Reay: We could beat everybody in the world in dual meets except for one team. And that was USC.
White: We wished we had beaten SC, and a reason we didn't—besides the fact that they were better—was that they benefitted much more from junior college transfers than Oxy did. Mostly our team was pretty much set by the freshmen who came in and grew with the program.
April 13, 1957: Oxy 74 1/3, UCLA 56 2/3
In their first meeting since 1948 (UCLA 106 1/2, Oxy 24 1/2), Oxy scored its first dual meet victory since 1932 over the defending NCAA champion Bruins. Gutowski cleared 15'5" for his second NCAA record-breaking performance in as many weeks. After the meet, Coker was carried off the field on the shoulders of his players.
"Coach Coker's strategy of running each man in as few events as possible paid off in the 880, when Ty Hadley and Dave Reisbord outlegged the highly regarded Bruin Bob Thompson to the tape for a 1-2 finish," The Occidental reported. "After that, Bruin coach Ducky Drake threw in the towel as he withdrew speedy Dave James and Rafer Johnson from the 220, and the Tigers responded with another clean sweep."
Reay: UCLA had a half-miler [Thompson] who was at the level of being an NCAA champion. He could beat everybody on our team. My job was to run beside him, and have the other guys [Hadley and Reisbord] run in front of him, and whatever he did, I just stayed there. He would drop back, we would drop back. In the meantime, our guy [Hadley] was way out there. And we did that throughout the meet. And we beat them pretty handily.
Spellman: UCLA came knowing they were going to get their asses kicked. There were some of us sitting in the stands that could have put together a team that would have beat them, too. Cal would never run against Oxy.
Lord: Sometimes I think back and I think, "Did that really happen? How could Occidental beat UCLA when UCLA's the best track team in the country?"
April 27, 1957: Oxy 72, Stanford 59
In Coker's first head-to-head matchup with Jordan, the Tigers emerged triumphant, continuing their domination over the Cardinal. In the process, Gutowski set a new high mark in the pole vault, clearing 15'8¼".
White: Gutowski was a very humble, quiet person. He was definitely not a high- energy, charismatic leader of the team in terms of personality, but he certainly was the leader in terms of performance.
Lord: When I had just stepped in the ring at Stanford, a big cheer went up, and that didn't usually happen. So I looked over, and Bob Gutowski's going over the bar.
May 18, 1957: Occidental Invitational
In a tuneup before the Coliseum Relays, Occidental's distance-running foursome of White, Dave Reisbord '58, Larry Wray '57, and Hadley established a new NCAA mark in the four-mile relay with a time of 16:53.
May 24, 1957: 17th Annual Coliseum Relays
Billed as "America's biggest meet of the post-Olympic year," the Coliseum Relays drew Olympic medalists and world record-holders (and a crowd of nearly 44,000) to Los Angeles for an evening thick with anticipation of seeing milestones shattered. In the pole vault, Bob Gutowski finally bested his Olympic rival, Rev. Bob Richards, while a freshman quartet from the Class of '60 (Pete Tunney, Dick Roy, Bob Rye, and Hal Harkness) ran second in the distance medley relay.
But the big story that night was Oxy's two-mile relay squad (White, Reisbord, Wray, and Hadley), which faced its stiffest competition of the season (Arizona State, Georgetown, UCLA, and USC) in a nationally televised showdown. Going into the home stretch, Trojan anchor Tom Anderson was well out in front, but Hadley poured it on to set a new world record of 7:22.7.
White: SC's fourth guy took off like a bat out of hell, and he had a 100-yard lead on Ty early on. Fortunately for us, it's a two-lap race, and in the second lap he was fading fast—and the distance between the SC guy and Ty got shorter and shorter. Coming off the last turn, Chuck Coker was jumping up and down like he was on a trampoline, and Ty came blowing on through to win it.
Suzo McKellar '58: A little tiny school like Oxy has two world records—you don't see that at Pomona.
June 8, 1957: NAIA Outdoor Track and Field Championship
Two weeks after setting one more NCAA record in the distance medley (Dennis Bambauer '58, Reisbord, Hadley, and Wray, with a time of 9:49.7) at the California Relays in Modesto, Oxy defended its small-college crown in dominant fashion in San Diego.
Lord: Oxy scored 148 1/2 points. Second place was Abilene Christian, with 34 points. If you took the next five teams after Oxy combined, they would not have 142 points.
Postscript: In 1958, Oxy won its third straight NAIA title, and Coker remained with the Tigers through the 1961 season. He became coach of the Los Angeles Striders (a track and field club team formed in 1955) in 1962, guiding the squad to three consecutive AAU crowns (1963-65) before concentrating his energies as president of the Universal Athletic Sales Co., which revolutionized the  exercise equipment industry.
Coker died in 2015, some six years after the passing of his legendary Oxy predecessor. In April 1957, asked to compare his two coaches following his record-breaking vault at Stanford, Gutowski remarked: "Both are tops. Jordan coached me for three years and taught me technicalities. Coker is my coach now and showed me the one fundamental point I needed to break the record."
Hadley: This was a team that supported each other. They laid it on the line. You could trust your teammates—always. We are now part of the rich tradition of this school. I wish all of our members could be here.
Photo by Marc Campos.