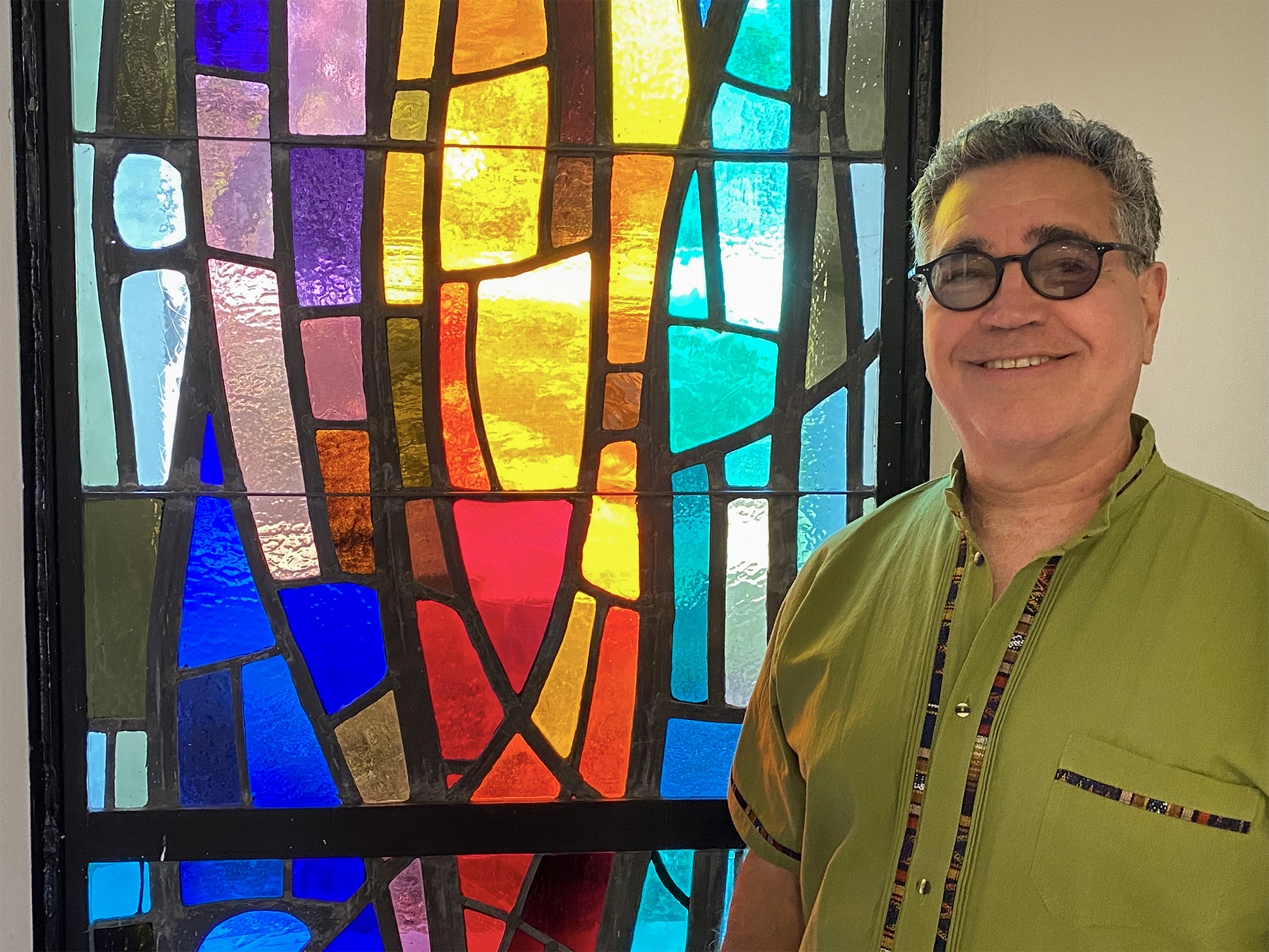 Raul Calvo '81 adds a touch of glass to Herrick Memorial Chapel and Interfaith Center, extending the life of its signature windows
Years before the term "MacGyvering" became synonymous with improvising a repair with whatever items were around, Rafael Calvo '81 learned about "Tico-teching" from his father. When installing a new washer-dryer, and the hole in the wall missed the edge of the dryer by a couple of inches, Rafael was told to grab an empty coffee canister, which his dad trimmed at the edges until it fit the space exactly. His dad called that "Tico-teching" (Ticos being people from Calvo's native Costa Rica).
When he founded his stained glass business with wife Janet in 1996, Calvo chose the name Tico Tech as a tribute to his late father and as a symbol of "innovation and a creative spirit." He learned the stained glass-making process from a Lebanese glass-cutter; his clients include homes, businesses, churches, and now his alma mater.
During the recent restoration of Lucille Gilman Fountain, some additional construction work was done to Herrick Memorial Chapel and Interfaith Center. Calvo was hired as a subcontractor to do some repairs to Herrick's windows, which had been damaged over the years.
Calvo's efforts will extend the life of the 57-year-old glass in Lower Herrick with protective tempered glass on the exteriors so they won't be broken by an errant ball. "I had always imagined myself becoming an ambassador, but that didn't work out," says Calvo, a diplomacy and world affairs major and French minor. He glazed a different trail instead, and that led him back to Oxy.
Above: Damage and dirt to the panels prior to their repair. Most of the damage was sustained by four windows in Lower Herrick. Above right: In replacing a number of broken panes, Calvo and his team worked to match the color of the original stained glass, some of which has not been produced "in 30 or 40 years," he says. 
Far left: In repairing and installing new doors at the second-level entrance to of Herrick, Tico Tech changed the metal from aluminum to steel. Left: The view from inside. "Having had the opportunity to touch the building and assist with the glass repair, I feel very honored," says Calvo, who lives with his wife in Altadena.