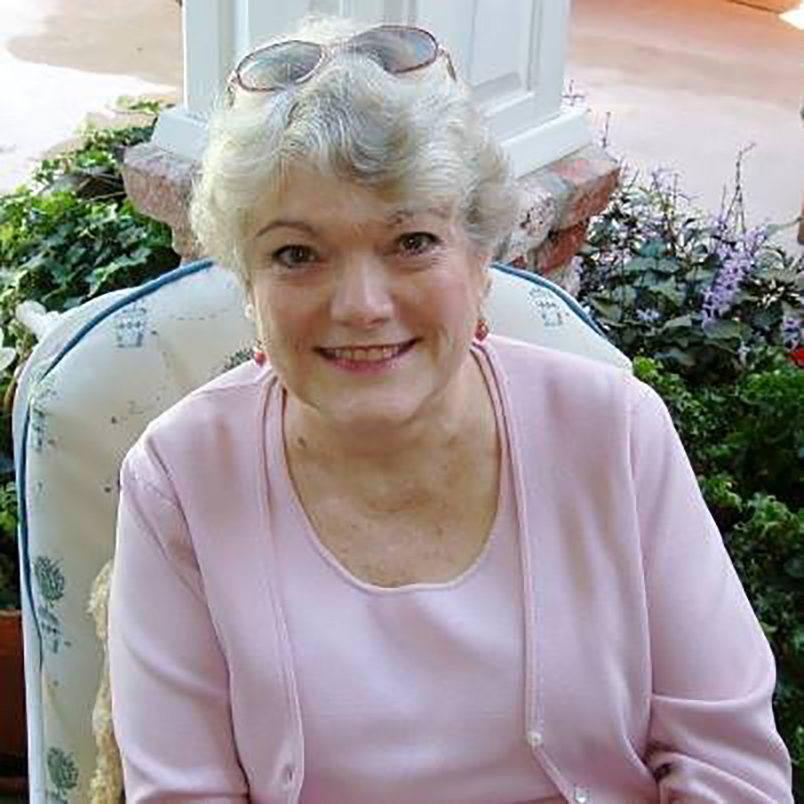 With goodwill and a dash of whimsy (Obama-branded diaper covers!), Anne Wolf made the Oxy Bookstore a destination for more than textbooks
Months before Election Day 2008, Anne Wolf assembled a handful of her colleagues from across campus in the small office space inside the Occidental Bookstore to discuss merchandising opportunities should Barack Obama win the Presidential election.
At the suggestion of Derek Shearer, the Chevalier Professor of Diplomacy and World Affairs, the T-shirts could be marketed as "BarOxyWear"—and it was in that room, on that day, that the idea for an Obama diaper cover was birthed—with the tagline "Change We Need." Touted in a piece on NPR's Morning Edition leading up to Obama's inauguration in January, the diaper cover moved more than 25 units the next day.
"We used to get tourists coming for 90210," Anne told The Wall Street Journal in October 2009. By then, the Oxy Bookstore had sold more than $30,000 in caps, shirts, mugs, and those infamous diaper covers.
Anne died May 23, 2021, in Pasadena, three days after being diagnosed with pancreatic cancer. The news of her unexpected passing was met with an outpouring of tributes on social media. "This is a loss for our entire community," one person wrote. "Anne was vibrant, vivacious, full of goodwill, and had a devilish sixth sense for poking good-natured fun."
Helen Anne Alston gradu­ated from high school in Ogden, Utah, in 1962 and moved with her mother and two sisters to Inglewood in 1963. Anne attended El Camino College and San Jose State University. In 1966, while visiting her sister, Mary Alice, in San Francisco, she met and soon after married the love of her life, Roger Wolf. The entire family celebrated their 50th wedding anniversary in Kona, Hawai'i, in 2016.
Anne came to Oxy in 1980 and worked with the Bookstore as an accounting clerk until 1994, when she assumed a larger role in the store's operations as a senior department assistant. Following a stint as interim manager and the departure of Mike Moreno as manager, Anne was named Bookstore manager in 1999 (and promoted to director in 2007). She was instrumental in the store's relocation and expansion in the newly Johnson Student Center/Freeman College Union in 1999. Not long after, she played a key role in drafting the Garment Manufacturers Code of Conduct. Oxy became one of the first colleges to sell certifiably sweatshop-free (union-cut, -sewn, and -imprinted) collegiate apparel.
For the better part of the 1990s and 2000s, Anne worked in unison with a core team of four, each of whom contributed to the store's success. Textbook buyer Diane Jackson expanded the College's signature Oxy Wear apparel offerings in addition to navigating the shift to textbook rentals and digital books, while tradebook buyer Dennis Johnson's discerning eye for literature and smart periodicals offerings gave Oxy's shelves the feel of an indie bookstore gem. Rounding out the team were book operations assistant John Rangel, who handled shipping and receiving duties, and current manager Donna Huebner, who started as an accounting clerk in 1994.
In 2005, Anne served as California Association of College Stores president. Outside of the College, Anne was a longtime treasurer of the Northeast Democratic Club and co-chaired the Northeast Democratic Headquarters during Bill Clinton's 1992 presidential campaign. She was also involved with the California Association for the Gifted and Learning Works Charter School in Pasadena.
After Anne retired from Occidental in June 2011, she remained actively devoted to her causes. She continued to campaign, march, and fight for women's rights; she stood outside malls to register people to vote; and she carried on her work with Eagle Rock Chamber of Commerce and the Women's Twentieth Century Club of Eagle Rock.
In addition to her husband, Anne is survived by children Cindy '89 and Clinton '95; and a granddaughter, Juliette. The Occidental flag flew at half-staff May 25 in her memory—and the Oxy Bookstore is a lasting monument to her impact on the College community.