The Elephant in the Room: Reflections on 125 Years
Occidental's first formal observance of Founders Day occurred in 1921, after the dust had settled on the new Eagle Rock campus and the dislocations of the First World War and the global flu pandemic had passed. The chief feature of the celebration appears to have been a student parade, which included the Owl and Key Society's elephant. The rambunctious pachyderm impressed the assembled multitudes, The Occidental reported, "with the amazing dexterity with which its four legs moved in unison."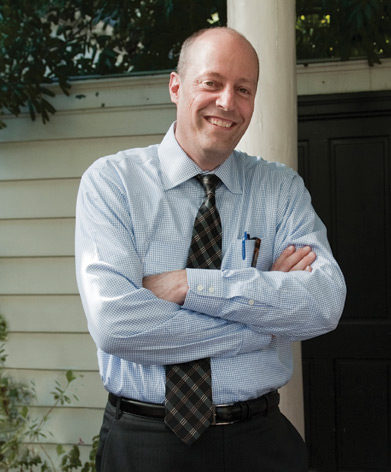 To kick off our yearlong celebration of Oxy's 125th anniversary April 20, we have taken our inspiration not from a mangy gray costume but from the period of the College's founding. Founders Day will feature a carnival atmosphere with 1887-style games, a Ferris wheel, strolling singers, and roundtable discussions on finance, entertainment, and technology led by prominent Oxy alumni. That evening, at a festive dinner in Hillside Theater, I will lay out my vision for Oxy's future. I hope you will join us.
As we began planning for our anniversary, and as I began thinking about what I would say, it became apparent that while 125 years is a respectable milestone, our birthday would be little more than an excuse for a good party unless we could make a cogent argument as to why Oxy has mattered over the past century and a quarter, and why it continues to matter today. As President Remsen Bird said in 1922, "If an institution is worthwhile, it should be called upon to give a reason for its existence. It should defend itself and prove itself before every generation."
From the beginning, Oxy has been distinctively urban and unmistakably Californian. At a time when the city's population did not exceed 50,000, Occidental's first Board of Trustees proudly included "Los Angeles" on the official college seal. Their successors swiftly rejected overtures from Pomona in 1909 to consider a merger and a move east to Claremont. William Stewart Young and his colleagues firmly believed in the value of Oxy's location, in defiance of the Los Angeles Times' old-fashioned view that "the removal is necessary to foster the college spirit and to get the students away from the distracting influences of city attraction."
From the beginning, Oxy also has produced alumni who have gone on to great success in every imaginable field. (Alphonzo Bell 1895, the developer of Bel-Air and Olympic silver medalist in tennis, was the College's sixth graduate.) In many ways, our anniversary year will be a celebration of Oxy alumni. You can see that reflected on the Oxy125 website (oxy125.org), in the ribbon-cutting for the new Samuelson Alumni Center we'll be holding on Founders Day, and in our choice of honorary degree recipients at Commencement in May. We will be honoring four alumni who have distinguished themselves in the fields of public service, business, science, and journalism: California State Parks director Ruth Coleman '82; corporate turnaround expert Steve Cooper '68; Diane Evans '76, director for JPL's Earth Science and Technology Directorate; and radio-TV-newspaper journalist Patt Morrison '74.
What made Occidental matter in 1895 and 1968 and still matter today is the transformational impact it has on the lives of its students—the habits of thinking and passion for learning it instills, and the broad foundation for success that it provides. Coleman attributes her success to her days at Oxy, which taught her the interconnectedness of disciplines. "That liberal arts approach of having your mind opened to the fact that actions cause reactions—you don't get that if you're an engineer," she says. "In the political world that I live in, it's all about the dialectic."
Although change has been a constant at Oxy, some essential elements of the Occidental experience have remained unchanged. Distinguished California historian Kevin Starr referred to this fact in his 1991 Founders Day address: "In a sectarian sense, Occidental has evolved beyond its Presbyterian New England foundations; but the enduring legacy of that tradition—learning, strenuousness, vigor, cosmopolitanism, serious-mindedness, intellectual and imaginative ambition, a commitment to quality of life in one's own time and place—remains as relevant as ever."
This exemplary heritage is the best evidence that Occidental and the liberal arts continue to matter, and continue to make a difference in the lives of its students and its alumni. We look forward to celebrating Occidental's anniversary, knowing that we are not only saluting the past, but are looking ahead with pride and purpose.
Jonathan Veitch, President