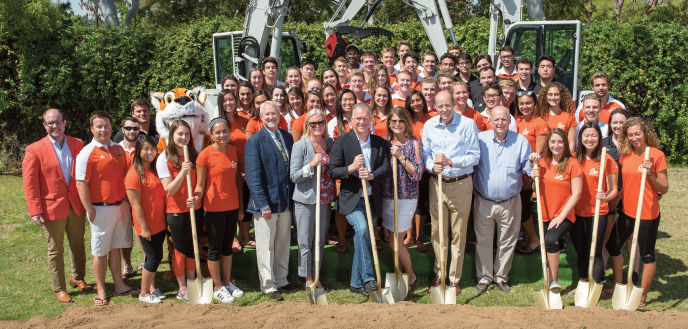 After years (and years and years) of promises, a new aquatic center finally breaks ground this summer—and two additional tennis courts will bring athletes home to Occidental as well
When Bill Davis '80 was a high school senior in Santa Ana, then-Occidental swim coach Bob Hopper promised him that the College would have a new pool by the time he was a senior. "What I didn't realize was that he left out one word: citizen," says Davis, a standout swimmer and water polo player who today heads Southern California Public Radio.
More than 40 years later, Hopper's promise is finally going to become a reality. Emboldened by President Jonathan Veitch, who made a new pool—and two additional tennis courts—a priority after renovating Swan Hall and Hameetman Career Center, scores of donors have stepped forward to help fund the $17.5-million project. All necessary land-use approvals from the city of Los Angeles are now in place. And with a general contractor on board, construction is scheduled to begin this summer.
You read that correctly: this summer.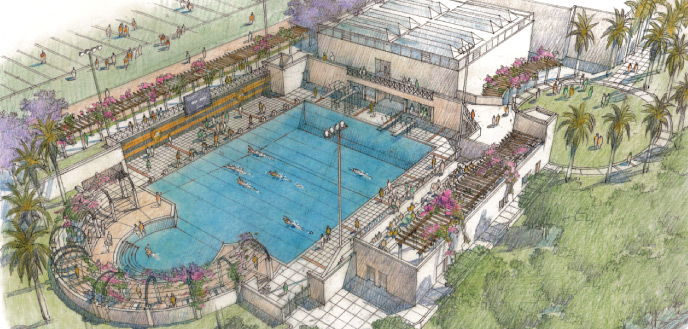 The impact on the men's and women's swimming and diving, water polo, and tennis teams will be transformational, coaches and students agree, changing how they practice, play, and recruit. The new facilities also represent a homecoming in a very real way: The limitations of current facilities mean the Tigers rarely host conference competitions at Oxy.
"This has been a long time coming," says Jaime Hoffman, associate vice president and director of athletics. "We've been talking about bringing our athletes home. Now that's finally going to happen."
Designed by the Pasadena-based firm of Moule & Polyzoides to harmonize with Oxy's historic Myron Hunt-designed architecture, the De Mandel Aquatic Center will be built on the west side of campus between Jack Kemp Stadium and Campus Road on what is now a parking lot. The center's new pool will replace venerable Taylor Pool, Oxy's original swimming pool built in 1930 at a cost of $60,000 and today one of the oldest outdoor college pools in the country.
At 75 feet long and 45 feet wide with just six lanes and water that ranges in depth from 4 feet to 10.5 feet, Taylor Pool is too shallow to safely accommodate divers using today's fiberglass boards (which give divers much more air than the original wooden models). In sharp contrast, the new pool will have eight competitive lanes and 15 practice lanes for swimmers; a 34-meter, all-deep-water venue for water polo; and a 13.3-foot-deep diving well with two 1-meter and two 3-meter diving boards. It also will include an attached recreational pool for general use and a 316-seat grandstand.
The two new tennis courts will be built adjacent to the four existing McKinnon Family Tennis Center courts on the north side of Kemp Stadium, with new stadium seating for 200 people. Until Berkus Hall was built on top of the south campus courts in 2006, Oxy had seven tennis courts—one above the minimum required by SCIAC and NCAA Division III to host conference matches. It was never an ideal arrangement—two sets of courts on opposite sides of campus made match management and spectating challenging—but over the last nine seasons, the tennis teams have had to rent off-campus facilities for home matches.
Both the tennis courts and the aquatic center will be lighted with energy-efficient LED fixtures for night use and will be fully accessible. Unifying the entire project will be a landscaping plan by Van Atta Associates of Santa Barbara.
In 1995, educator-turned-contractor Ranier De Mandel '25 pledged a $2-million estate gift toward a new pool, raising hopes that the project—a priority of the College's capital campaign in the 1990s—would soon be realized. "I have never forgotten that I got a great college education from Oxy," said De Mandel, who played baseball for the Tigers and coached multiple sports, including swimming, for nearly 40 years until his retirement from Glendale High School in 1964.
At the time of De Mandel's passing in 2005, construction costs had risen dramatically. Seven years later, a group of swimming and water polo alumni--including Bill Davis, John Cala '83, Tim Lee '79, and former assistant coach and All-Conference water polo player Brian Murphy '74--decided it was time to make things happen and got together to support the pool project. Then-Board Chair John Farmer was instrumental in making the aquatic center a priority.
At the same time, trustee emeritus Ian McKinnon '89 and his wife, Sonnet, pledged $1.5 million toward expanding the tennis center that bears their name. (McKinnon, a member of Phi Beta Kappa, was captain of the Oxy men's tennis team his senior year.) In announcing the McKinnon gift and alumni support for the pool in November 2014—which was soon followed by a major commitment by trustee and tennis player Steve Robinson '77—President Veitch declared, "These gifts will have a transformative impact."
For Oxy programs that currently have to schedule practices in shifts, a bigger, deeper pool will change everything, from practice to roster sizes to the way water polo and swimming and diving coaches recruit.
For water polo head coach Jack Stabenfeldt '14—an All-SCIAC selection and two-time All-American as a Tiger—it means a new style of play. Because Taylor Pool is so narrow and short, it's impossible to practice the kind of game Oxy must play in larger pools on other campuses. The result: Oxy slows the pace, relies on a zone defense, and falls short on the water polo equivalent of the fast break, a crucial part of the game. "We lack the ability to plan for and execute certain tactics. When we get into bigger water, we're not used to have to physically take up that space or having to swim as far," Stabenfeldt says.
For swimming and diving, the new pool will mean no longer having to schedule practice in shifts, with as many as six or seven athletes swimming in each lane, says first-year head coach Steve Webb. It will free up sufficient lanes so that the Tigers can rebuild their distance program, which requires open lanes to make it possible for swimmers to log thousands of yards daily. And it will mean the ability to resurrect the diving program, which hasn't been able to safely use shallow Taylor Pool for years. "We should have one of the best diving programs in the country," says Webb, who comes to Oxy from Augsburg College in Minneapolis.
The new pool will also mean improved times for swimmers. "Because it's small and shallow, Taylor Pool is really slow," Webb says. "The new pool will be deeper and the lanes wider than those in Taylor, so there will be less turbulence and faster times." Also slowing Tiger swimmers are Taylor's aging, hard-to-grip plaster walls, which make turning harder, and slippery starting blocks that have to be topped with towels to provide sufficient traction.
A new pool comparable to those at other SCIAC schools will improve Oxy's ability to recruit. And with the return of home games and meets, and the crowds that come with them, "It will make us more competitive in every way," Stabenfeldt says.
Oxy tennis will enjoy similar benefits from two additional courts, including an end to split practices, improved recruitment, and the ability to play home conference matches on campus. "It will make a huge difference," says Ghia Godfree, head coach for men's and women's tennis. "When you play off-campus, you don't get a lot of fans. Now when we play at home we will really have something to defend."
For his part, Davis would be delighted if the new pool and tennis courts improve Oxy's competitiveness. But that's not the most important factor behind his participation in the project. "I see the pool as a place where lifelong friendships begin and are forged," he says. "Not just for competitive teams, but for people who are lap swimmers or are just hanging out by the pool—a place where people convene and relationships emerge. It will improve quality of life for a large number of Oxy students and I'm really happy to be part of that."
As for Taylor Pool, current plans call for it to be filled in after the de Mandel Aquatic Center is completed. The Hunt-designed E.S. Field Building whose arcades surround the pool will be preserved, and the complex will become a multipurpose outdoor space.
Even with funding and approvals in hand and construction scheduled, there likely will be some initial skepticism among alumni to overcome. "I was playing in a pickup water polo game recently with a goalie who graduated from Oxy in 2013," Davis says. "I told him that construction would begin soon, and he said, 'Yeah, I'll believe it when I see it.' For some alumni, we'll have to have it filled with water and races underway before they believe it. I can't wait to swim in this pool."
He's not the only one.
[Updated March 15, 2019]