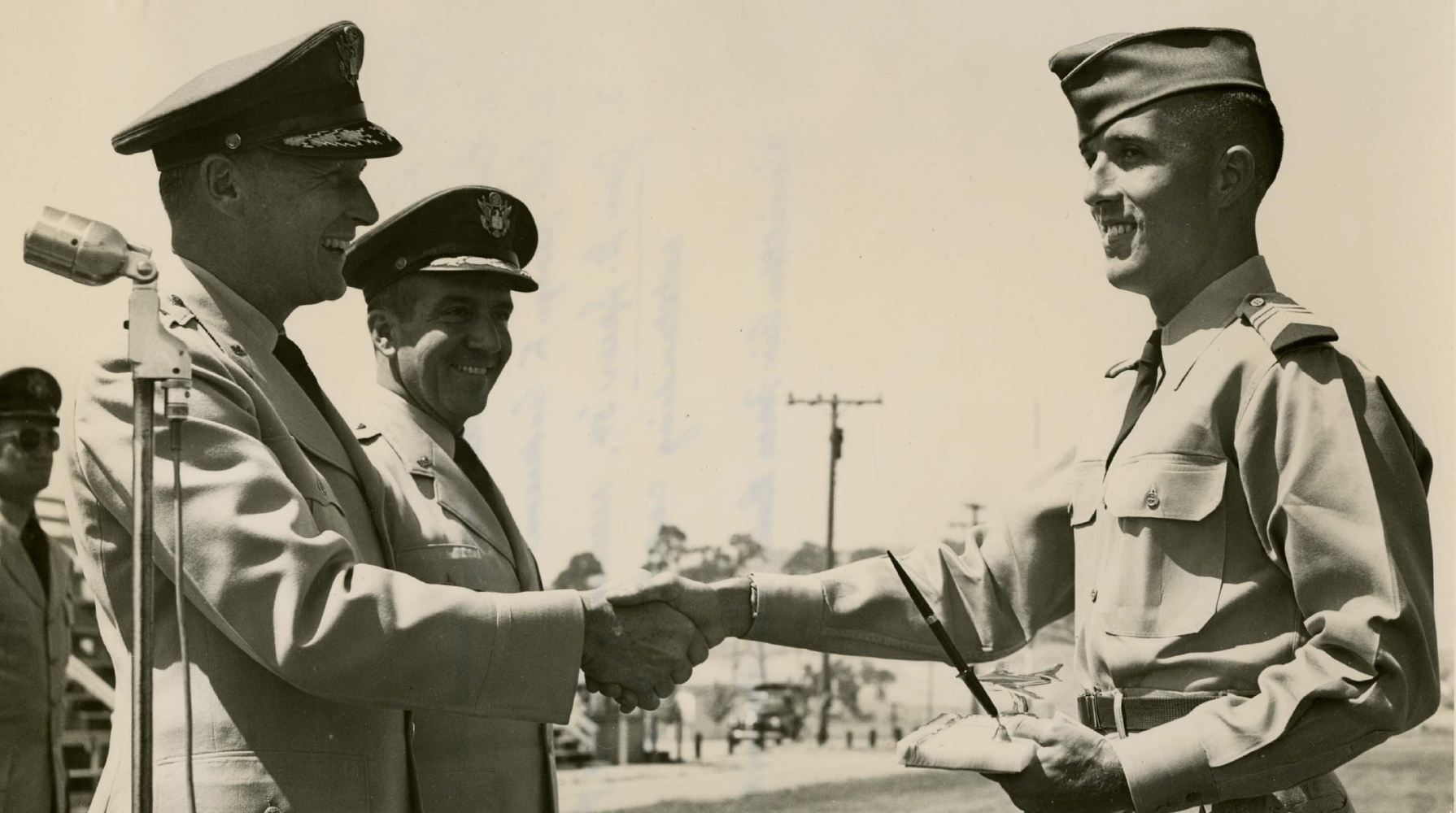 A tribute to 14 "Occidental sons" who perished during Vietnam
In 1976, a memorial plaque was installed at Occidental to honor the memory of two alumni who died during the Korean War (Arthur L. Dixon '50 and Gordon O. Smith '49), and 14 who perished during the Vietnam War. While some details are sketchier than others—and a number of families waited years for official confirmation of their loved one's death—we have pieced together a tribute to those "Occidental sons" who gave their lives in service to their country.
Lt. David W. Embertson '60 died June 13, 1961, after crashing his plane at Moody Air Force Base in Georgia.
Capt. Jon G. Speer '54 (pictured above in 1954) was assigned to the West German Luftwaffe as an instructor and was leading a four-jet fighter combat formation flight when the planes crashed after colliding near Cologne on June 19, 1962. Three West German Air Force pilots perished in the crash as well. Jon was a father of three and described as a "heroic and beloved pilot" by a spokesman for the Defense Ministry.
H. Ronald Avila '56 died Nov. 20, 1962. A political science major from San Gabriel, Ron participated in Air Force ROTC, varsity water polo, and Young Republicans at Oxy.
Lt. Cmdr. Robert A. Komoroff '47 was killed the night of May 8, 1964, when the A4C Skyhawk he was flying crashed into the sea less than 15 miles from the aircraft carrier USS Franklin D. Roosevelt. His body was recovered the following morning. A physics major at Oxy, he was a 20-year veteran of the Navy and flew 53 combat missions in Korea.
First Lt. Stephen C. Moreland '65 was a C-130 pilot in an aircraft attempting to rescue Vietnamese and American troops from Kham Duc while it was being overrun. With 155 passengers and crew on board, they were hit by enemy fire and crashed on takeoff on May 12, 1965. There were no survivors. Steve and Ron Hankins '64 were best friends at Oxy.
Airman David A. Dick '64 died Jan. 28, 1966, when he struck a car while riding his motorcycle in Bloomington, Ind., rupturing his spleen.
Seaman Apprentice Steven L. Hunt '67 was attempting to rescue 13-year-old Mario Forstein from the "slashing surf" at Point Lobos Playland Beach in San Francisco on Jan. 29, 1966, when the force of the waves smashed them both against the jagged rocks before washing them out to sea. Steven attended Oxy on a scholarship and aspired to become an architect. He enlisted in the Navy in September 1965.
Lt. Cmdr. Charles Ford Jesson '49 died July 18, 1966, when his sports car crashed on a road near Honolulu. He came to Oxy through the Navy V-12 program (July 1944 to March 1945) then returned after WWII, majoring in physical education.
Lt. Col. William J. Newton '45 was a flight instructor in WWII, flew 60 combat missions in B-26 bombers in the Korean War, and was the base commander flying for the famous 606th Air Commando Squadron out of eastern Thailand when his T-28 trainer crashed in a non-hostile action on Oct. 23, 1966.
Major Wallace L. Wiggins '65 and his F-102 fighter were hit on a mission near a Laotian village on Feb. 3, 1968. His aircraft was struck by an enemy air-to-air missile that lodged in his tail section, but did not explode. While trying to make it to safety in Thailand, his airplane exploded. Wally's remains were turned over to a congressional delegation by the Communist government in Laos in 1978. A scholarship fund was established in his name at Oxy.
Lt. Col. Donovan L. Lyon '56 was shot down in his first mission over Laos on March 22, 1968, but was listed as "missing in action" for the next six years— during which time his wife, Janice (Ahrens) '60, was active in organizing POW and MIA clubs throughout the United States. "As the wife of an Air Force pilot, I know that sacrifices of your lives are sometimes required in combat," she said in a 1973 interview with the Highland Park News-Herald. "We can understand and accept that. It is another matter, however, to never know what happened to someone you love." Co-captain of the 1955 football team and an ROTC commander while at Oxy, Don did his student teaching at Eagle Rock High School.
On Feb. 16, 1970—three months after his arrival in Vietnam—First Lt. Joel W. "Jody' Sampsell '66, a Marine helicopter pilot stationed at Da Nang, volunteered to fly an emergency blood resupply mission at night from Marble Mountain to a hospital ship, the USS Repose. In bad weather, his helicopter hit a mountaintop. Everyone aboard was killed. Beacham and his wife, Sue '66, had their first date on a double date with Jody. He is buried at Fort Rosecrans National Cemetery in San Diego.
Major Donald A. Brown '61 was killed July 30, 1970, while flying in the back seat of an F-4 over southern Laos at night. Radar and radio contact with the plane was lost, and he was officially listed as missing in action. Don was Beacham's flight commander in Air Force ROTC at Oxy.
Lt. Robert D. Beutel '68 was shot down in November 1971 on an aerial combat mission in Laos. His body was never recovered. "I believe he is still carried on the books as missing in action, though he was declared officially dead by the Air Force. At the time, he was a lieutenant and posthumously promoted to captain," wrote Dr. Christopher D. Smith in 1983.