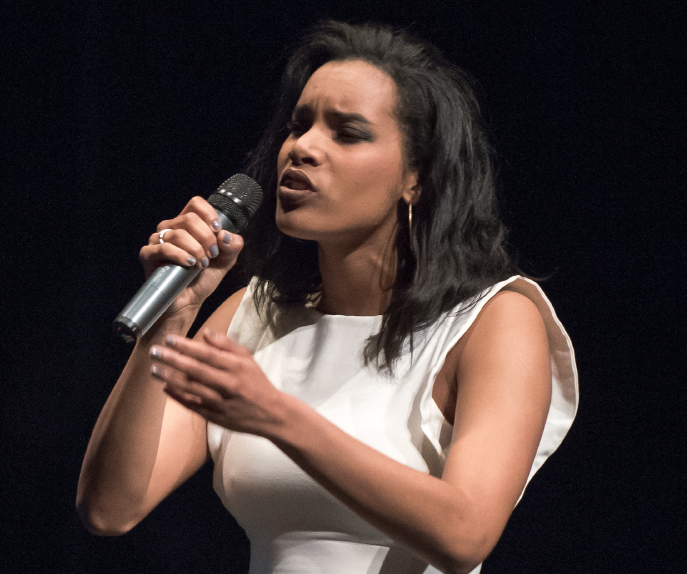 Oxy's music community lifts every voice (and instrument) to celebrate the installation of President Elam
New Harmonies is the theme of President Harry J. Elam, Jr.'s Inauguration, to be held in Hillside Theater on April 23. In keeping with that spirit, music is an integral part of the ceremony, with contributions from Oxy's music community.
At Elam's request, singer/actor Lencia Kebede '16 (above, performing at Apollo Night in 2016) will reprise her show-stopping rendition of "I Know Where I've Been," from Oxy's 2013 production of Hairspray, with vocal support from the Occidental Glee Club. She will also join the Oxy Symphony Orchestra, Jazz Ensemble, and Glee Club for a performance of "Lift Every Voice and Sing."
Since November, Orchestra members Leslie Garcia '24 and Chester Cahill '24 have been working on a special arrangement of "Lift Every Voice and Sing" for the combined forces of the three groups, says Chris Kim, Oxy's director of instrumental activities. All 42 members of the Symphony, along with members of the Jazz Band and Glee Club, will be part of the performance, joined by members of Oxy's applied faculty and a number of Eagle Rock High School students.
"Lift Every Voice and Sing" (written by NAACP leader James Weldon Johnson in 1900, with music by his brother, J. Rosamond) "is a significant part of American history," says Désirée LaVertu, director of choral and vocal activities. "Because of the story the song tells, we felt it was appropriate for the inauguration of Oxy's second African American president."
The ceremony also will include an original composition by Associate Professor Adam Schoenberg for flute, clarinet, violin, cello, and piano. "'Alone/Together' is about the journey that most people endured when the world shut down in March 2020," he explains. After a somber, reflective beginning, "The music evolves into something uplifting and optimistic as it captures the feeling of being able to gather again with our community to finally witness and celebrate President Elam's Inauguration. We're very excited to have him here."