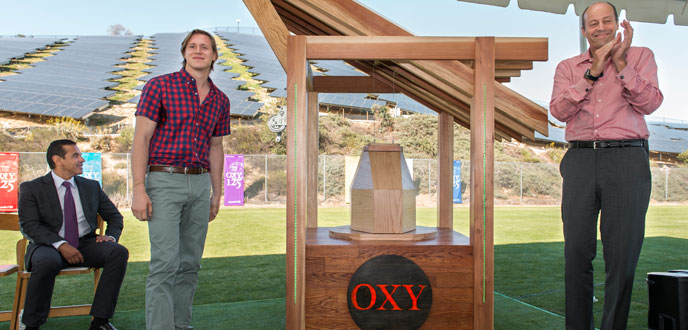 Up, Up, and Array! Oxy plugs into the solar power movement—and turns out the lights on its 125th-anniversary year—on a Founders Day brimming with energy
"Oldenburgian" isn't necessarily the first word that comes to mind when thinking about Oxy's 1.1 megawatt-capacity solar array (or most things, truth be told). But when President Jonathan Veitch turned his thoughts to the structure's ceremonial unveiling, he wanted something in the spirit of Claes Oldenburg—the 84-year-old sculptor known for his colossal sculptures of everyday objects, such as Lipstick (Ascending) on Caterpillar Tracks at Yale or Toppling Ladder With Spilling Paint at Loyola Law School.
Although the array has been generating power since the start of operation March 4, "we still wanted to give it a plug—both literally and figuratively—at today's ceremony," Veitch said at Founders Day on April 20. "We also wanted to embrace the talent found in our own student body. So, instead of an Oldenburg, we give you—a Modell."
That would be Art Modell '14, an art history and visual arts major from Baltimore (and grandson of the late Baltimore Ravens owner). Not only did he create a larger-than-life working outlet for the occasion, but he made one that, indeed, runs on the sun's energy. Modell was "patient enough and talented enough to listen to my vague ideas of having something Oldenburgian to plug in today and translate it into something clever, whimsical, and solar-powered," Veitch said.
The dedication was the centerpiece of a day that was brimming with activity on all parts of campus—from the carnival in the Quad to a dinner in Remsen Bird Hillside Theater that celebrated members of Oxy's Founders Court. Among the celebrants was Los Angeles Mayor Antonio Villaraigosa, who "wanted to come today to celebrate the leadership of the College in closing its eyes to envision the future," he said at the dedication. "That's really what today is all about."