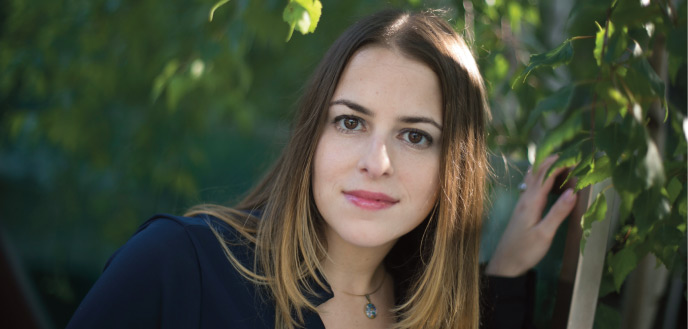 Art director Andrea C. Uva '02 tackles tiny canvases in designing book jackets for e-readability
By Sam Mowe '07 | Photo by Dennis Drenner
In a 2011 blog post for We Made This, a London-based graphic design studio, author Nick Hornby laments: "The days of the iconic jacket illustration, the image that forever becomes associated with a much-loved novel, are nearly gone. The stakes are too high now."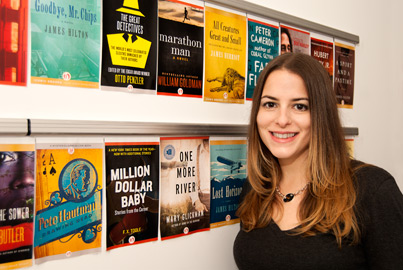 While this statement is mostly true—these days, a book has many covers during its lifetime—it's hardly as heartbreaking as Hornby makes it sound. "We can give an old book new life," says Andrea C. Uva '02, art director at Open Road Media, a digital publisher and multimedia content company. "They say 'Don't judge a book by its cover,' but when the cover looks like it's from the '70s or '80s, a reader thinks, 'What's in it for me? How can I relate to this?'"
Uva has made a career out of answering that question. As an art director and book cover designer, she's helped connect readers with stories at high-profile companies such as Simon & Schuster, HarperCollins, Scholastic, Random House, and Bonnier. Before that, she worked at Oxy in both the library and the art department slide library. "It was a good place to get experience in both the visual world and a book-heavy setting," she says.
Oxy wasn't, however, the best place to get experience with designer software. At the time she earned a degree in visual arts, there wasn't a single computer in the College's art department. "The best we could do was stuff on the silk screen," she says. Uva credits art history professor Eric Frank with teaching her all about medieval, Greek, Roman, and Renaissance art. "My art history background informs what I do now because the poses and looks that we create for covers often have a nod to famous paintings or sculptures," she says. "Making these products now has been a great way to apply the basics of a conceptual art degree. What makes a book sell is the concept, having a great idea for a book cover."
Oftentimes, Uva not only comes up with the concept for a book cover but will also produce and direct photo shoots for them. She casts models, works with styling, hair, and makeup, and then directs the models and photographers for studio, in-house, and location shots. Uva cites her sculpture concentration at Oxy with helping her develop the necessary skills to execute the shoots. "Making mixed-media stuff helped me produce photo shoots because it showed me the process of how everything comes together," Uva says. "At Oxy, you'd have to run to Home Depot to get everything you need to make a project work. Here it's the same thing, running around for props and whatever you need for the shoot."
Uva really started getting her hands dirty with photo shoots in 2006, when she started as a senior designer at Alloy Media + Marketing. This is where she established Young Adult Fiction as her genre of choice. "I spent a lot of years doing the YA fiction, and that was pre-Twilight," Uva says. "Back then it was all pretty girls in pretty outfits, making you want to be them. Now the covers are dystopian, dark stuff, with lots of symbolism—apples, chess pieces, and floating feathers. It's a genre where visual impact matters a lot."
During a recent trip to Barnes & Noble at Union Square in Manhattan, she pointed out several YA titles that she played a part in producing—either with typesetting or cover design. "It's a little like Googling yourself," she said, pointing to her name on a book jacket. (That name will be changing this summer when she marries fiancé Patrick Fleischman—a photographer she met on set during a photo shoot. In fact, they both will be changing their names to "Worthington," not a family name for either of them. "We wanted something that people would know how to spell," she says.)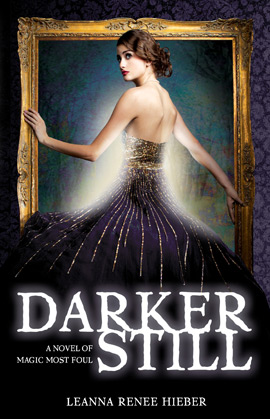 Since starting at Alloy, Uva has gone on to create book covers for many popular series that have become movies and TV shows, such as Gossip Girl, The Clique, Pretty Little Liars, and Embrace. She won a New York Book Show award in 2008 for her book jacket design on the Luxe series, which features a beautiful young woman in a prom dress that flows lavishly from the front cover to the back. "During the shoot, we stuffed chairs, boxes, and everything else under the dress to make it flair," Uva says.
Her favorite cover is one she created for the YA fiction title Darker Still. "A lot of projects come with things like logos or design directions already in place, and this one I created from scratch," she says. Uva shot the cover with Fleischman using a agency model. "We even rented the picture from the prop house. It was an empty frame so that she could pose literally going inside it," she says. "I like that we didn't have to retouch her body to look like it was inside the frame. The only thing we did was add the painting inside the frame, the glow, and the wallpaper in post-production."
Now at Open Road Media, Uva works primarily with backlist titles, repackaging them as e-books. Since authors with book deals prior to the digital revolution didn't address e-rights in their contracts, they weren't beholden to their original publishers when e-books came around. "It's the wild, wild West in publishing as far as e-books are concerned," Uva says. "We hope to roll our backlist into a successful frontlist." New authors, writing what Open Road calls their "E-riginals," have some big shoes to fill. Open Road's backlist, published under its Iconic Ebooks imprint, includes classics like Alice Walker's The Color Purple, James Hilton's Lost Horizon, Hubert Selby Jr.'s Last Exit to Brooklyn, and Walter Lord's A Night to Remember.
Open Road made headlines in May with the announcement that it will be publishing 10 early Michael Crichton titles (most of them written under the pen names John Lange and Jeffery Hudson while the author was attending Harvard Medical School) as e-books. "It's been quite a feat," Uva says. "They are illustrated based on their vintage campy, pulpy look, and I'm managing the illustrator and coming up with the graphic treatment for the type."
Even though Open Road is often working with established authors and proven titles, e-books present new and different design challenges than those of traditional print books. "When you're shopping for an e-book, you're not looking at large covers like you are with books on a table," Uva says. "The covers tend to be a bunch of thumbnails on a site, so the type and imagery really has to work at a 1-inch size."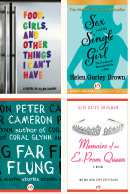 During a recent cover meeting led by Uva at Open Road's offices in lower Manhattan, one of the company's executives ran the "Can I read it?" test for many of the 40 or so covers discussed. "Lots of contrast works for us, so that you can really see what's going on," Uva says. "A lot of white or darkness might look amazing in the bookstore because the print quality is there, but you can't see that differentiation on a webpage."
As Open Road's art director, Uva doesn't design each cover herself. After the editorial team provides a synopsis ("The big secret of book publishing is that we don't read the books before designing them") and any text that needs to appear on the cover, Uva manages a team of freelance designers. "I pick a designer who I think will be well-matched to the type of book that it is," she says. "Some people do better with crime-thrillers, others do better with softer, literary fiction." Uva manages the creation of new cover art and interior typesetting for more than 1,000 e-book and print titles per year. "It's incredible what Andrea's been able to accomplish in such a short amount of time," says Jane Friedman, co-founder and CEO of Open Road.
Throughout this process there are meetings for the team—editors, acquisitions managers, the publisher, and the CEO—to look at the covers in their various stages. During Round 1, there are usually three options that they're evaluating for concept and look. If a title is in Round 2, it means that they've picked a direction and the team is choosing an exact cover, making only small text corrections and fine-tuning details.
"It's really hard because everybody has a strong opinion," Uva says. "And it can be frustrating because the people sitting in the room with me don't always have the language to tell me in art terms why they don't like a cover." But she also acknowledges that the people around her at Open Road have sold thousands and thousands of books. "I'm not making fine art—I'm making commercial art. And there's a difference. All the art history in the world can help me make the most beautiful book cover in the world, but I need a product that sells, too. Maybe it'd be different if I had a gallery show of book covers, but that's not what I'm doing."
Too bad. It would be a great show.
Sam Mowe '07 is a writer living in Brooklyn. He wrote "Saved by the Bellhop" in the Winter 2011 issue.