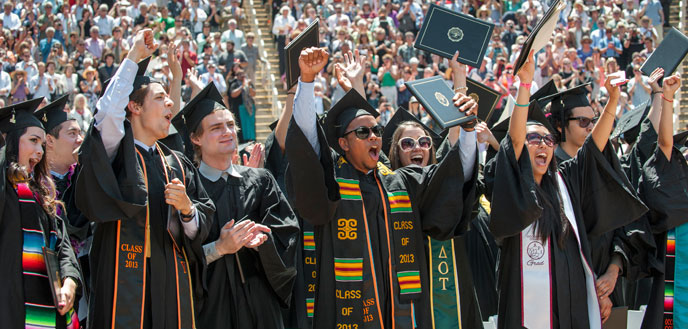 Members of Oxy's biggest graduating class—"America's most conspicuous minority," in the words of speaker Andrew Delbanco—commence the next stage of their lives
Under sunny California skies—would you expect anything less?—Commencement speaker Andrew Delbanco told the 553 members of the Class of 2013—Oxy's largest group of graduates ever—that a liberal arts education was a point of distinctiveness among their peers.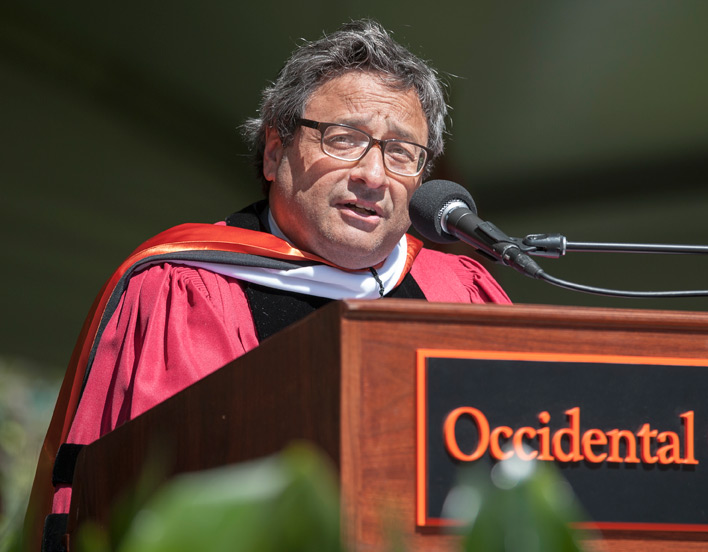 "You will see very few like yourselves," said Delbanco, the Mendelson Family Chair of American Studies and Julian Clarence Levi Professor in the Humanities at Columbia University. Speaking to a capacity crowd at Remsen Bird Hillside Theater on May 19, he noted, "There are 18 million undergrads in the United States, and only 100,000—or 5 percent—go for a college like yours."
Named "America's Best Social Critic" by Time in 2001, Delbanco was awarded the 2011 National Humanities Medal by President Barack Obama '83 "for his writing that spans the literature of Melville and Emerson to contemporary issues in higher education." He recently published the well-reviewed College: What It Was, Is, and Should Be.
Commencement is "a ritual of completion—though I hope you have learned that true learning is always incipient and never complete," he added. "I am delighted to congratulate all of you seniors on commencing the next stage of your lives, even—or perhaps especially—if you have no idea what exactly that will be."
"All of you, as students in a liberal arts college—regardless of your color or gender—are arguably America's most conspicuous minority today," said Delbanco, who was awarded an honorary doctor of humane letters. "You have to give as much as you get. It's not prepping you for a career, but prepping you for life. … A college like Occidental is a rehearsal space for democracy."
President Jonathan Veitch, who led the conferring of degrees, told graduates prior to the ceremony that their class would be a memorable one for him personally. "You were the very first class that arrived when I arrived," he said. After four years together on campus, he was the first to welcome them into the family of Oxy alumni.