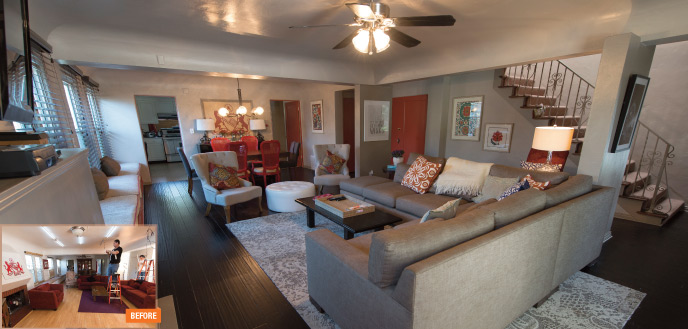 HGTV designer wannabes take on the SAE and Alpha houses; a documentary details the grueling and mysterious Master Sommelier Diploma Examination; and Annette Bening headlines a list of coming attractions with an Oxy connection
A Look Inside: Alpha and SAE Become HGTV Stars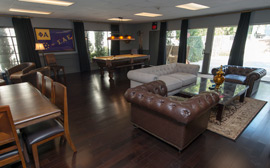 When HGTV showed up in February to make over the common rooms of Oxy's Alpha Lambda Phi Alpha and Sigma Alpha Epsilon houses for its design competition series "HGTV Star," the College rolled out a drum line, cheerleaders, and Oswald. For the "Sorority vs. Fraternity" challenge, which aired July 7, teams were divided along gender lines, with contestants Boris, Brooks, and Jeribai tackling the SAE house and Anne and Tiffany taking on the Alpha house. To see what can be done in three days with $40,000, check out the results below. Gone are the hand-me-down furnishings of the old Alpha space, while the new SAE room, inset, says "gentleman's lounge" (albeit with a dubiously chosen linen couch). "The most important thing for us is that it's a place a lot of people can fit into comfortably," Alpha president Emma Chapman '13 told the Occidental Weekly. "It's a home, not just a sorority house." The SAEs were equally stoked: As one brother exulted upon seeing the new room, "Oh my God, dude, this is unbelievable!"
Documentary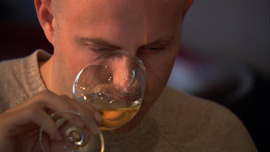 Somm, co-produced and photographed by Jackson Myers '06 (Phase 4 Films; available for purchase or rental at iTunes and Amazon). Director Jason Wise's film follows four men as they undergo the grueling and mysterious Master Sommelier Diploma Examination, a test with one of the world's lowest pass rates. Somm premiered last November at the Napa Valley Film Festival. Myers, a graduate of Oxy's Media Arts & Culture program, first worked with Wise as director of photography on the travel TV series EscapeSeeker.
Coming Attractions
It's been an Oxytastic year for the College in the entertainment world, with TV series Glee, True Blood, and Switched at Birth giving the campus some highly visible exposure (and even prompting confusion among some UC Irvine alumni, who mistook our parking structure for their own in the case of Arrested Development). And there's more to come in the months ahead: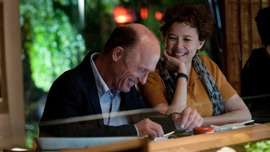 The Face of Love, Annette Bening's second film to be shot at Occidental (after The Kids Are All Right), will be released in September. Bening plays a widow who finds romance again with an Occidental art teacher (Ed Harris) who looks exactly like her late husband. Love shot at Oxy in April 2012.
King of the Nerds—the hit TBS reality competition series that pits the nerdiest of the nerds against their peers in a quest for nerd supremacy (and $100,000, which will buy a lot of comic books)—has set up camp on the Oxy campus for much of the summer. No idea right now if any of the challenges involve tunneling, but we'll keep our eyes peeled when the show, hosted by Revenge of the Nerds alumni Robert Carradine and Curtis Armstrong, airs in early 2014.
Welcome to the Family is a new NBC Thursday-night sitcom centered around the hilarity that ensues when Arizona State-bound Molly Yoder and Junior Hernandez (a first-generation Stanford aspirant) become unexpected parents-to-be. Set your DVR now for October 3, when Occidental doubles as MacArthur High School in the premiere episode from writer and executive producer Mike Sikowitz (Rules of Engagement).