Record-makers, record-breakers, award-winners, and Tor
Eleven Occidental students and alumni have won Fulbright scholarships to work and study abroad, breaking Oxy's single-year record of 10. Recipients and their destinations include Henry Carr '12 and Jennifer Wang '13 (Colombia), Thuy Hua '13 (the Czech Republic), Elizabeth Kennedy '12 (Indo­nesia), Alexandra McHenry '12 (Malaysia), Mariah Napoles '13 and Renata Rocha '11 (Mexico),  Gabriella Ochoa '12 (Brazil), Michael Patton '13 (India), and Valerie Walker '13 (Korea). Oxy's youngest Fulbright recipient, Karen Romero '16, will study at the University of Bristol for four weeks this summer.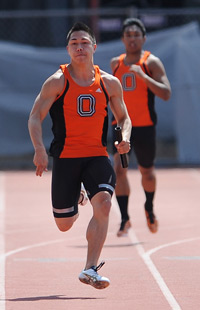 Star sprinter Jonathan Padron '14 notched his third All-American honor in finishing eighth in the 100-meter final at the 2013 NCAA Division III Outdoor Track and Field National Championships on May 25. The theater major from Kapolei, Hawaii, finished in 11.16 seconds against a 3.2 headwind. In the prelims, Padron ran a 10.62, his seasonal best. He earned All-American kudos at the Div. III Indoor Championships in March.
After consulting with education department faculty and alumni, Oxy will continue to support a robust education minor but will not seek re-accreditation for its K-12 teaching credential or master's programs. High program costs, scarce resources, competition from other schools, and current levels of student interest led to the decision. In a joint statement July 2, administrators and education alumni cited a number of "exciting" ideas that emerged from the discussions, "especially around integrating new technology into classroom teaching and urban education." 
Ming Cho Lee '53, legendary scenic designer and longtime professor at the Yale University School of Drama, was given a Special Tony Award for lifetime achievement in the theater on July 9. In his acceptance speech, the Chinese-born Lee joked that he holds "the unbroken record of being a total failure in Broadway theater. I have more flops than anyone can count." He's exaggerating, of course: His Tony-winning K2 ran for 85 performances back in 1983.
Developing RAW Talent: Student-Run Label Puts Oxy on Record
On most days, the sounds emanating from room 105 of Booth Hall—the small but utilitarian (and soundproof) headquarters of RAW Records, are so imperceptible that students studying in an adjoining music library aren't aware of them. If the producers, artists, and promoters involved with the organization have their way, it won't be long before these sounds are penetrating the entire community.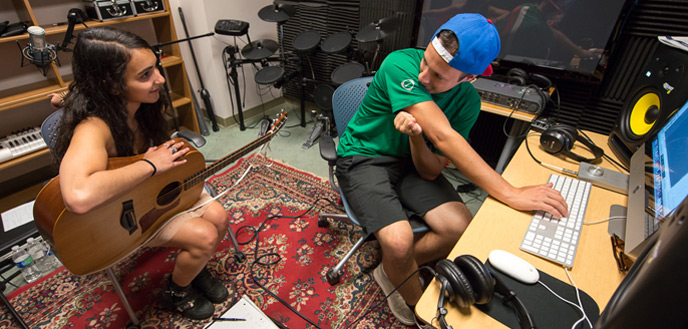 Founded in 2011 by Ryan Bartecki '13, Michael Ursu '13, Eleanor McQuistion, and Redd Barua-Norton '13, RAW Records is Oxy's student-run record label. Thanks to a $5,000 gift from Associated Students of Occidental College's capital improvement fund, it's also a fully operating professional recording studio. Over the last year, the club procured professional microphones and recording software and began enlisting sound engineers.
"Being a liberal arts school you get a lot of great talent," says Asa Welch '16 of Cambridge, Mass., RAW's head of promotion and artist relations. With hard work, he adds, it's been easy to create "a really good infrastructure" for the label—and Oxy's proximity to Hollywood is a direct lifeline to the heart of the business.
"We're in the right place," Welch says. "I'm from Boston, where the music industry isn't really thriving, but here you have endless resources and opportunities."
Although RAW is a work in progress, the club has already paid dividends for students like singer/songwriter Soraya Sebghati '16, who has performed gigs across the United States with the youth music program School of Rock. "It's nice that we have a community of musicians here to pick from," she says, which eliminates the hassle of tracking down session players on Craigslist.
In addition to being able to collaborate with fellow musicians, artists affiliated with RAW also have access to the likes of Gabriel Bethke '16, a trained recording engineer who cut his teeth recording music for relatives involved in Minneapolis's hip-hop scene. "I showed up, and people knew I knew how to record music," says Bethke, who was immediately enlisted by RAW's founding leaders to help build a recording studio. "Not many people have a chance to do that, let alone a college freshman."
Since the College doesn't currently offer specific music engineering classes, the hands-on training is priceless, says Bethke (pictured, with Sebghati). And while most students involved with RAW have their eyes on future careers in the music industry, Welch is confident that the club will begin to make an impact sooner rather than later. "I just want to become as close to a professional record label as we can and I think that Oxy has the resources so that we can do that," says Welch, who will maintain his role of behind-the-scenes hype man during his sophomore year. "We have three more years to make it happen, so anything is possible."—JOY HEPP
Trade Secrets Revealed! Tor Myhren '94 Explains Creativity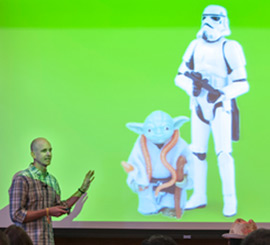 Tor Myhren '94, president and chief creative officer of Grey New York (the advertising agency behind successful campaigns for E*Trade and DirecTV), captivated a Dumke Commons audience with his Founders Day talk on "Creativity" on April 20. A 2010 survey of more than 1,500 CEOs named creativity as the No. 1 leadership quality for success, he said, even as other studies suggest that the nation's creativity quotient, or "CQ," has been in decline for the last five years. Noting that President Lincoln wrote the Gettysburg Address on a single train ride—albeit one that lasted 2 1/2 days—he encouraged people to take their own ride, and "explore the ridiculous."
"This is my childhood in a slide," Myhren, left, explained during his talk. "I would create personalities and worlds with these characters." (And if you don't know who they are, we're not going to help you.)