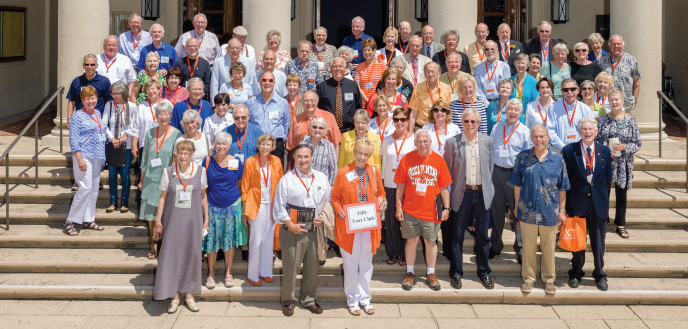 Oxy's Fifty Year Club welcomes the Class of 1964 to its ranks, continuing a rite of passage that dates back to 1954
Sixty years ago, Bud Meeker '54 M'63 and his undergraduate classmates were just setting out into the world when a group of Oxy alumni gathered on campus for the first time as the Fifty Year Club. Their numbers were small—fewer than 80 students had even graduated from Oxy up until 1904—but the club fast became a Oxy institution. And each year ever since, its members have returned to consider the next eligible class to join their ranks. On June 22, as outgoing FYC president, Meeker presided over the vote that welcomed the Class of 1964 into Oxy's most inclusive society.
As it is every year, a highlight of the Fifty Year Club ceremony is the reading of the class profile, which provides a snapshot of Oxy as it existed half a century earlier. Viewed collectively, the profiles detail the evolution of campus culture—from social protocol to student fashion to the foibles of favorite and infamous professors alike. In celebrating the unanimous induction of the Class of 1964—an unbroken record that stretches back 60 years now—let us compare the class' Oxy experience (as written by Pamela Colvin Coon '64 and presented at Fifty Year Club Day by Sharon Smith Dawson '64) with memories of earlier generations.
The Dating Scene
1915: "'Going steady' was a widely practiced and protected institution," Leroy Doig observed. "A formal device called 'the slate' provided a system whereby any male student could acquire a companion for a party without interfering with any of the established man-woman relationships. … It was strictly dishonorable to sign up for a girl who was one of the steadies. That limited the field considerably at old O.C."
1964: "Curfew at the women's dorms was generous for our time: 10 p.m. weekdays, 1 a.m. Fridays, and 2 a.m. on Saturdays. For those of us coming from homes where our mothers told us, 'The only things to do after midnight spell trouble,' 2 a.m. was wickedly generous."
The Classroom
1940: "It was [professor of English] Percy Houston who introduced us to the grading system at the College," Addie (Grant) McMenamin recalled. As Houston explained it. "To get an 'A,' you have to have an inner gift. For a 'B,' you need mechanical correctness and a sense of style. Anyone can earn a 'C.' 'D' is a grade we give when it should be an 'F,' but we need you to keep coming back to pay tuition."
1964: "We all took History of Civ. … Give your memory a jog, and listen to the essay question from March 1, 1961: 'Religion, politics, and economics were factors in the early stages of the Reformation in Germany and England.  Were these factors of approximately equal importance, or did their importance vary?  Explain and justify your answer as specifically as possible, giving some consideration to arguments that might be advanced in favor of answers ­different from yours.' Pretty hefty thinking for 19-year-olds!"
Common Ground
1928: "I know I speak for my classmates in saying that our emotions today are of gratitude to Occidental as the force that changed and enriched our lives, and also of affection for it and its family, living and dead," said Lawrence Clark Powell. "What lasts and what binds us together is the unseen and never-to-be-seen. It is the very essence of education—the enrichment of the mind with learning and of the heart with affection."
1964: "We were privileged to be at Oxy during this transitional time in our lives. We were not quite grown up, definitely not financially responsible, but more independent than we'd ever been. We carved lasting friendships, many of us found our lifetime mates, rounded out our education to pursue future goals, and formed a host of good memories. Thank you, Oxy."