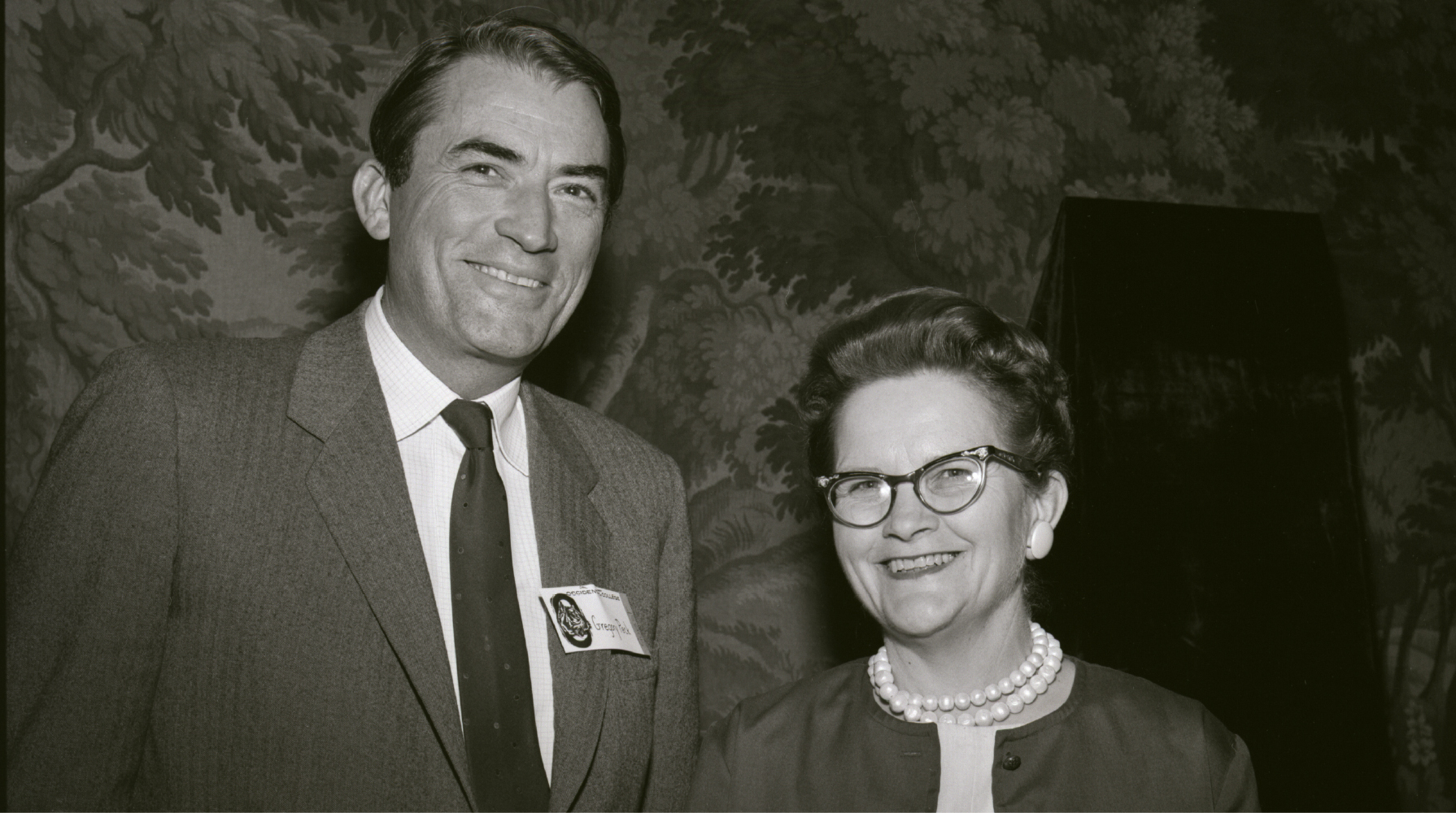 So you think you know Oxy? Take our little quiz—we're not keeping score—and you might be surprised about some things you never learned
Round 1: Occidental Glorious
1. "Io Triumphe!" was introduced into the Oxy lexicon in 1905, but it's not native to the College. What school originated the nonsensical cheer?
A) Princeton
B) Albion College
C) University of Mississippi
D) Towson University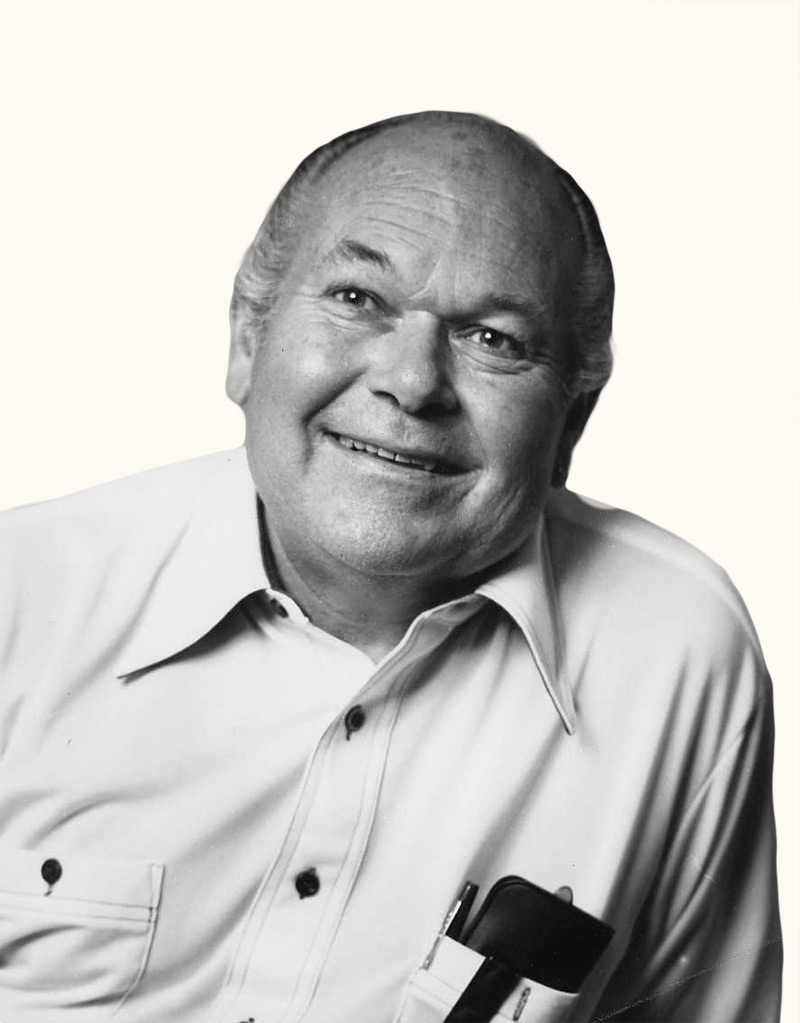 2. Which of the following playwrights was the favorite of professor of drama emeritus Omar Paxson '48?
A) Gilbert & Sullivan
B) William Shakespeare
C) George Bernard Shaw
D) Samuel Beckett
3. When Eagle Rock High School teacher Howard Swan was hired in 1934 to conduct the Men's and Women's Glee Clubs at Occidental, he was offered a salary of $40 a month. Where did the money come from?
A) The sale of Glee Club 78s
B) President Remsen Bird's discretionary fund
C) Proceeds from the College bookstore
D) The College's athletics budget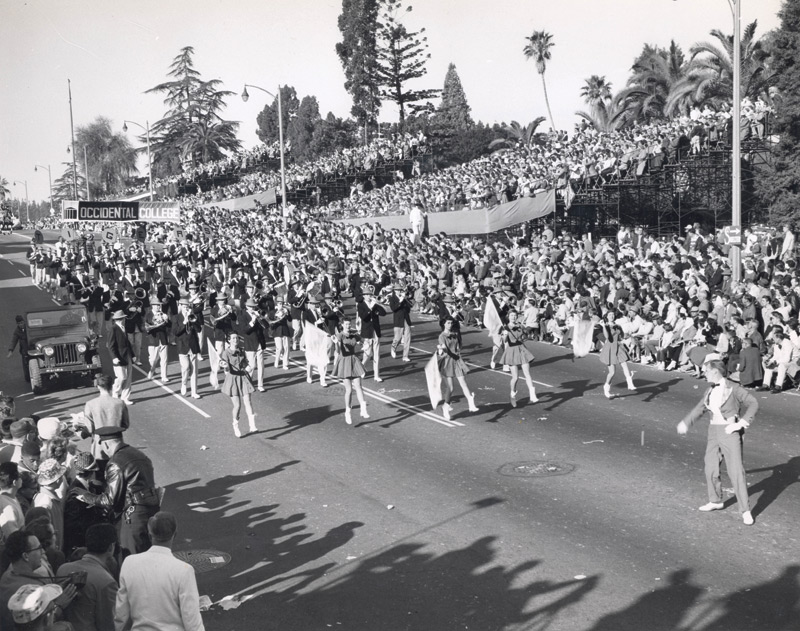 4. Occidental has had a float in the Rose Parade nine times. When was the last time Oxy had a float in the parade?
A) 1987
B) 1993
C) 1999
D) 2012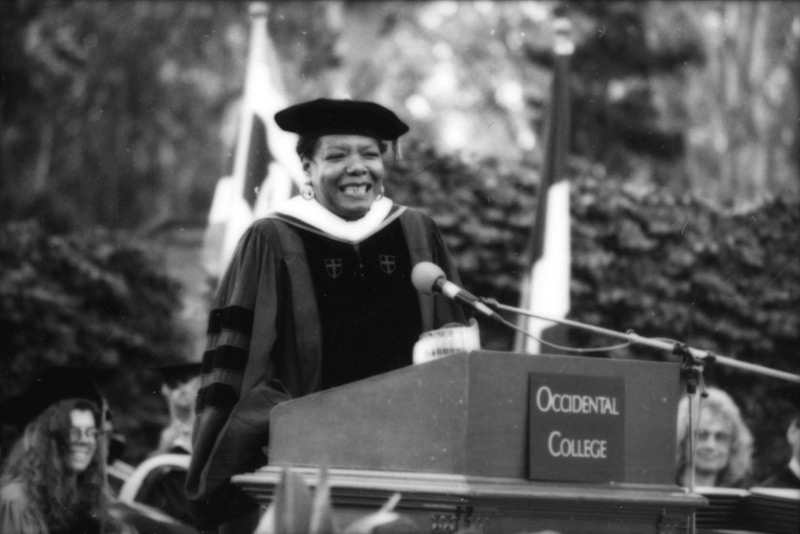 5. Match the Commencement quote to the speaker. 
A) "As a kid I was always telling my buddies I was a philosopher. And now, finally, somebody believes me."
B) "Courage is the most important of all the virtues—because without courage, you cannot practice any other virtue with consistency."
C) "I believe the world is incomprehensibly beautiful—an endless prospect of magic and wonder. Whatever mess we observe is our own responsibility!"
D) "Many or most of you—if the worst doesn't happen—will live to the year 2000. … Will we be flying to the Moon—or Venus—and who will the Venetians [sic] turn out to be?"
1) Time editor-in-chief Henry Luce
2) Photographer Ansel Adams
3) Poet Maya Angelou
4) Motown founder Berry Gordy
6. In what year were students and alumni involved in a major protest over gender-inclusive policies at Occidental?
A) 1911
B) 1968
C) 1997
D) 2012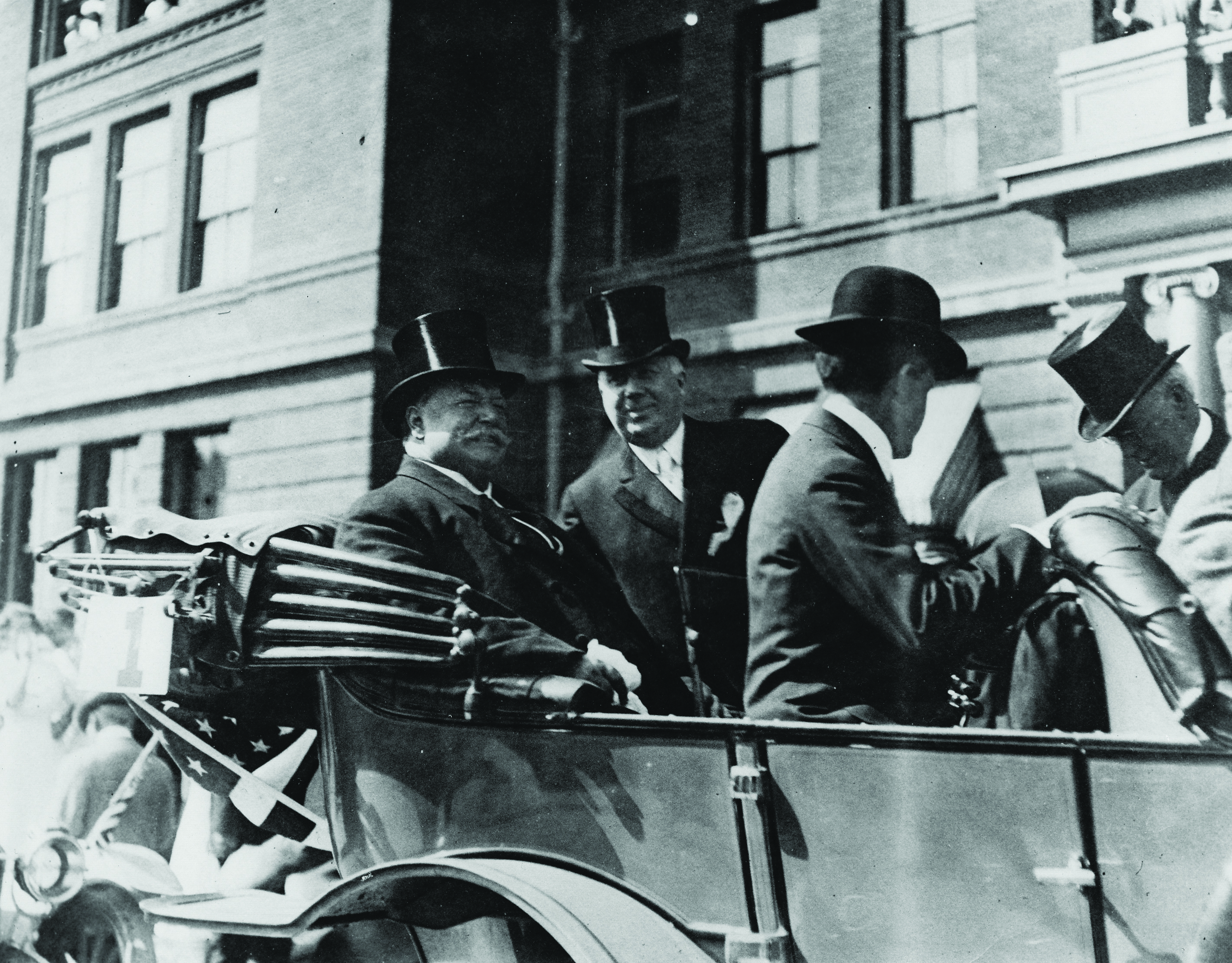 7. An October 1911 visit to Oxy's Highland Park campus by plus-size president Howard Taft necessitated a special chair to accommodate him. What renowned furniture manufacturer made and later gave the mahogany and leather chair to the College?
A) Barker Bros.
B) Dunbar
C) Gustav Stickley
D) Ikea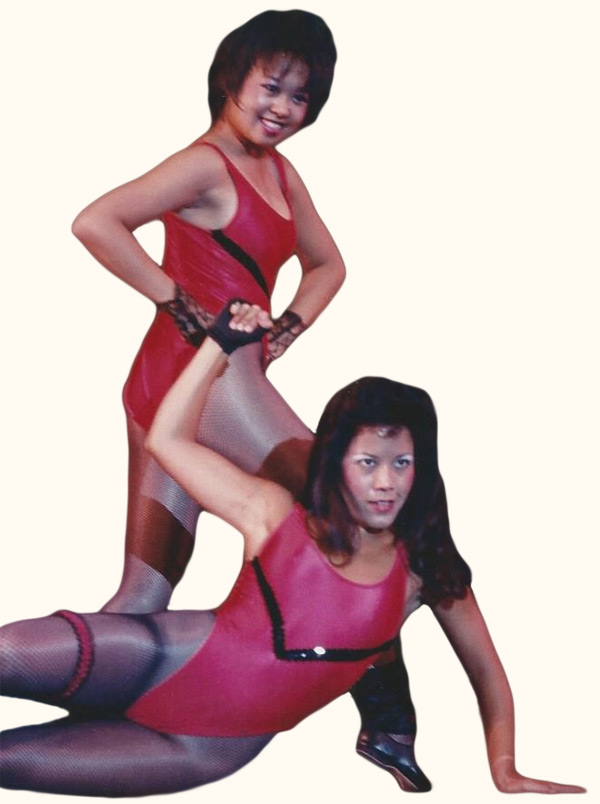 8. Rank these Oxy traditions in order of their beginnings.
A) Dance Production (aka Dance Concert)
B) Chilcott Barbecue
C) Sagehen burials
D) Da Getaway
9. Where did Oswald get his name?
A) From his mother
B) Mathematician Oswald Veblen
C) President Remsen Bird
D) Oxy students
10. When was the last time it rained on move-in day at the beginning of Orientation?
A) 1948
B) 1965
C) 1993
D) It never rains in Southern California!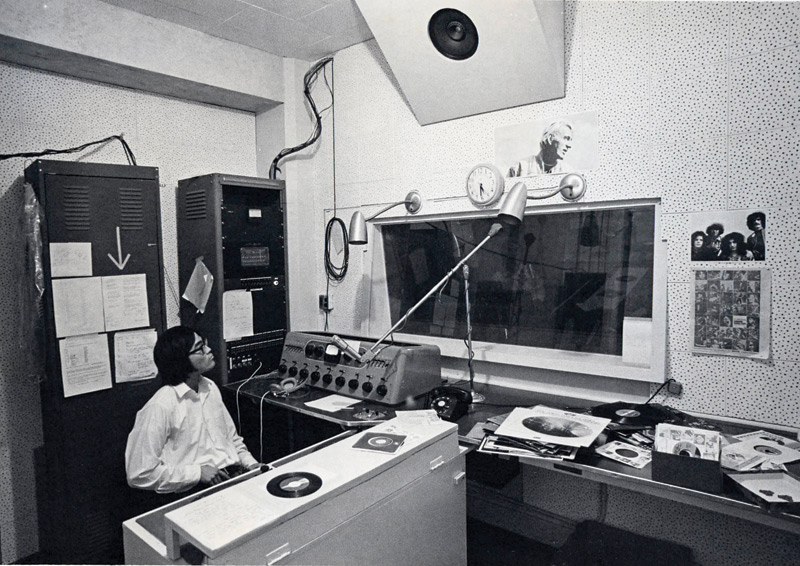 11. In its original incarnation, campus radio station KOXY had a different set of call letters. What were they?
A) KAGC
B) KIOT
C) KTGR
D) KYO
12. Vol. 3, No. 1 of the Occidental Alumnus(dated June 10, 1922) was the first issue of the magazine to feature a photo on the cover. Who (or what group) was it?
A) President Remsen Bird
B) Oxy's "Beloved Dean," Thomas G. Burt
C) The Men's and Women's Glee Clubs
D) Track captain Art Martin of the Class of 1922
---
Round 2: Alumni Meritorious
13. Don Carpenter '39 enjoyed a brief burst of notoriety by achieving what national championship on the lawn of the ATO house?
A) Tree sitting
B) Goldfish gulping
C) Pogo sticking
D) Jitterbugging
14. M.F.K. Fisher '31 is among the most beloved food writers of all time, and her books remain in circulation today. Which of the following was not written by Fisher?
A) Serve It Forth
B) Consider the Oyster
C) With or Without
D) How to Cook a Wolf
15. On a weekend getaway to Catalina in October 1937, Martha Stanley '38 (an Alpha Kappa) and Barbara Garrison '38 (a Delta Gamma) reeled in a pair of big fish—catching the eye of an Acme News Pictures photographer. (Oh, the things we find on eBay.) What kind of fish are they holding?
A) Halibut
B) Mackerel
C) Yellowfin tuna
D) White sea bass
16. Who is the only Oxy alumnus or alumna to ever appear on a U.S. postage stamp?
A) Robinson Jeffers 1905
B) Robert Finch '47
C) Homer Lea 1900
D) Ernesto Galarza '27
17. In what year were two Oxy graduates selected as Rhodes Scholars?
A) 1907
B) 1959
C) 1988
D) 1997
18. As producers, directors, and even subjects, Oxy has produced multiple Academy Award winners in the Best Documentary Film category. Match the alumnus or alumna to their film.
A) Richard Farsons '47           
B) Caitrin Rogers '04 
C) Dennis Patrick '73   
D) Marcel Ophuls '50 
1. Hôtel Terminus: The Life and Times of Klaus Barbie
2. March of the Penguins
3. Journey Into Self
4. 20 Feet From Stardom
19. Barack Obama '83 lived in Haines when he was an Oxy student. Which residence hall did Ben Affleck '95 live in?
A) Newcomb
B) Stearns
C) Wylie
D) Bell-Young
20. What California landmark was recognized by the U.S. Forest Service after a group of Oxy students led by 1905 graduate Percy "Pete" Goodell built a trail connecting it to Mount Wilson in 1915?
A) Occidental Peak
B) Goodell Heights
C) Mount Oxy
D) Ego Rock
21. Which of the following scions of industry leaders never attended Oxy? (Hint: None of them finished their degree here.)
A) Clarence J. Gamble, grandson of Procter & Gamble co-founder James Gamble
B) Albert G. Ralphs Sr., son of Ralphs Grocery Store founder George Albert Ralphs
C) Geordie Hormel, right, grandson of Hormel Packing Co. founder George Albert Hormel
D) Armie Hammer, great-grandson of longtime Occidental Petroleum CEO Armand Hammer
22. Which of the following Oxy musicians jammed with the Grateful Dead?
A) Lyle Ritz '52
B) Clarence Treat '61
C) Professor Richard Grayson
D) John "Marmaduke" Dawson '67
23. Which of the following started out as a project in Derek Shearer's Urban Business class in the early 1980s?
A) The Women of Oxy calendar
B) The Men of Oxy calendar
C) The Sidetrack Cafe
D) The Occidental Bookstore catalog
24. Who was the recipient of the first Alumni Seal in 1965? (Hint: President Emeritus Remsen Bird drew this portrait of him.)
A) Bill Henry 1914
B) John Parke Young 1917
C) Arthur G. Coons 1920
D) Lawrence Clark Powell '28
Round 3: O'er Our Foes Victorious
25. Whose shoes were bronzed and turned into a trophy that Occidental and Whittier have been playing for since 1946?
A) Whittier running back Myron Claxton
B) Oxy halfback Glenn Groves '39
C) Tigers coach Roy Dennis '33
D) College registrar Florence Brady 1919
26. Which of the following teams did Jack Kemp '57 not play for?
A) Detroit Lions
B) Pittsburgh Steelers
C) Calgary Stampeders
D) Los Angeles Chargers
27. Oxy has produced seven Olympic medalists over the years, the most prominent being Sammy Lee '43 (golds in platform diving in 1948 and 1952) and Bob Gutowski '58, above (silver in pole vault in 1956). Match these other alumni medal-winners to their sports.
A) Alphonso Bell 1895            
B) Craig Dixon '48      
C) Robert McMillen '53          
D) George Roubanis '59        
E) Robert Deaver '52  
1. Bronze, pole vault
2. Silver, tennis doubles
3. Bronze, high hurdles
4. Bronze, Dragon class yachting
5. Silver, 1500 meters
28. A 2006 commercial for what brand of beer made then-Indianapolis Colts coach Jim Mora '57's infamous 2001 "Playoffs?" press conference the centerpiece of a classic campaign?
A) Bud Light
B) Coors Light
C) Miller Lite
D) Natural Light
29. On what popular 1950s TV game show did Sammy Lee '43 appear as a contestant?
A) "What's My Line?"
B) "I've Got a Secret"
C) "Twenty One"
D) "You Bet Your Life"
30. Who is the only Oxy athlete or coach to grace the cover of Sports Illustrated?
A) Payton Jordan
B) Jim Mora '57
C) Jack Kemp '57
D) Bob Gutowski '59
31. Match these All-American student-athletes—all Division III national champions—to their sport or event.
A) Jerri Baker '85        
B) Shawn Lawson-Cummings '86     
C) Jean Marie (Sanders) Szakovitz '84          
D) Cresey (Stewart) Mayer '87           
1. Tennis
2. Distance running, hurdles
3. Heptathlon
4. 1500 meters
32. Who became, at age 22, the youngest head football coach in Oxy history?
A) John Lawrence Goheen
B) Jim Mora '57
C) Bruce Allen, above
D) Dale Widolff
33. 1910 graduate Fred Thomson, who parlayed amateur athletics success into a career as one of the most popular movie cowboys of the silent era, died of a tetanus infection at age 38 on Christmas Day 1928. His horse, Silver King, continued to make movies. What was his final screen appearance?
A) Pals of the West (1934)
B) Carrying the Mail (1934)
C) The Lone Ranger (1938)
D) The Terror of Tiny Town (1938)
34. In 1976, to promote the newly opened Aspen Club in Colorado, who did Sally Moore Huss '62 (the club's head pro) play in a $1,000 winner-take-all tennis match?
A) Chris Evert
B) Martina Navratilova
C) Billie Jean King
D) Bobby Riggs
35. Five Occidental baseball players made it to the majors, if only briefly. Whose big league "cup of coffee" lasted the longest?
A) William "Dutch" Hinrichs 1910
B) Dudley "Lee" Thompson '24
C) Arthur "Bud" Teachout '27
D) Hershel Lyons '37
E) Grant Dunlap '46
36. In 2011, Olin Browne '81 became only the fifth professional golfer to notch career wins on the PGA's developmental tour, the PGA Tour, and the PGA Champions circuit. Which of the five senior majors did he win that year?
A) The Tradition
B) Senior PGA Championship
C) U.S. Senior Open
D) Senior Players Championship
E) Senior British Open Championship
Round 4: Occidental Flair
37. Oxy has hosted countless musicians in many venues. Match the performer to the venue.
A) Linda Ronstadt       
B) Snoop Dogg            
C) Macklemore & Ryan Lewis
D) Roto Rooter Good Time Christmas Band  
E) Ravi Shankar           
1. The Quad
2. Rush Gymnasium
3. Herrick Chapel/Interfaith Center
4. Thorne Hall
5. Remsen Bird Hillside Theater
38. For every Clueless (81% positive reviews on Rotten Tomatoes) or The Kids Are All Right (93%), there are a handful of movies filmed at Oxy that didn't wow the critics. Of these four cinematic clunkers, which one is the lowest-rated?
A) D2: The Mighty Ducks (1994)
B) Don't Be a Menace to South Central While Drinking Your Juice in the Hood (1996)
C) Jurassic Park III (2001)
D) Made of Honor (2008)
39. Who gave the first Remsen Bird Lecture at Oxy?
A) Poet Robert Frost
B) Argentine novelist Enrique Anderson-Imbert
C) Pediatrician Benjamin Spock
D) U.S. Supreme Court Justice William O. Douglas
40. On what 2018 TV series was Barack Obama '83 attacked by an oversized gorilla as an Oxy freshman?
A) "The Flash"
B) "Marvel's Agents of SHIELD"
C) "DC's Legends of Tomorrow"
D) "Timeless"
41. Oxy's popularity as a film location is well documented, but it's also a go-to destination for national advertisers. Which recent national campaign featured this image?
A) Best Buy
B) Samsung Galaxy
C) NCAA
D) Pepsi
42. In 1967, the wife of a beloved American singer donated a collection of sheet music and operatic scores annotated by her husband to the College. Who was the singer?
A) Nelson Eddy
B) Eddie Cantor
C) Lawrence Tibbett
D) Vaughn Monroe
43. The "Oxy Statistic" is a persistent myth that claims that the majority of Occidental alumni marry other Oxy grads. When was the first Oxy Statistic marriage?
A) 1897
B) 1907
C) 1917
D) 1914
44. Which of the following namesake beverages is not served at the Green Bean?
A) Green Dynamite, after the Leonard Green Family
B) The Studenmaker, after Oxy professor Woody Studenmund
C) To Veitch Their Own, after President Jonathan Veitch
D) Skotcheim, after President Emeritus Robert A. Skotheim
45. Match the individual or group to the gift they made to Oxy.
A) The Classes of 1938-41      
B) Alzada Carlisle '45 
C) Gilbert C. Van Kamp           
D) Stanley Johnson                 
1. Oxy's Vantuna research vessel
2. An IBM 1620 Model II computer
3. The "Westminster Chimes"
4. A new tiger mascot
46. Which of the following is not grown in Oxy's FEAST garden?
A) Carrots
B) Cauliflower
C) Celery
D) Corn
47. Prior to his academic career, Jonathan Veitch was an extra in a number of Hollywood productions. Which of the following did not contain the college-age thespian?
A) "Charlie's Angels"
B) "Fantasy Island"
C) Harold Robbins' The Pirate
D) Thank God It's Friday
48. After new dumpsters were placed around the Occidental campus recently, Oxy's Dumpster Art Committee sponsored a pair of campuswide competitions to turn these mobile garbage bins into works of art. Match each dumpster to its location on campus.
1. Bioscience Building
2. Pauley Hall
3. Thorne and Booth halls
4. Tiger Cooler
Trivial Pursuits: How did you do?
Occidental Glorious
1) B. Albion College in Albion, Mich., another school renowned for its squirrel population. Written by the Class of 1900, "Some of its phrases were taken from other college yells, some from a Greek play that had been presented on campus during that period, and others were borrowed from the poems of the Roman writer Horace," according to the Albion website.
2) C. Shaw, although Gilbert & Sullivan and Shakespeare were also staples of Oxy Summer Theater productions. (Omar was known to have a distaste for Beckett.)
3) D. Graduate manager Ted Brodhead '27 paid Howard Swan $40 a month out of the College's athletics budget.
4) B. The 1993 Alumni Association entry was titled "Everything is coming up roses."
5) A:4 (2007). B:3 (1994). C:2 (1967). D:1 (1954).
6) A. In 1911, students and alumni of both sexes rallied and persuaded the Board of Trustees to reverse its decision to turn Oxy into an all-male school. It was Oxy's first major protest.
7) A. Barker Bros., founded in 1880 by O.T. Barker, which closed its doors after filing for bankruptcy in 1992. After spending many years in the office of professor emeritus Wellington Chan, the chair currently resides in President Veitch's office. 
8) C-B-A-D. The ceremonial burial of a rubber chicken prior to the Oxy-Pomona football game began in the early 1930s. (On the flip side, Pomona students burned a papier-mâché tiger.)
9) D. Oxy students gave Oswald his name.
10) B. It rained so hard in 1965 that the sidewalks were flooded on York Boulevard.
11) D. KYO (short for Know Your Oxy).
12) D. Martin, who set a school record in the 880 with a time of 1:59.1.
Alumni Meritorius
13) B. Carpenter swallowed 39 live goldfish "without benefit of salt or chaser," Thomas Heber wrote in the Los Angeles Times. Oxy psychology professor Gilbert Brighouse weighed in on the craze, calling it "a quick [and] easy way to emerge from the morass of anonymity." 
14) C. With or Without—a phrase associated by more than four decades of alumni with Oxy's legendary director of food services, Clancy Morrison.
15) C. A yellowfin tuna.
16) A. An 8-cent stamp honoring Jeffers was part of the American Arts Series issued in 1973.
17) B. John Paden '59 and Aaron Segal '59.
18) A:3. Psychologist Farsons co-leads the 16-hour group therapy session that is the subject of the 1968 documentary Journey Into Self. B:4. Rogers is producer of 20 Feet From Stardom, about backup singers Darlene Love, Merry Clayton, and their kin. C:2. As president of National Geographic Ventures, Patrick oversaw the release of Penguins. D:1. Director Ophuls (The Sorrow and the Pity) won the Oscar on his second try with Hôtel Terminus.
19) B. Stearns Hall.
20) A. Occidental Peak.
21) D. Gamble, Ralphs, and Hormel enrolled at Oxy as members of the Class of 1914, 1920, and 1950, respectively. Hammer, who dropped out of high school in 11th grade to pursue an acting career, studied briefly at Pasadena City College and UCLA to appease his parents.
22) D. John Dawson—who co-founded the New Riders of the Purple Sage—not only jammed with the Dead, he also co-wrote "Friend of the Devil."
23) A, B, and C. Inspired by the popularity of similar calendars at Arizona State University and USC, Lynne Watson '83 and Vyla Rollins '84 partnered with photographer Glenn Mar '84 to produce the 1984 Men and Women of Oxy calendars. A second group in Shearer's class conceived the Sidetrack Cafe, which Oxy built as a refreshment stand on the side of the newly resurfaced track. 
24) C. President Coons.
O'er Our Foes Victorious
25) A. The cleats belonged to Myron Claxton, an All-American running back for Whittier, and were stolen from the Poets' locker room just before a contest with Occidental in 1939. Undaunted, Claxton took to the field in his work boots, leading Whittier to a 36-0 victory. 
26) A. After being selected by the Detroit Lions in the 17th round of the 1957 NFL draft, Kemp was cut from the squad before the 1957 football season began.
27) A:2 (1904). B:3 (1948). C:5 (1952). D:1(1956). E:4(1964).
28) B. The Coors Light spot ran in 2006.
29) D. The two-time Olympic diving champion traded quips with emcee Groucho Marx on the April 19, 1956, episode of "You Bet Your Life."
30) D. Gutowski was on the cover of SI's June 24, 1957, issue with the headline "The Assault on 16 Feet." Jordan made the cover of Lifeas a USC undergrad in 1939, while Kemp appeared on the cover of Time in 1996 alongside presidential running mate Bob Dole.
31) A:2. B:3. C:1. D:4.
32) C. University of Richmond alumnus Bruce Allen, who was hired by the Tigers in July 1979. He led Occidental to a 2-6-1 record in his single season as coach before leaving to coach the short-lived California Football League's Los Angeles Thunderbolts. Since 2009 he's been president of the Washington Redskins, dad George's former team.
33) C .Silver King was the original Silver in The Lone Rangermovie serial.
34) D. Bobby Riggs, who brought his "Battle of the Sexes" shtick to the Rocky Mountains resort community. Who won? For that you'll have to read Aspen Hustle (2008), by Sally and husband Marv Huss.
35) C. Pitcher Bud Teachout played 67 games with the Chicago Cubs (1930-31) and a single game as a St. Louis Cardinal (1932) before hanging up his jersey. (As a Tiger, the southpaw had a record of 30-6.)
36) C. In 2011, Browne won the U.S. Senior Open by three strokes over Mark O'Meara at the Inverness Club in Toledo, Ohio.
Occidental Flair
37) A:4. B:5. C:2. D:1. E:3.
38) D. Patrick Dempsey's Made of Honor, at 14% on Rotten Tomatoes.
39) D. Justice William Douglas, whose 1948 lecture, titled "The College and Society," was published by the College the following year.
40) C. "DC's Legends of Tomorrow."
41) B.The Samsung Galaxy ad is titled "Growing Up."
42) A. Nelson Eddy, who is probably best remembered for the eight films he made with Jeanette MacDonald.
43) A. 1907, when 1906 graduate Edna Cumberland married Oxy junior Will Roberts of the Class of 1909.
44) B. But a Studenmaker sounds pretty good, right?
45) A:3. B:4. C:1. D:2.
46) D. No corn so far—but if students plant it, it will come.
47) B. "Fantasy Island"—although Veitch did appear on "The Love Boat" as an extra. "People think it's glamorous, but movie sets are very dull, actually," he told Occidental in 2009. "The thing I liked about it was I could read all day long."
48) A:4. B:1. C:2. D:3.
COVER) C. Donald O'Connor—although the actor and hoofer played a post-WWII dad and college football player in the musical comedy Yes Sir, That's My Baby, which includes footage of the Jan. 1, 1949, Raisin Bowl in Fresno between Occidental and Colorado A&M.