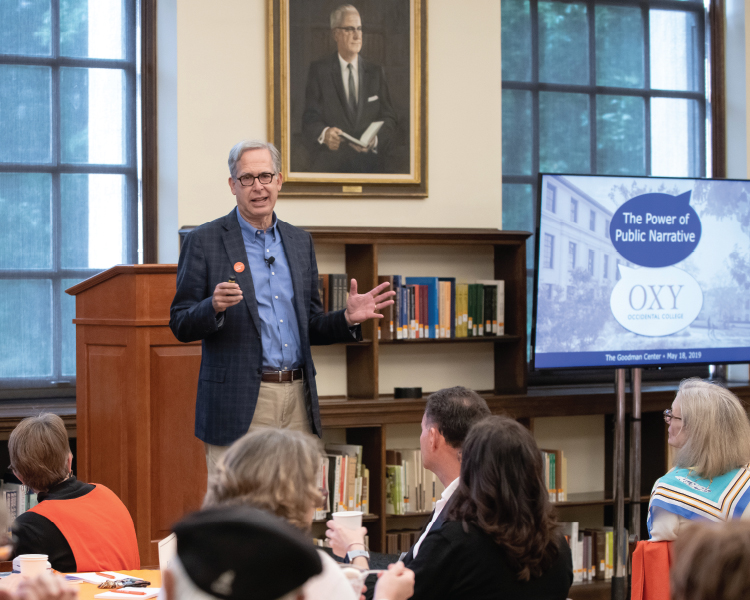 Can the College ingrain a culture of philanthropy and stewardship? Oxy's chief fundraiser believes so
At the outset of Oxy's $65 million Compass for a New Century campaign in 1992, tuition and fees totaled $19,895 and the endowment for the College stood at $141 million. During the 2017-18 academic year, the cost of tuition and fees was $70,182, and the endowment (as of June 30, 2018) was $434.2 million.
In an era when where the cost of attending Oxy is outstripping the growth of the endowment, building the endowment for financial aid is at the forefront of The Oxy Campaign For Good. That's a shift in focus from previous campaigns dating back to the 1960s, where renovation or construction was the top priority. But that's not the only twist to Occidental's first comprehensive campaign since John Brooks Slaughter was president. The College wants more than your money. We want to engage you.
"There's a difference between a history of philanthropy at an institution and a culture of philanthropy," explains Charlie Cardillo, Oxy's vice president for institutional advancement. "A culture of philanthropy requires a broader community involvement in a shared ownership of our goals. We consider our broader volunteer community, and others who wish to join us, as stakeholders in the future of the College. It's a culture of stewardship: 'This is our place, and we have a shared accountability for its success.'
"Philanthropy is the love of humanity, and it takes many forms," he continues. "It's devoting your time and energies to really getting to know the College, sharing that message with your peers, and providing an ear to those who may have some misgivings or misunderstandings about Oxy. You can help clear those up so that people understand the value of its mission."
Cardillo looks at Oxy as "a house full of individual stories that all connect into a special, shared experience that people have had across the generations because of the unique environment in which this education has been offered." And to bring that message home to Oxy's volunteer leadership, he enlisted the aid of professional communicator Andy Goodman—yes, that's his real name—who launched his business in 1998 with a singular mission: "to help good causes reach more people with more impact."
During a morning session titled The Power of Public Narrative, Goodman worked with Oxy's volunteer leadership and Cardillo's Institutional Advancement team with the goal of telling their Oxy story in two minutes. The results, Cardillo says, were inspiring: "People uncovered the power of story and in a number of cases uncovered the power of their own stories."
Charles McClintock '68, past president of the Alumni Board of Governors, "shared a really powerful story of a young boy whose experience with the concept of racism led to a lifelong commitment to working to understand it and to hopefully defeat it. And he is emblematic of what this community possesses," Cardillo says. "When Charles got up and told his story in two minutes, it was beautiful. It had imagery and I think people got the idea that a story relates a challenge you faced, a choice you made, and an outcome. It's not, 'Oxy was a formative time in my life and now I want to give back.' "
Over the course of The Oxy Campaign For Good, Cardillo hopes that giving back will take the form of more than just financial support: working with the Hameetman Career Center to identify internship opportunities, for instance, or conducting an informational interview with a prospective student for the Admission Office. "Any way in which your time, talent, or treasure is informing the student experience, that's philanthropy," he says. "That's leadership. Even if you're just willing to come back to events and engage with your fellow alums, that conveys the message that there's something going on here."
A firm believer in the power of narrative is filmmaker Jesus Treviño '68. "Every human being is at heart a storyteller," he says, and Occidental "is an ideal petri dish for nurturing storytelling. You can be a scientist and tell stories when you make a discovery, you can be an artist and tell a story in a painting, or a composition that you've written, or a piece that you've performed.
"The fundamental goal of all storytelling is make a better world," he continues. "We live in a complex world full of strife, misunderstandings, bigotry, and hatred. … If we're ever to get beyond that, it's going to be the storytellers that help guide us."
A Selected History of Campaigns
1896: The Rev. A.A. Dinsmore of Alhambra is hired as field secretary to raise money toward construction on the Highland Park campus—Oxy's first capital campaign. In three years, Dinsmore raises $8,620.70 for the new College building.
June 1962: Spurred by a $2.5 million grant from the Ford Foundation that required matching gifts of $7.5 million, trustees announce a three-year, $10 million campaign. The campaign raises $8 million.
1974: Oxy launches a 10-year, $40-million New Capital Program campaign. Major projects include a remodeling of Johnson Hall, conversion of Orr to Weingart, and construction of Culley Athletic Facility. The campaign raises $60 million.
July 1997: Oxy's five-year, $65 million Compass for a New Century campaign wraps with a total of $68.8 million. Renovation was again the top priority.