Winning Project Greenlight and making her first feature film has opened doors for Meko Winbush '03. In return, she endured eight months in front of the camera
As a child, Meko Winbush '03 recalls, "I wanted to be an astronaut. Then somewhere like around age 12 or 13, my family rented Terminator 2, and I thought it was the dopest thing I'd ever seen. I watched it four or five times before we had to return it to Blockbuster." After that, she continues, "I started asking my dad if I could borrow the camcorder and go outside and make awful films with my friends in the cul-de-sac. I just loved movies and filmmaking."
During her junior year at Occidental, where she was an art history and visual arts major, HBO aired the premiere season of Project Greenlight, a documentary-style reality series that chronicled a first-time filmmaker's efforts to direct a feature. Matt Damon and Ben Affleck '95—Oscar winners for Good Will Hunting, which Affleck dropped out of Oxy to finish writing—served as executive producers and on-camera mentors. "I first heard of Project Greenlight when they did their second season in 2003," Winbush recalls. (There's one more Oxy connection to the series: Julien Lasseur '11 was a top-10 finalist in the last competition, which aired in 2015.)
For the 2023 revival, actress Issa Rae's production company, Hoorae, took over the franchise in partnership with HBO's streaming platform, Max, intent on finding a female director (the show's first). In late 2021, an industry friend messaged Winbush about the competition. She decided to apply but kept her expectations in check: "I've probably been rejected by a gazillion fellowships."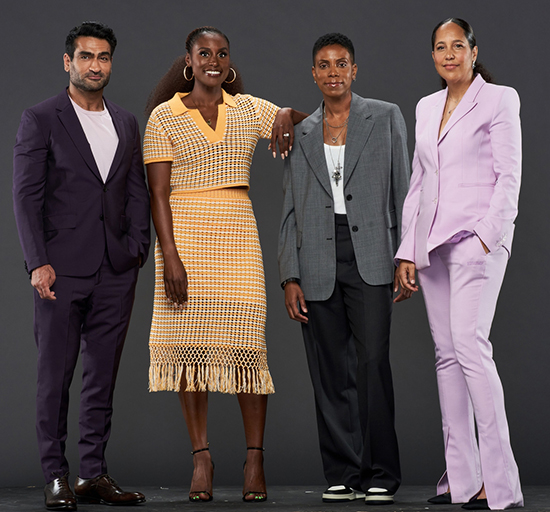 Several months later, on the night that Winbush was declared the winner of Project Greenlight, "There was a moment right before the announcement where I noticed all the cameras were pointed at me," she says. "I thought, 'Wait a minute, Issa might be about to say my name.' After that, I kind of blacked out."
Despite the covert nature of her selection—media images of Winbush with her Project Greenlight mentors were embargoed until days before the show's premiere—she woke up the next day to some 80 congratulatory texts. "It was such a weird feeling," Winbush admits. "I was super stoked and just going on adrenaline. It was all such a whirlwind."
Winbush had literally seven weeks to prepare before shooting would commence on Gray Matter, a micro-budget science-fiction thriller commissioned for Project Greenlight. Why so little time? "My dude," she replies, "this is a reality show. From day one or two, I told the producers, 'Guys, you're gonna be really bored with me. I'm the least dramatic person. You're never going to see me yelling at anyone, or throwing anything, or having a meltdown. That's just not me in general.'"
True to her word, viewers don't see the angry auteur. The series creates drama out of concerns over Winbush's reluctance to take production notes, her removing her mic on set while talking to her actors, and an overnight getaway to Joshua Tree late in the postproduction cycle. The producers tip their hand by inserting the word "problem" into the title of every episode: "Future Meko's Problem," "The Tyler Problem," "That's a YOU Problem," and so on.
"The interest seemed more on making a good show rather than making a good movie, which is unfortunate because the crew that we had on the film are professionals," Winbush says. "They're working super hard, so that rubbed me a bit the wrong way."
Given the opportunity to produce the director's cut of Project Greenlight, would she do it? "Absolutely," she says. "I loved watching all that behind-the-scenes stuff growing up. I used to watch the 'making of' Terminator 2 all the freaking time."
In episode two of Project Greenlight, Winbush is talking with mentor Gina Prince-Bythewood (The Woman King) about her memories of watching Love and Basketball—Prince-Bythewood's acclaimed 2000 directorial debut—as a student at Oxy. "I used to love watching the TV show Felicity, and my mom pointed out to me that Gina was one of the writers on it," she says. "It still blows my mind that I have her cell number."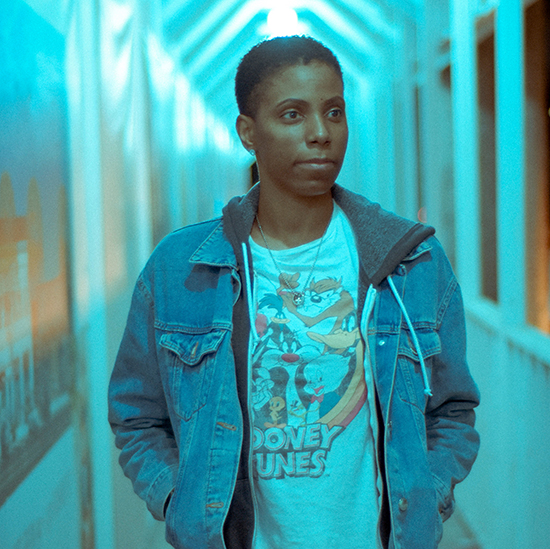 Winbush enrolled at Occidental from "a really small high school out in Lancaster. I wanted to go to a school that I could play basketball," she recalls. "I stayed at Occidental overnight and I liked it." Her hoop dreams only lasted one year with the Tigers: "I loved everyone on the team, but it was a really big time commitment, and I was really scrawny. I'm still scrawny."
While at Oxy, Winbush made a handful of shorts, from a noir narrative to a Twilight Zone-inspired thriller "about this dude who meets this weirdo in a bar who tells him that he's going to die in three days," she recalls. For a documentary class, she interviewed other students about the legend that Mary Clapp Library is haunted (and shot a spooky reenactment using a dormmate from Pauley Hall). For another assignment, she went back to her elementary school in Van Nuys and asked fifth- and sixth-graders about the war in Afghanistan.
Through the L.A. County Arts Internship Program, Winbush got a 10-week internship between her junior and senior years with the American Film Institute's Directing Workshop for Women. She worked closely with filmmaker Tamika Lamison, who developed an award-winning short, Hope, through the AFI program. "Seeing these women making these films, it made me feel like, 'Oh, if they can do it, so can I,'" she recalls.
Following graduation, Winbush interned for about a year with director Gary Ross and his then-wife, Allison Thomas, at Larger Than Life Productions on the Universal lot. "I was reading a ton of scripts and doing coverage," she says. "I set this goal of trying to finish a script but I was really slow. It would take me so long to just write one page, because I never took a screenwriting class."

Her next job was as a production assistant in the trailer division of New Wave Entertainment in Burbank. Over time, Winbush worked her way up to a logger (watching hours of behind-the-scenes footage on big movies, including the Harry Potter and Fast and the Furious franchises) and then assistant editor. In 2009, she took a job as an assistant editor at Buddha Jones advertising and design agency. After finishing her shift around 12:30 a.m., she says, "I would drink a Monster Energy and stay and practice editing trailers until at least 5 a.m."
A self-described "horror/sci-fi nerd," Winbush cut a 30-second spot for the 2009 reboot of Friday the 13th that she shared with a producer who showed it to Buddha Jones co-founder and partner Lee Harry. "They sent it to the client at Warner Bros., who loved it and they ended up finishing the spot." After that success, Winbush started getting more editing assignments. In 2015, she won a Golden Fleece Golden Trailer Award for her work on the 2014 film The Giver, and her teaser trailer for The Conjuring (2013) was listed among Tribeca Film's "15 Best Horror Movie Trailers Since 2000."
Winbush and some of her friends developed a lucrative side hustle creating spoof trailers for company parties and the like. As the productions grew bigger and more involved, culminating in a five-minute found-footage trailer for a corporate getaway to Cabo San Lucas, they reignited her passion for filmmaking—and in 2016, she finished the script for a neo-noir short titled This Path.
"I got one of my friends to produce it and another buddy to help produce and act in it," she recalls. After raising more than $8,000 for the project on Kickstarter, she hired cinematographer Andrew Jeric, a 2013 MFA graduate of USC film school. They shot This Path over four days and took the finished short to more than a dozen festivals, where "the reception was pretty good," Winbush says. She and Jeric have since reteamed for a couple more shorts as well as Gray Matter.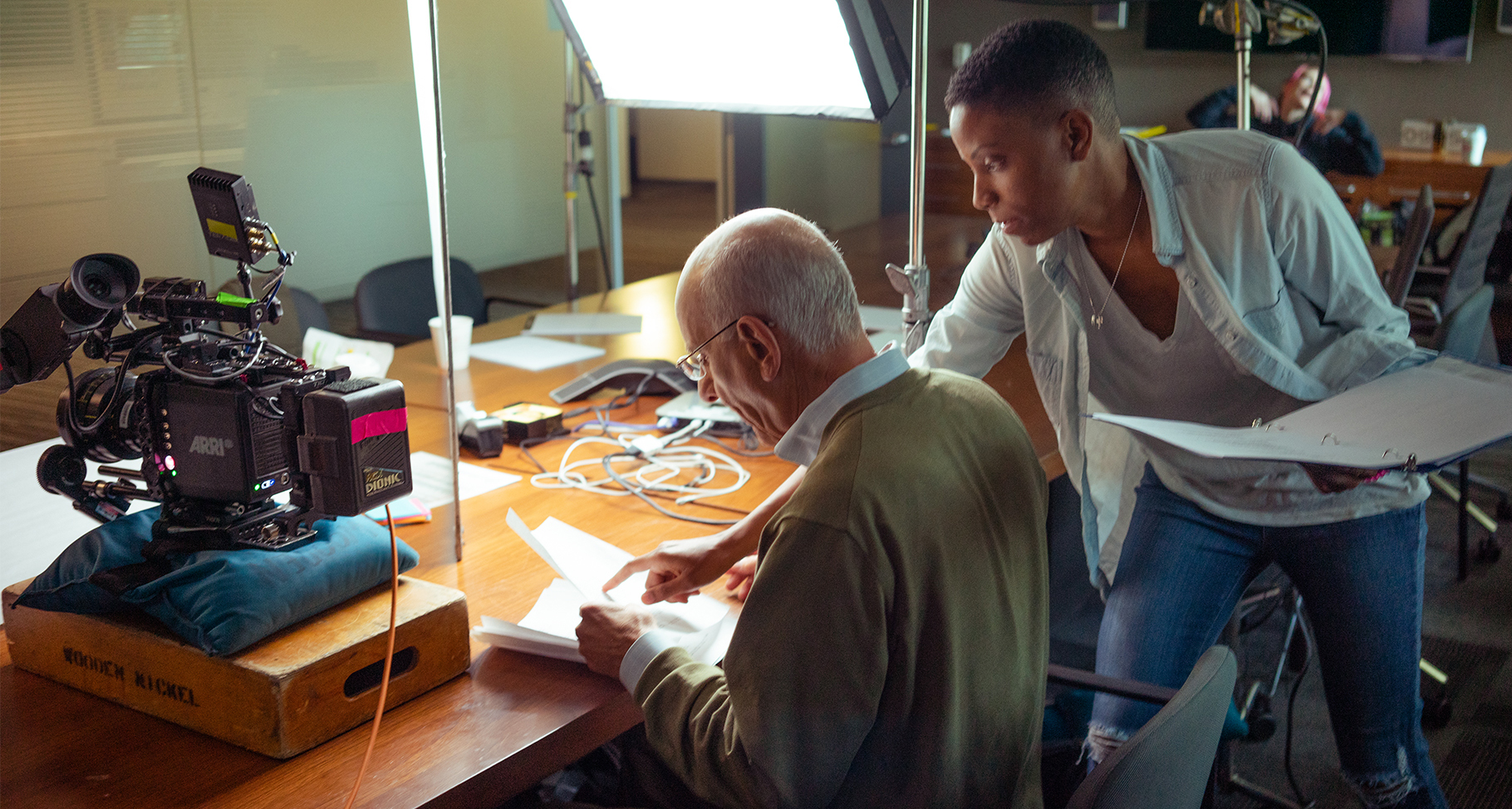 As part of the application for Project Greenlight, Winbush submitted her award-winning horror short, In the Darkness, which premiered at the Austin Film Festival in 2021, accompanied by a one-minute video bio. She shot it in the style of The Daily Show, she says, "with little pop-up windows—I made it mostly about the things that I like and my interests. I tried to make it fun, and I guess it worked."
After two rounds of interviews, Winbush was greeted on a Zoom call by a group that included Project Greenlight mentors Issa Rae and Kumail Nanjiani with the news that she was one of 10 finalists. She was given $5,000 and three weeks to film a three-page scene from the screenplay for Gray Matter.
To shoot the audition scene, she says, "I had to put together a crew. I had to find five actors. I was trying to rehearse in the middle of COVID. Buddha Jones let me use their parking lot so my actors could meet each other and I could work on some blocking. We shot it over two nights and I quickly edited it. I got a buddy at Buddha to mix the sound, another friend to do some dirty VFX for me. It was all a bit of a scramble."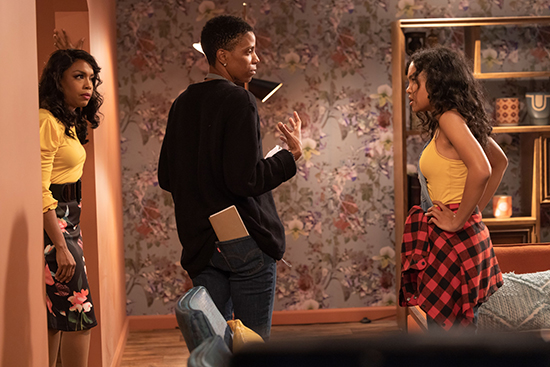 In hindsight, three weeks seems almost generous compared to the schedule Winbush was allotted to film Gray Matter: 18 days on a $3.5 million budget. In fleshing out the script, Winbush and screenwriter Phil Gelatt were on the phone every night hashing through revisions. "He had some great ideas and is really smart," she says. "Just trying to get the script to a place that everyone was happy with was challenging. It also got to a point where we couldn't do big sweeping changes because we were locked in to the locations where we were shooting."
Add to that the pressure of a second crew documenting the creative process, and things were bound to come to a boil—which they did in episode eight ("PGL vs. Gray Matter Problem"). "Between my crew and their crew, there were 120 people on set, which really did slowed things down," Winbush says. "I wouldn't have had this opportunity without the show at all. But it definitely was not as smooth as I would have hoped."
All 10 episodes of Project Greenlight dropped at midnight on July 13, in tandem with the streaming release of Gray Matter. (The film screened quietly from February 28 to March 6 at Laemmle's Monica Film Center, including a premiere screening with the film's cast, crew, and their family members in attendance, as well as mentors Rae, Prince-Bythewood, and Nanjiani.)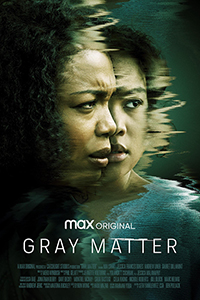 Winbush saw the first two episodes a week early, but Max declined to share the rest of the series in advance. "That turned into a little bit of an argument," she says. "I had to watch everything super-fast when it dropped, because I had a Variety interview later that day. I was still a little sour when I did that interview.
"Look, no one has to like the movie," she continues. "But I'm so damn proud of all the crew members who busted their ass working on the film. We shot a whole feature in 18 days, and these people are my friends now."
Where does she go from here? After taking a leave of absence from Buddha Jones for Project Greenlight and Gray Matter, Winbush resigned from her job earlier this year to pursue writing and directing full-time. "I'm in a position where I don't need to do trailers right now," she says. "I have a manager and have been taking meetings and all of that stuff. I'm currently turning In the Darkness into a feature, and I have producers interested in some of my other screenplays. I just want to direct something that I wrote. It's definitely the plan. Essentially, I'm investing in myself."
Winbush remains close with many of her peers in what is now Oxy's media arts and culture program. She and director-actor-writer Marshall Cook '04 (Copshop, the forthcoming Not Without Hope) took many of the same classes together, "and I made him act in a lot of my projects," she says. "Then we ended up being roommates for about three years in our late 20s." She recently shot a 90-second short about infidelity—conceived by Cook and written by ChatGPT—starring Cook and actress Steph Barkley. "Marshall quickly edited it and we posted it days later. We were just goofing around, but it blew up for a while." (It has 163,000 views on Cook's Instagram.)
Working with Oakland-based writer-director Yvan Iturriaga '03, she edited a two-minute video for the Movement for Black Lives, narrated by Tony Award-winning actor Daveed Diggs, titled What to My People Is the Fourth of July? In the wake of the murder of George Floyd and the protests that followed, the video (inspired by an 1852 speech by Frederick Douglass to a group of about 500 abolitionists in Rochester, N.Y.) went viral, reaching 10 million views. 
"That just speaks to the thing with Oxy," Winbush says. "You actually get to know people on an intimate level. These people become your friends and family, and even 20 years later, you're still willing to jump in and help each other."
Among her PGL mentors, she spent the most time with Prince-Bythewood, who was busy editing The Woman King while Winbush was making Gray Matter. Prince-Bythewood took her job as a mentor seriously, "and she still does," Winbush says. In early August, the two went out on the WGA picket line, doing laps around the Walt Disney corporate headquarters in Burbank while catching up. "She is so generous with her knowledge and advice because she's been in my shoes.
"When I was out marching and picketing I got stopped a handful of times by people just recognizing me, which was weird, and they all had strong opinions about the show," Winbush adds with a smile. "But again, I got to direct a feature out of it, so I can't be mad at that part."
Additional photos courtesy of Meko Winbush '03.