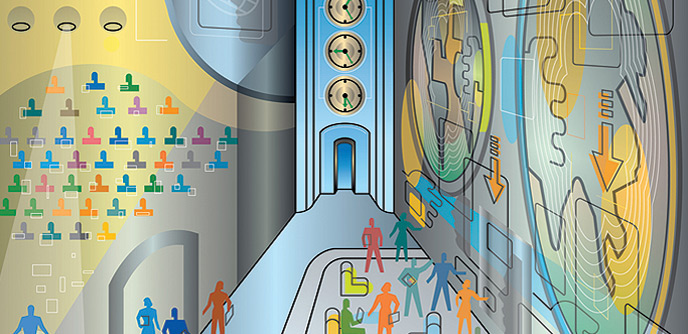 The conversion of Johnson Hall into a high-tech learning environment and the addition of world-class scholar Sanjeev Khagram to the faculty signal Oxy's commitment to creating a cosmopolitan culture on campus
By Andy Faught
Sanjeev Khagram's long road to Occidental started in 1972, when the Uganda native was expelled from his country with 60,000 other residents of Asian descent. The order by then-President Idi Amin was fueled by claims that Ugandan Asians, including Khagram's grocer parents, were responsible for the East African nation's economic struggles. The family was taken to a refugee camp in Italy before eventually relocating to the United States.
"We lost everything," says Khagram, who in August started his duties as the John Parke Young Chair in Global Political Economy. But the experience offered a valuable perspective: "It showed me how forces and conflict interact to shape people's lives, societies, economies, and environments, but also how much individuals and the work they do can have a huge impact in the world."
That led to a second insight: Entre­preneurs, much like his parents, can be a force for good, either by working with governments or forging their own path. It's a mindset he's wasted no time imparting to his students. "What I'm trying to do is to help them see connections and complexities and linkages in today's world, but to add to that a creative entrepreneurial approach to changing the world," he says. "This is translating critical thinking to creative problem solving."
Bringing Khagram to campus is just one part of an ambitious plan to create a cosmopolitan culture at Oxy in which faculty and students move easily between different countries and world views. When the College dedicates its new $10.2-million McKinnon Family Center for Politics and Global Affairs in the newly renovated Johnson Hall next fall, guests and dignitaries will see a high-tech learning environment that belies the building's nearly century-old exterior. Visitors will be greeted by a two-story tall "media wall" designed to highlight student work and present textual and visual materials on pressing issues of the day. Nearby, a digital lounge will make it possible for students and faculty to speak with friends and colleagues from around the world. There also will be a new theater-like auditorium flanked by a situation room and gallery to be used for classes and press conferences.
"Really, the center is an attempt to make a statement about where we are as a college," says Anthony Chase, associate professor of diplomacy and world affairs and department chair. "But it's much more than just a nice renovation of a building. It emphasizes and puts an exclamation point on Occidental's commitment to integrating the global into the studies we do here in Los Angeles."
"We're in one of the most global cities in the world," adds Jorge Gonzalez, vice president for academic affairs and dean of the College. "It would not make strategic sense to go in any other direction. The McKinnon Center is a concrete way for anybody who walks through its doors to know we're committed to global education."
The center will occupy 40,325 square feet in a transformed Johnson Hall, one of Occidental's three original buildings on the Academic Quad. The structure's Myron Hunt-designed exterior remains intact, but its core will be filled with the DWA and politics departments, as well as the Language Lab and the International Programs Office. The new center is named for Sonnet and Ian McKinnon '89, whose $5-million lead gift was announced at Founders Day last April.
Since his arrival, President Jonathan Veitch has voiced his commitment to instilling in all students—regardless of major—the ability to "take on their responsibilities and opportunities as citizens of the world," while also being "skilled at negotiating its complexities, and cosmopolitan in their interests and tastes."
Oxy's newest endowed professor—a position made possible by a gift from the late Marie and John Parke Young '17—will play a prominent role toward that end. According to McKinnon Center director Derek Shearer, Khagram was hired because of his international reputation as a scholar and activist in policymaking and politics. "He approaches globalization and global political economy not from theory but from practice, which is exactly what we were looking for," says Shearer, former U.S. ambassador to Finland and the Chevalier Professor of Diplomacy and World Affairs.
One of Khagram's proudest accomplishments was serving in the late-1990s as a senior adviser to the World Commission on Dams. The group is comprised of academic, private sector, and government representatives who work together to research the environmental, social, and economic impacts of dam construction around the world. Kha­gram's 2004 book Dams and Development: Transnational Struggles for Water and Power considers, in part, how dam building affects human rights.
Khagram has taught at Harvard Business School, Stanford, and most recently the University of Washington. He is joined at Oxy this year by new DWA assistant professor Hussein Banai, who earned his Ph.D. from Brown University and is one of five co-authors of the recent book Becoming Enemies: U.S.-Iran Relations and the Iran-Iraq War, 1979-1988 (Rowman & Littlefield Publish­ers). Shearer calls the pair "world class by any standard, with international reputations and contacts. They just add to the mix and excitement."
Renowned for his expertise on globalization and transnationalism, sustainable development, human security, and governance and leadership, Khagram was drawn to Oxy in part because of the McKinnon Center, but also because of the College's singular approach to global education. "It starts off with the fact we have a diplomacy and world affairs department, a stand-alone department for international relations and international studies. That means it's more interdisciplinary," he says. "That doesn't exist at any other liberal arts college in the country."
He's also impressed by the caliber of the Occidental student body and the overall campus vibe as it relates to global education. "The undergraduates here are as good as I've experienced throughout my career. Oxy feels like an institution on the move, and that gets me excited—to be a transforming model of liberal arts education in the 21st century."
His DWA 410 students this semester would certainly agree. Khagram has organized his class into a "taskforce" that seeks out a government or an international non-governmental organization to help them fix a problem. "Students are given a set of questions from that external partner and they do a collaborative project that involves, not only the research, but various kinds of projects that are written, oral, and visual analyses," he says. "They then present their findings to the client, so they can actually use them in the real world. It's trying to help students learn to work in teams and do applied research that can help address a global challenge."
This semester's taskforce challenge is to consider entrepreneurship and innovation in the global economy. Many countries have tried to replicate the "Silicon Valley kind of magic," with mixed results, Khagram says. "What makes Silicon Valley unique? Is it really replicable around the world? That's one of the issues they're taking a look at."
His impact beyond the classroom is evident. Alexander Keat '15, a DWA major from Merion, Pa., was inspired to relaunch Oxy's dormant entrepreneurship club because of Khagram's course. And Lauren Mahoney '13, a DWA major from Boulder, Colo., is examining the role of entrepreneurship in Mexico and making a documentary to supplement her senior thesis. Khagram relates his own life experiences outside teaching, she says, "to give us real-world examples and help us connect our studies to real life."
Students also are looking into ways global businesses can improve innovation. "They're doing something that can have major implications for governments, companies, and individuals around the world," Khagram says, adding that the experience will help students develop their own business acumen. "We want to not only be the premier liberal arts school when it comes to global affairs, we want to be in the front tier at helping our students become entrepreneurial leaders in the work they do, whether it's the private sector, politics, or policy."
"What entrepreneurs really want to do is give back," Mahoney says. "They see something that can be improved, and they have solutions. It's about having a vision and wanting to help move society to a better place."
Freelance writer Andy Faught of Fresno wrote "The Moore Identity" in the Fall 2012 issue.