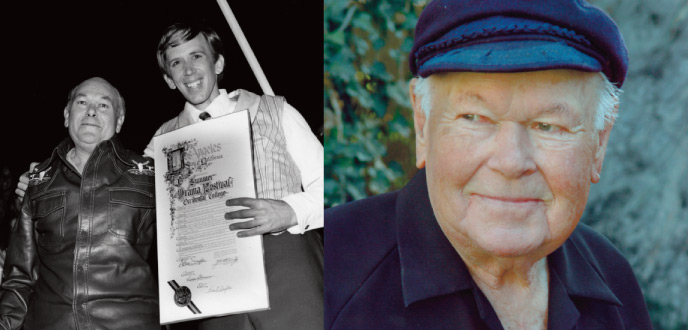 With a resume as a playwright, director, actor, and professor, the late Omar Paxson '48 created enough memories to sell out a lifetime of Summer Drama Festivals. Still, his greatest legacy may be his inspiration
Everyone who knew and loved Omar Paxson '48—which is to say just about everyone who ever met Oxy's professor emeritus of theater arts and rhetoric—has a favorite Omarism: "Theater problems are happy problems!" "Everybody makes the popcorn." Or—after a couple of unhappy sheep borrowed for a production of The Second Shepherds' Play bolted from the back seat of a car into the trees behind Thorne Hall, only to be recaptured in time for the opening curtain—"If you have an idea, there's a way for it to get done."
One of the most beloved characters to ever grace the Oxy campus, Paxson took his final curtain call on December 18, eight days after his 90th birthday. He is survived by his wife of 61 years, Helen Imrie Paxson '52; children Laura and Bill; and five grandchildren.
A native of Huntington Beach, Paxson attended Fullerton Junior College for a year and a half before he was drafted into the Army, serving in the 99th Infantry Division in World War II. He fought in the Battle of the Bulge and crossed the Remagen Bridge before its collapse, and worked to establish the first American bridgehead across the Rhine River ("the worst rifleman the Army ever tried to train," he observed in 2002). He applied to Oxy in 1946, but was accepted only after the College decided to add 200 more veterans to the postwar enrollment. 
Paxson thrived under the lights at Oxy, becoming president of the Occidental Players (the student troupe founded by professor Charles Lindsley) and beginning a lifetime of collaborations with his best friend, the late John Ingle '50 of "General Hospital" fame. (
Left: 
Lifelong pals John Gregory-Panopoulos '49, Paxson, and Ingle crack each other up at Paxson's home in 2004. Gregory-Panopoulos died in 2011; Ingle passed away in 2012.)
After earning a master's from North­western in 1950, Paxson had accepted his first teaching position at Colorado State University when the death of Oxy drama director William Melton prompted Lindsley to write Paxson urging him to apply for the position. So he joined the Occidental faculty in 1950, where he was the sole instructor in the theater department until the arrival of Alan Freeman '66 M'67 for the next 18 years.
Beginning with a production of George Bernard Shaw's Androcles and the Lion, he directed 74 plays at Oxy, most of them staged in Thorne Hall. Among his personal favorites: a 1953 Hamlet starring Carl Ginet '54; The Merchant of Venice; and three productions of Henrik Ibsen's Peer Gynt. 
In 1960, Paxson completed his Ph.D. from Northwestern and also founded the Occidental College Summer Drama Festival, which he ran for the next 26 years. With a steady diet of Shakespeare, Shaw, and Gilbert and Sullivan, the repertory series attracted a large and loyal following to the Greek Bowl. "We did way over 100 productions in summer theater, and I loved them all," says Paxson, whose Occidental honors include the faculty achievement award in 1969 and the Graham Sterling Memorial Award in 1976.
In addition to his work as a director, Paxson continued to write for the theater. His 1964 play Letty (a one-act set in a small midwestern bus station) was produced at the Yale University Festival of New Plays. Other notable works include Rhubarb and Roses, produced as part of the American College Theatre Festival in 1969; The Ballad of Sanki Mercer, which was produced at the Kennedy Center in Washington, D.C.; and Laughing in the Sea Wind, whose award-­winning set designer, Ann Sheffield '83, later studied at Yale under Ming Cho Lee '53, whom Paxson proclaimed "the dean of American designers."
"Without Omar, I never would have survived," says Lee, the Donald M. Oenslager Professor of Design at Yale University and a Tony award-winner. "He kind of opened me up. I was unbelievably shy and uncommunicative. After Omar, I never stopped talking."
At the height of the avant garde craze popularized by the works of Beckett, Genet, and Ionesco, Paxson penned his own ironic contribution to the movement, Hatchers Number 3, that was staged in the lower theater in Thorne. In the play, "Three actresses were sitting on giant eggs, and the eggs cracked, and they were empty to show the emptiness of living," he recalled with his contagious laugh. Was it ever performed again? "Never."
"Living with my father was a little like living with a cartoon character," son Bill said at Paxson's 90th-birthday celebration in the Samuelson Alumni Center on December 15. His signature jumpsuit—a look that dates back to the mid-1970s—began with a gift from Omar's sister, "much to my mother's chagrin," said Bill (who has taken up acting in community theater in Orange County since his retirement as an L.A. police officer). "I'm not sure what kind of animal they had to kill to make a jumpsuit, but my father had one in every color imaginable. He even had a black velour one that he wore to church."
At that same celebration, Andrew Baker '84 spoke for many in the room: "Omar changed my life. He touches every aspect of who I became. How do you go back and say, 'Thank you, Omar,' for everything you do for me to this day, and continue to do? I'm not sure I can find the words to do that."
Looking back on his career in 2012, Paxson summed up his time at Occidental with a fitting Omarism: "It was hard work, but the hard work was fun." 
Donations to celebrate the life of Omar Paxson may be made to the Omar Paxson Student Scholarship Fund, Occidental College, 1600 Campus Road, Los Angeles CA 90041-3314.