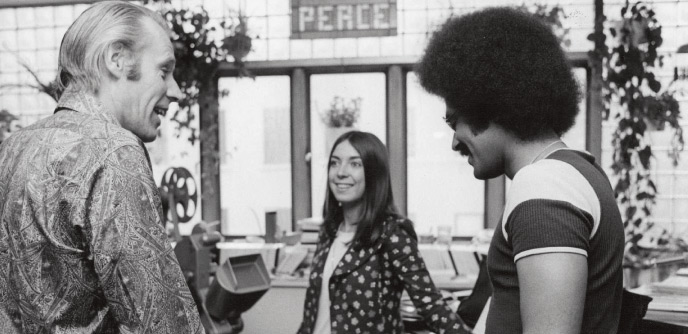 Memoirs by Susan Hamilton '65 and Randy Jurado Ertll '95; an examination of China's emerging rural crisis by assistant professor of history Alexander Day; and piano doctor Richard Davenport '69 resuscitates an American Grand.
Hit Woman, by Susan Hamilton '65 (Hitwoman Publishing; $18.95). Hamilton began her career as a child prodigy, winning numerous awards and performing as a soloist with symphonies in the Los Angeles area. After study in Aspen, then Rome as a Fulbright Scholar, a fateful decision sends her life hurtling in the direction that her memoir chronicles: the story of the "classical music chick" who finds her destiny producing Clio award-winning jingles and working with recording artists from Michael Bolton to Muddy Waters. "Every page of this engrossing chatty memoir cum exposé cum history of the musical spectrum of the world is laugh-out-loud funny, full of Hamiltonian wit and charm, and very rich in insights into some of the most famous personae of the last half century," writes her former Oxy Glee Club accompanist, Grady Harp '63. Hamilton lives in Wolfeboro, N.H.
The Peasant in Postsocialist China: History, Politics, and Capitalism, by Alexander F. Day (Cambridge University Press; $90). A radical appraisal of the role of the peasant throughout Chinese history, Day's book examines contemporary debates on China's emerging rural crisis and its relationship to intellectual politics in the reform era (1979-present), putting these debates into historical perspective. Day is assistant professor of history at Occidental. Focusing on the late-imperial period through the 20th century, his research interests include the history of radicalism and populism, the politics of rural society and the rural-urban relationship, the connection between historical writing and politics, colonialism and anti-colonial movements, and transnationalism.
The Life of an Activist: In the Frontlines 24/7, by Randy Jurado Ertll '95 (University Press of America; $55). Drawing on his experiences in social movements and activism, Ertll describes key steps on how to become an effective activist and community leader. The book examines social movements and provides useful advice on how to successfully manage nonprofits to accomplish positive social change. A politics major and Spanish minor at Oxy, Ertll was deported from the United States to El Salvador as a baby. Growing up in South Central Los Angeles against a backdrop of drugs and gang violence, he later lived and worked in Rochester, Minn.; Madrid, Spain; Washington, D.C.; and Alexandria, Va. Oxy professors Roger Boesche, Thomas Burkdall, Larry Caldwell, and Deborah Martinson, among others, influenced his development into a passionate advocate for those who have been rendered voiceless. Ertll (randyjuradoertll.com) is the former executive director of El Centro de Accion Social, which provides basic social services for Pasadena's Spanish-speaking population.
American Grand, produced and directed by Harry Bromley-Davenport and Mike Snyder (available on DVD and digital download at pianomovie.com). A 1913 Steinway—with rusty strings, wood-boring insects, and cat hair clogging the action—is dragged into a workshop and restored over the course of a year by a team of technicians led by renowned Los Angeles piano doctor Richard Davenport '69 (above, no relation to filmmaker Bromley-Davenport). American Grand (which screened on KCET in October) captures the transformation of the vintage Steinway from wreck to shining beauty. With setbacks, skirmishes, and heartfelt revelations along the way, you'd never know that restoring a piano could be so dramatic. Davenport received a B.A. in violin performance from Oxy; played violin, bass, and trumpet professionally in several musical ensembles, and taught junior high school instrumental music before beginning his work on pianos.