Oxy faculty and students embrace, explore, and experiment with technology to keep arts classes, exhibits, and performances humming
For a mid-April production titled Trope! (Fear Is a Villain)—inspired by the writing of 2nd-century satirist Lucian of Samosota—Associate Professor of Theater Laural Meade '88 and her students are staging a thoroughly modern work that can be best described as quarantine horror—"quar horror," for short.
"I wanted to make an original play that happens on Zoom about fear and isolation, and how we turn to storytelling in times of uncertainty to find connection with one another," says Meade, who has taught at Oxy since 1998. "Our students are profoundly resilient and resourceful but they miss being present at Oxy. We rely on being in proximity to each other."
While the pandemic has thrown a wrench into all aspects of life at Oxy for nearly a year now, a bright spot has been the College's arts programming, which has embraced the tools of technology to keep Oxy arts classes, exhibits, and performances humming."Almost a year ago now, we figured out how to make shows online as a community and as a department," Meade says. "I said to my students recently that we have before us an entirely new art form available for exploration, experimentation, and investigation."
In addition to Trope!, Meade produced Oxy's 23rd annual New Play Festival in February. This year's festival showcased four one-act plays written, produced, and acted by Oxy students in collaboration with professional stage actors and directors, all working remotely. "Zoom provides a certain focus and ease that has been helpful for students," Meade says. "It's tough but their work is as good as they would normally do or better." 
Leading up to last November's election, Assistant Professor Will Power got the notion of bringing one of Shakespeare's most durable works to the Zoom stage this spring. "I thought, 'Let's do something about tribalism. Let's do something about warring communities, cultures, and fashions in a society. How does love overcome that, and at what price?'"
Romeo and Juliet, which will be performed virtually April 1-3, "has a contemporary approach in terms of costumes, lighting, look, and energy but utilizes this ancient text, fusing it all together to really look at these issues," adds Power, who joined the Theater Department faculty last fall. "I think it's all very relevant today—we're so polarized as a nation."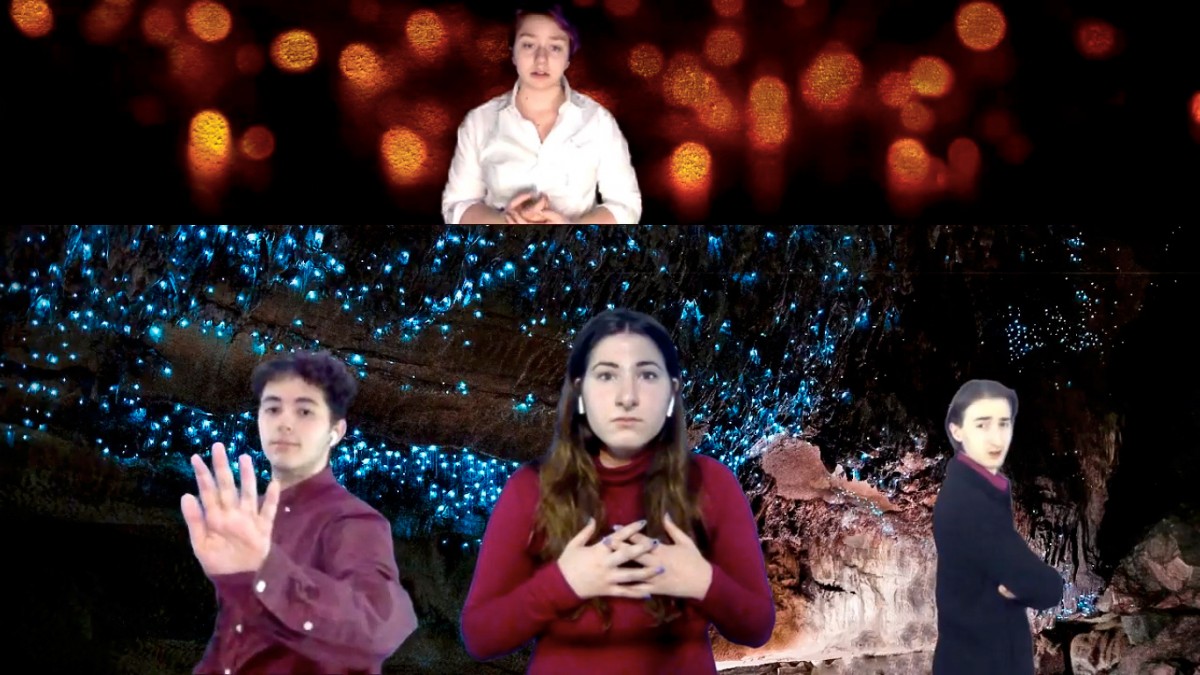 Though Zoom is the current handmaiden to creativity, Power says it can also take a toll on his students. "A lot of them are like, 'Man, a Zoom show? I'm already on Zoom all day!' That part has been hard, but the actual virtual classroom experiences are really exciting. I think everyone is giving everyone just a little bit of love and a little bit of extra leeway all around, you know?"
The community experience is the central focus of the Cornerstone Theater, a Los Angeles-based company that Occidental's Theater Department collaborated with last fall on the streaming video play Highland Park Is Here. The production—which tells stories of Oxy's venerable Northeast L.A. neighborhood and its inhabitants—included four student actors as well as Associate Professor Sarah Kozinn in front of the camera, with two other students assisting with costume design and stage management.
"The students felt that it was a really powerful experience," says Theater Department Chair and Professor Susan Gratch. (One of her first-year student advisees, Zachary Goldsmith, auditioned, rehearsed, and performed from his home in Portland, Ore."This is the best thing that I've done," he told Gratch. "I feel like I actually know the community and I've never even been there!")
Last October, the department livestreamed a production of Mary Zimmerman's Scenes From Metamorphoses, with a small group of students under the direction of Edgerton Guest Artist Jonathan Muñoz-Proulx. "We never sat in the room with each other at all—one of the students was attending rehearsals from his home in China," Gratch explains. "Even though we couldn't be together, we still were functioning as a collaborative artistic team. It was great—I'm looking forward to trying it again this spring."
In a time when glee is on short order, the 115-year-old Occidental Glee Club has its hands full. "The tough part is, there's no technology that allows you to sing synchronously with each other," says Desiree LaVertu, director of choral and vocal activities and associate professor of music. That poses a major challenge for a largely harmony-based group—but the Glee Club's 43 student members are still vocalizing, strong as ever. "They're just doing it on their own, wherever they may be," LaVertu explains. "I have them do recordings, and then I can give them feedback."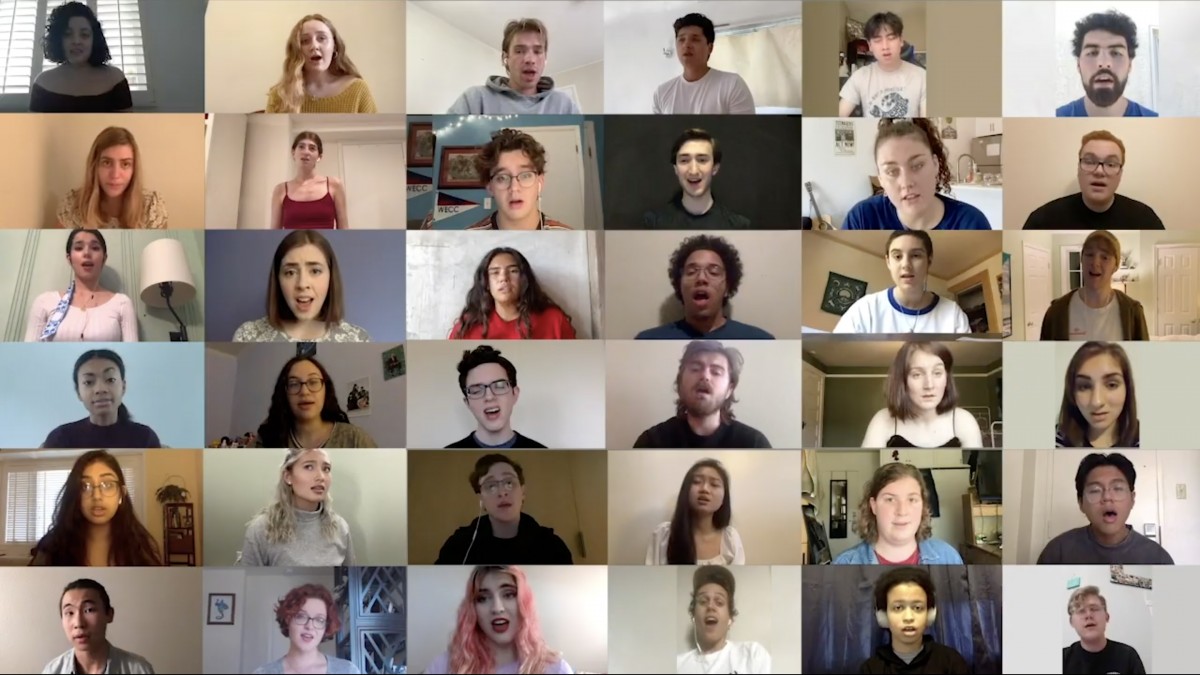 The Glee Club has also created virtual choir projects recorded remotely, available for viewing on YouTube. "One of those was 'We Shall Overcome' for Oxy's Homecoming at Home," LaVertu says. The club's full Homecoming selection can be seen on Facebook. "And in spring 2020, we did Billie Eilish's 'When the Party's Over.' We also recorded the alma mater and 'Io Triumphe.' We end every concert that we do with the alma mater and then segue right into the chant."
One of the elements of Glee Club that students miss the most is harmony singing, "leaning into the person next to you and hearing what they're doing, and how your part fits into that," LaVertu says. To combat that dilemma, she's chosen selections that allow students to sing an individual melody. "Everybody feels like they're really singing a solo in a way. Many students in the Glee Club are wonderful singers, but they don't identify as soloists. This format has really challenged a lot of them, and it's gotten them to step out of their comfort zone."
"The silver lining is that every person is going to be far more autonomous than they have been before, and therefore stronger," LaVertu says. "And when we come back together, the group will be stronger. Maybe I'm just being hopeful, but it's good to be hopeful."
Though daily life seems to exist entirelyon a computer screen, not everything is remote and virtual. The Oxy Arts facility on York Boulevard is closed due to the pandemic but the spacious, street-side display windows offer plenty to see. 
"Over the summer, we launched a program called the Street View Video series where we projected video work every evening that was visible through our front windows," says Meldia Yesayan, director of Oxy Arts, the College's multidisciplinary arts initiative. "This was an attempt to consider how we could use our physical space in the way that people would normally experience it walking by. We considered this as a way to share the resources of our space with our community."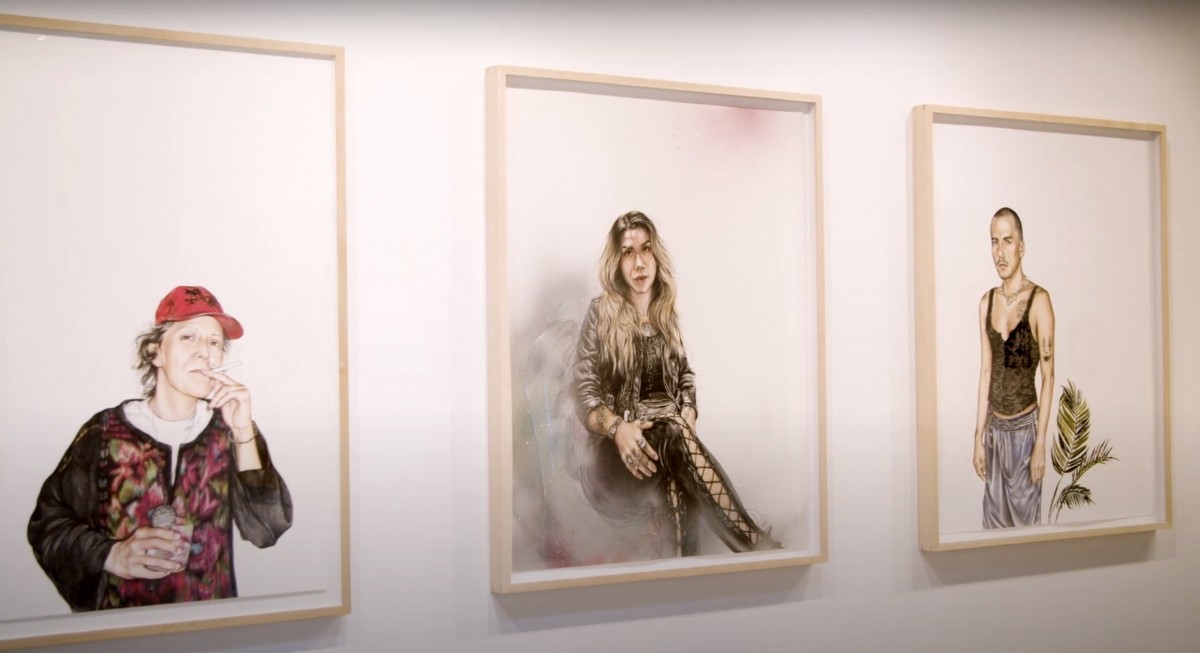 There's a lot more to experience from Oxy Arts, and it doesn't involve a mask and leaving the house. "We've moved most of our programming online and really expanded our community that way," says Yesayan, allowing work previously accessible to locals only to be seen around the planet. "When we closed in the spring, we created a video documentary walkthrough of the exhibition of Shizu Saldamando, our Wanlass Artist in Residence from last year."
Los Angeles-based multimedia artist Carolina Caycedo is the 2020-21 Wanlass Artist in Residence. The semester-long residency program allows an artist to investigate and share aspects of their practice with Oxy students."Carolina taught a course in the fall," says Yesayan, "and this spring she'll be mounting her a solo show in the gallery. It's designed to be a viewable from our street-facing windows."
Oxy Arts has a full slate of programming ahead online via Zoom webinars. For a talk by artist Dread Scott in October, more than 460 people logged on. "There's no way we would ever be able to fit 460 people inside the Oxy Arts space, nor would we be able to fly out an artist from New York City to just come and give a talk," Yesayan says. "It really amplified the unexpected benefits of being online."
Amy Lyford, professor of art and art history and department chair, explains her department's measures to keep things moving along. "Each faculty member has revised their pedagogy in order to take into account distance learning and doing synchronous classes, and developed a specific kit tied to the goals of the course. That might include, say, in a printmaking class, mini-print equipment so that they can make very small prints or do linoleum cuts. We've been trying to create a studio experience, even though they're not in the studio."
Lyford has discovered that the Zoom experience carries unexpected benefits. "Oddly enough, being in Zoom synchronous classes I'm having a more open relationship with my students than I typically would," she says. "I've always thought of myself as being accessible and friendly, but not having so much of a permeable boundary between my own personal experience and the students' personal experience. I think it really shifted the class experience and made it much more intimate, even though we're not seeing each other in person."  
While much of the arts world at Oxy is persisting in spite of the pandemic, Art and Art History Professor Mary Beth Heffernan's work delves into the eye of the COVID-19 storm. In 2015, Heffernan took her knowledge about photography and portraiture and put it into play to address Ebola care in Africa. In response to the reports about the fear that was caused by the "frightening" PPE—the personal protective equipment worn by medical workers—Heffernan proposed putting portraits of the healthcare workers on the outside of their suits so that patients could see who was caring for them. At the invitation of the Liberian Ministry of Health and Social Welfare, she brought her project to the Ebola treatment units in February 2015.
Fast-forward to 2020: At the outset of the COVID-19 pandemic, people who knew about Heffernan's PPE Portrait Project reached out to her to help them jumpstart similar projects at their institutions. "Right now, I'm supporting over 30 hospitals across the U.S. and across the world," says Heffernan, who utilized her expertise with portraits to design a special course of study for incoming first-years last fall.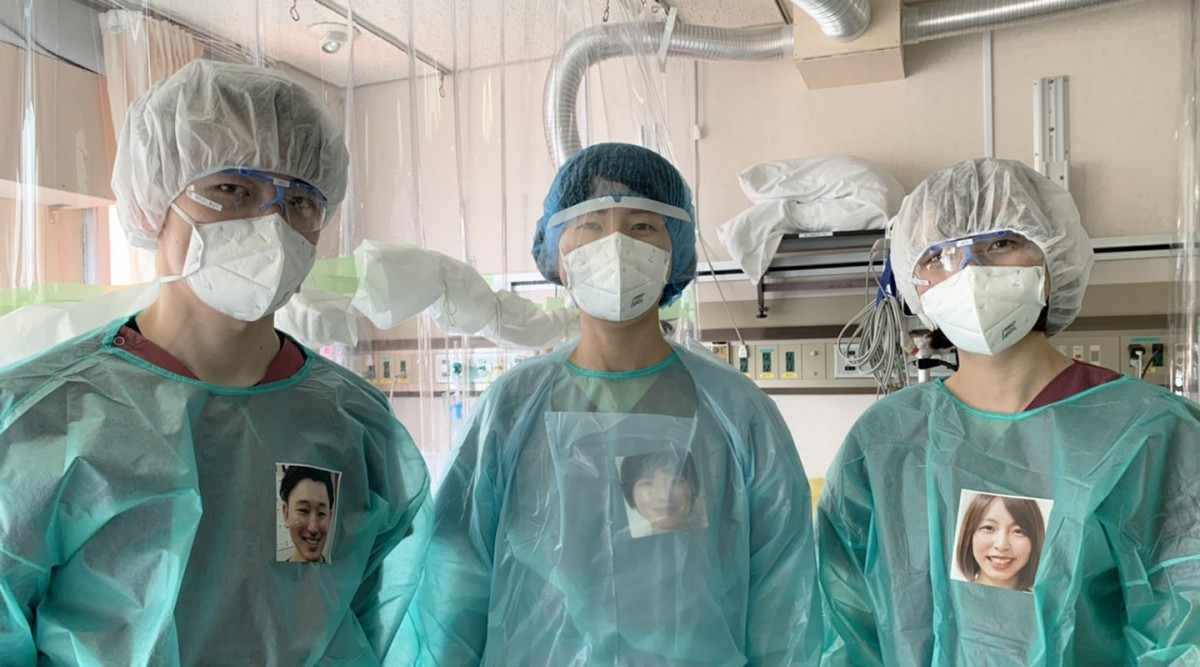 "The idea was, how could we entice students not to take a leave of absence, but to enroll and engage in special curriculum that also had a community-based learning component?" Thus was born the PPE Portrait Project Semester, in which 16 students studied the meaning of the face and the meaning of emotional expression or the lack of it.
"Wherever they were across the country—and one student was in Tokyo—they each rolled out a PPE Portrait Project site in their hometowns," Heffernan says. Her students successfully established these projects at a host of institutions, ranging from a COVID ward outside of Tokyo involving eight doctors and 50 nurses to a pain clinic in central Florida.
In addition to the ongoing work in the arts at Occidental, Heffernan shares the root sentiment that bonds faculty and students alike. "I would say with all our hearts that we wish we could be together in person," she says. She's teaching four sculpture classes this spring, and when her students shared their sculptures in progress, holding them up to their laptop cameras.
"As I could see their sculptures taking shape, my heart almost burst open," she says. "Through our sheer will and desire, somehow we're able to come together as a community and use art as a way to express ourselves in this really challenging time."
Gilstrap wrote "Everything's Clicking" in the Summer/Fall 2020 issue. Illustration by Traci Daberko.