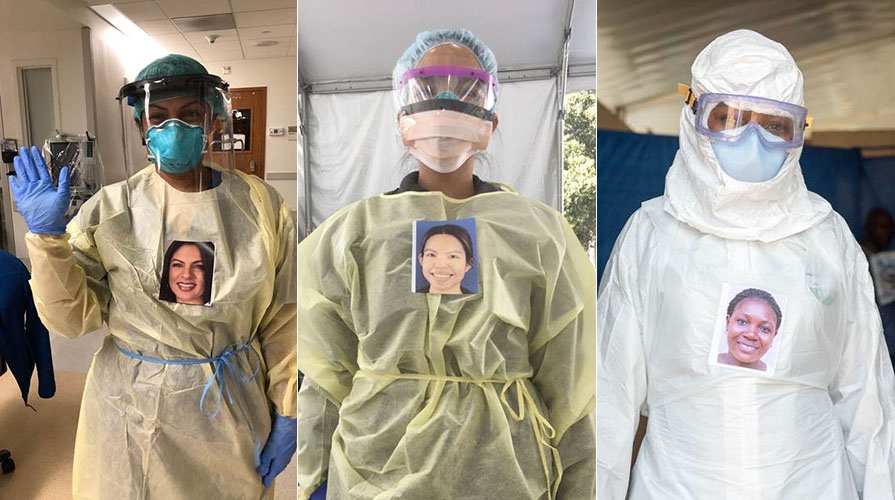 The PPE Portrait Project is an interdisciplinary social practice art project in the process of changing best medical practice.
The project humanizes anonymous masked healthcare workers with wearable portraits affixed to the outside of their hazmat suits. Created in 2014 by Occidental College Professor Mary Beth Heffernan in response to the Ebola epidemic, the PPE Portrait Project is now supporting COVID care at LAC+USC, and USC-Keck Hospital in Los Angeles, Stanford Medical School, UMASS, Mass General and advising nearly a dozen other hospitals across the US and beyond. At the heart of the PPE Portrait Project is the centrality of the portrait image, and the role of the face in generating empathy, compassion and ethical behavior. PPE Portraits are designed to generate warmth, activating a patient's own healing mechanisms.
With widespread facemask use on our horizon for the foreseeable future, the need to address the isolation and alienation caused by faceless person-to-person exchange is expanding beyond the urgent need of hospitals. Precipitated by social media, and now exacerbated by the coronavirus, we are experiencing an "epidemic of facelessness." This Oxy Immersive program will provide Oxy students with a vital opportunity to learn, reflect, research, and ethically act on one of the defining issues of our lifetime. By envisioning and implementing their own local PPE Portrait project sites, students will become actively involved in the research and development of this dynamic interdisciplinary project that exemplifies the vitality and promise of liberal arts approaches to communities' pressing needs.
Fall 2020 Program Description
The PPE Portrait Project semester includes two courses and a community-based project. All together, this 12-credit cluster will fulfill three core requirements: the Fall CSP, Fine Arts, and US Diversity.  All components of the program will be fully remote so that any Oxy student may participate regardless of where they reside.  Please note the class times in the descriptions below--required synchronous meetings will be held during these times.