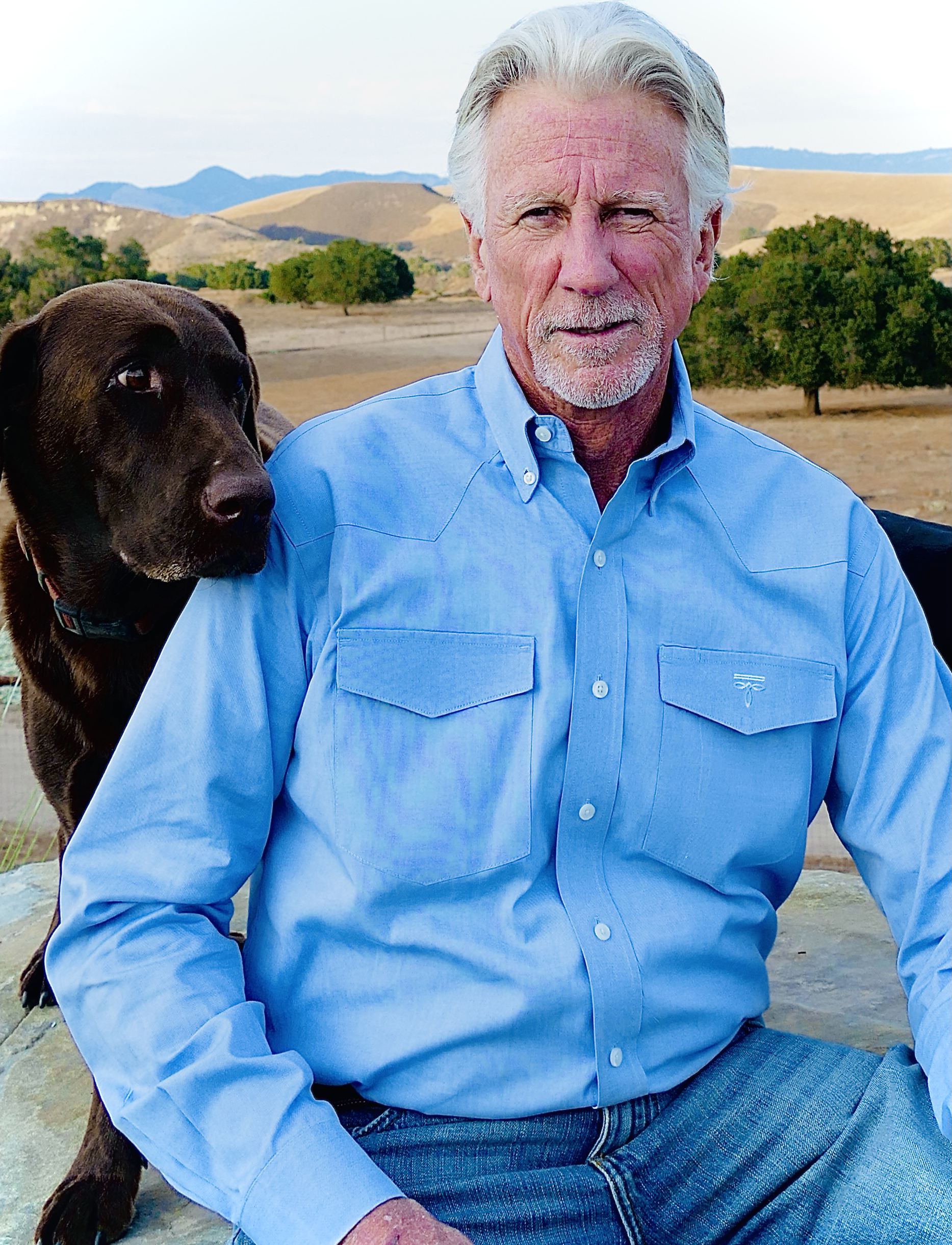 Dennis Patrick '73 returns to the family cattle ranch in Santa Ynez with his first novel—one of six new additions to the Occidental bookshelf
by Dennis Patrick '73  Santa Ynez: A Novel, (Doeg Hill Publishing). When a drunken tourist asks local rancher Cole Clay a simple question—Are you a real cowboy?—her existential inquiry launches a journey of self-discovery and intrigue. Born and raised on a ranch along California's idyllic Central Coast, Cole has cowboyed all his life, but he also earned a doctorate in intellectual history and has resolved to leave ranching to teach at a prestigious university. When the untimely death of a young cowboy implicates the Clays, Cole is dragged back into the family's business and forced to confront hidden secrets. As the mystery unfolds, dark forces surface to compel Cole to confront who he really is. Santa Ynez opens a window to another world, the world of modern ranchers and farmers, struggling to preserve a way of life and its values against the forces of modernity. A political science major at Oxy, Patrick served on the White House staff of President Ronald Reagan and later as chairman of the Federal Communications Commission in Washington, D.C. After government service, he served as a senior executive with Time Warner, AOL, and National Geographic. He now lives on the family's cattle ranch in Santa Ynez with his wife, Hayley Firestone.
The Cancer Channel, by Sarah McDonald '89 (Sarah McDonald Press). At 44, McDonald was newly married, newly promoted, and planning a pregnancy. It felt like a time of new beginnings in her life when suddenly she was diagnosed with a rare, incurable cancer. Two months later she was diagnosed with another, unrelated cancer. During this struggle, her father's cancer—10 years in remission—returned and added new challenges but also a cancer buddy to her world. Told in an honest and oftentimes vulnerable voice, McDonald recounts a year of difficult stories in lighthearted and humorous ways. An English literature major at Oxy, McDonald has worked in financial services, consulting, and technology, spending the majority of her 30-year career at eBay. She lives in Mill Valley with her husband and daughter.
, written and illustrated by Susan Stockdale '76  Line Up! Animals in Remarkable Rows(Peachtree Publishing Company). Did you know that arctic wolves follow the prints in the snow left by their pack leader to conserve energy? Or that flamingos form a line to reduce wind resistance and fly more efficiently? In a fun and fascinating exploration of animal behavior, Line Up! Animals in Remarkable Rows (aimed at readers ages 2 to 6) reminds us of our similarities to the animal kingdom while illuminating some specific, distinctive behaviors—all rendered in Stockdale's colorful and engaging style. Line Up! is the 10th picture book by Stockdale, who majored in art at Oxy. She lives in Chevy Chase, Md.
The Kinship of Guardian Angels and Other Spirits, by Darren Angelo (available on Amazon). A renowned archeologist shows up pregnant at an isolated convent in a barren desert landscape near her current excavation. After giving birth, she returns to her dig, entrusting her son to the care of the nuns, who name the boy Bumperkibble Nibble. "Bump" is nurtured there almost like a living saint to be, and when he is about 11, he is transferred to a monastery some days away by wagon. Four years later, he is adopted by an elderly couple and taken back to a small Midwestern town. He later decides to be a mailman—and on his route, he meets the love of his life who works at a cereal factory. Their adventures seem to follow a course determined by his upbringing, and over time Bump becomes a hero to his adopted hometown, where a citywide festival is held annually in his honor. The Kinship of Guardian Angels and Other Spirits is the sixth novel by Angelo, aka Anthony Iacoboni '73, who lives with his wife in Spain and works as a psychologist and English teacher.
associate professor of history, is a contributor to Jane Hong, People Get Ready: Twelve Jesus-Haunted Misfits, Malcontents, and Dreamers in Pursuit of Justice, edited by Peter Slade, Shea Tuttle, and Jacqueline A. Bussie (Eerdmans). In a political climate where Christianity is increasingly seen as reactionary, People Get Ready offers a revolutionary alternative. Narrated by some of the most galvanizing voices of the current moment, this collection of succinct and evocative biographies tells the stories of 12 modern apostles who lived the gospel mission and unsettles what we think we know about Christianity's role in American politics. Hong writes on Korean American writer Mary Paik Lee (1900-1995), who is best known for her 1990 memoir Quiet Odyssey: A Pioneer Korean Woman in America.
, by Erik Patterson '00 Pop Prompts: 200 Writing Prompts Inspired by Popular Music (Camden High Street Books). A book of writing prompts unlike any other, Pop Prompts uses popular music to awaken your creative spirit. Each writing prompt poses a question that will get you thinking more deeply about yourself and the world around you. Read the prompt, listen to the song, then let go … and let your subconscious take over. These writing prompts will help you explore who you are. They will also spark new creative projects. Answer the questions in this book honestly—allow yourself to be vulnerable—and pop! The ideas will begin to flow. Patterson is an award-winning screenwriter, playwright, and writing teacher. His 2016 play, One of the Nice Ones, earned the Los Angeles Drama Critics Circle Award. His film and TV credits include R.L. Stine's The Haunting Hour, Another Cinderella Story, and Deep Blue Sea 2. He lives in Studio City.