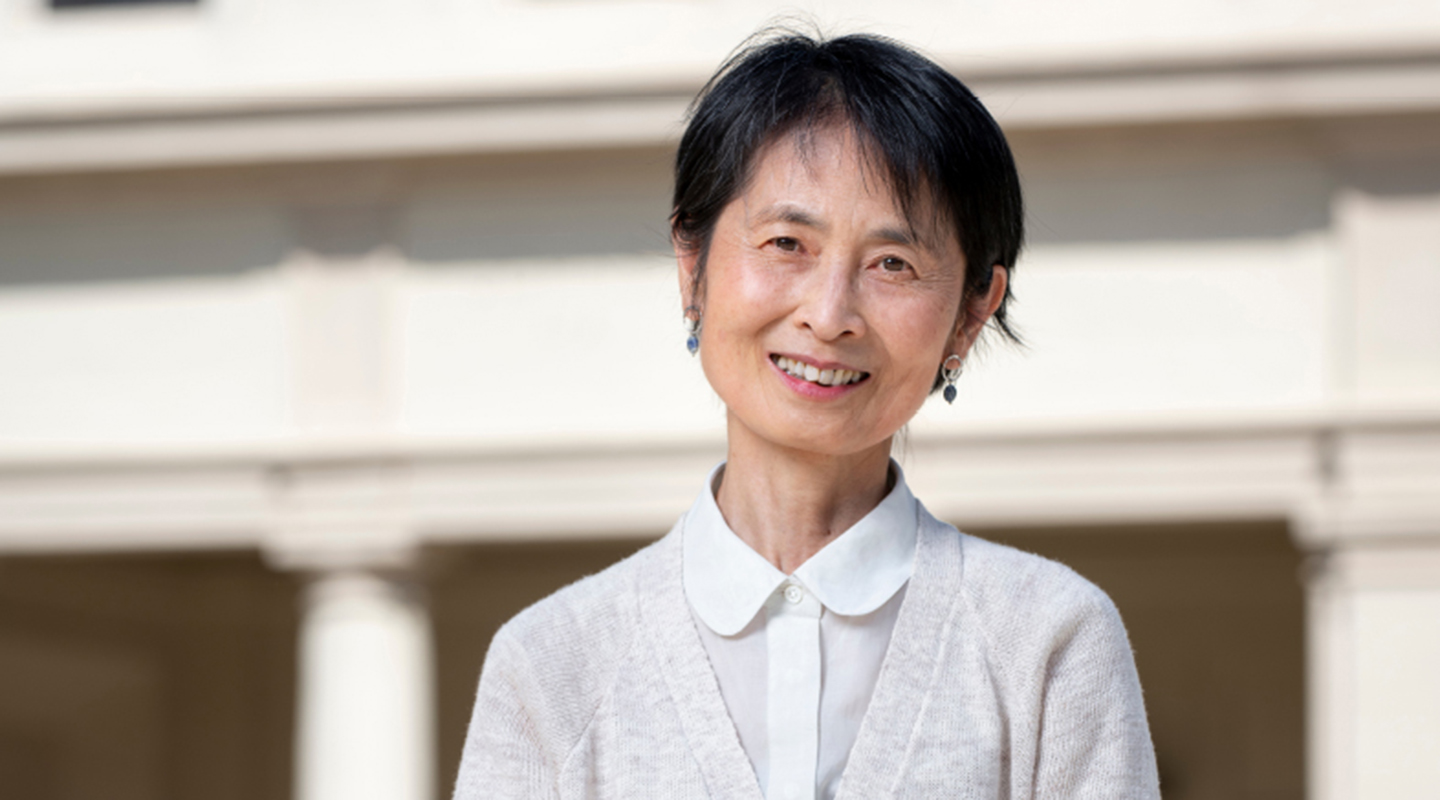 NTT Professor of Comparative Studies in Literature and Culture Motoko Ezaki is retiring after 32 years at Oxy. This tribute to her career is part of the Spring 2021 magazine.
My Oxy experience: "I began teaching at Oxy in the year I moved to the United States, and would go home to Japan during most summer and winter vacations. A large part of my American experience has been defined through my Oxy experience: intellectual stimulation, great camaraderie with students and colleagues, and the beautiful campus. I feel fortunate."
Favorite class at Oxy: "It's hard to choose one favorite. I liked all of them in different ways. Language classes, whether beginning or advanced level, gave me the joy of feeling students' progress in a tangible way. Literature/culture courses, which I taught in English, would give me the opportunity to get to know the students' opinions more in depth irrespective of their Japanese proficiency levels."
Plans for retirement: "I want to resume drawing and painting, which I used to do in my youth. I'd also like to learn something new; such as creating works of conceptual art, if possible." 
On retiring during the pandemic: "I wish there was a chance to talk in person with my students whom I knew only through Zoom during this past year. While I felt consumed, as probably is the case with most faculty, staff and students, by the effort to adapt to remote instruction, I was also impressed with the students' resilience to endure various challenges in this difficult time." 
Final thoughts: "I began teaching at Oxy in the year I moved to the States, and would go home to Japan during most summer and winter vacations. So, a large part of my American experience has been defined through my Oxy experience: intellectual stimulation, great camaraderie with students and colleagues, and the beautiful campus. I feel fortunate."
Alumni Tributes
Kevin Furlanetto '13: I set foot on the Oxy campus for the first time on a sunny April day in 2009 as part of the Multicultural Visit Program. The warmth and excitement that Motoko Ezaki exuded as she dissected the Japanese literary classic The Tale of Genji was as impressive to me as the response from her students—every one of whom seemed entranced by the depth of her knowledge and the clarity of her explanations. I was sold on Oxy for one reason only: I wanted to feel what they felt.
Professor Ezaki had a gift for making even the most convoluted subject matter palatable to students—whether it was the deep inner conflict of a tortured character or the idiosyncratic use of a Japanese grammatical form. She was a linguist, through and through, but with the analytical acumen of a scientist and, at times, the timing and delivery of a favorite comedian. She united classes of students with wholly disparate backgrounds, experiences, and ability levels. She stood tall as an accomplished academic, but as a mentor she stood beside you, ready to answer any call for "Ezaki-sensei" with her most honest advice.
I was part of the inaugural cohort of Japanese studies majors, three-quarters of whom started their careers off in Japan immediately after graduation. I fulfilled my dream of living, teaching, and translating in Japan knowing that the reason I could do so was because Professor Ezaki had enabled and empowered me. The providence in her teaching may not have been apparent to me during my junior year as I struggled reading and translating advertisements and news articles, but it came to a grand fruition years later when I found myself tasked with the same challenge as a professional translator.
Professor Ezaki's legacy will live on in all those who have learned from her. I am proud to call her my sensei and to count her as my mentor and friend. I know she will continue to leave a mark in the world, and I'm eager to catch up with her to hear how.
Furlanetto is a graduate student in speech-language pathology at Cal State LA.
Alicia McCarthy '02: As a liberal arts chemistry major, I was excited to enroll in a beginner's foreign-language class. I envisioned a brief introduction to Japanese, both beginning and ending in the classroom, and including obligatory lessons like counting to 10 and how to say, "Where is the bathroom?" I pictured a temporary change of pace from my science focus. Elementary Japanese 1 with Dr. Motoko Ezaki completely changed my vision and captured my imagination.
Lectures extended beyond the classroom setting, including real-time quizzes in Little Tokyo over crunchy tonkatsu and bowls of steaming ramen. And discussions extended beyond Japanese language itself to topics such as integrating language and cultural awareness into daily life, and how to harness a continual love for learning. Ezaki-sensei's method of gentle high expectations, combined with ebullient energy, inspired her students to fly. Ezaki-sensei became not only my professor but also my mentor. After my first semester of Japanese language, I knew I had to stay on this pathway of learning. With Ezaki-sensei's encouragement, I studied abroad in Tokyo during my junior year. I returned and dove into Ezaki-sensei's Japanese literature courses.
For me, Japanese study became a powerful addition to my chemistry focus. Having a deeper cultural understanding provided richer meaning in studying the physical world. Ezaki-sensei opened my eyes to this connection, and I have since carried this vision forward into my medical career. Thank you, Ezaki-sensei, for your unwavering support. Your teaching and mentorship have forever enriched my life.
McCarthy is a perinatologist with the Permanente Medical Group.
Preston Harry '17: Professor Ezaki's classroom was more than just another language textbook where students practice some basic greeting and pretend to buy a drink from a convenience store. Well—we did that too—but she built on that. Class extended past the convenience store to literature, to movies, to current events. We had the opportunity to see natural Japanese in so many contexts.  
I also spent a lot of time in her office hours just trying to have normal conversation in Japanese (with emphasis on "try"). Not every professor goes to such deliberate effort, but Professor Ezaki was kind enough to spend so much time helping me and many other students. She taught me that it was not only OK to make mistakes but necessary, a lesson that served me well in learning Japanese, when teaching my own students, and just within all walks of life.
After graduating, I lived in Japan teaching English. Professor Ezaki's teaching prepared me for not just getting by in Japan but actually going far beyond any of my expectations. I would not have been nearly as successful if it weren't for her guidance, care, and patience. When it came to traversing Japan and all the crazy unexpected situations it had to offer, they were just a bit less crazy and a bit less unexpected thanks to her creative lessons and the time we spent talking away.
Professor Ezaki genuinely cared about her students and their success. Japanese at the College will not be the same without her immeasurable support, and I feel fortunate that my path through Oxy had her in it.
Harry is a graduate student at New York University.