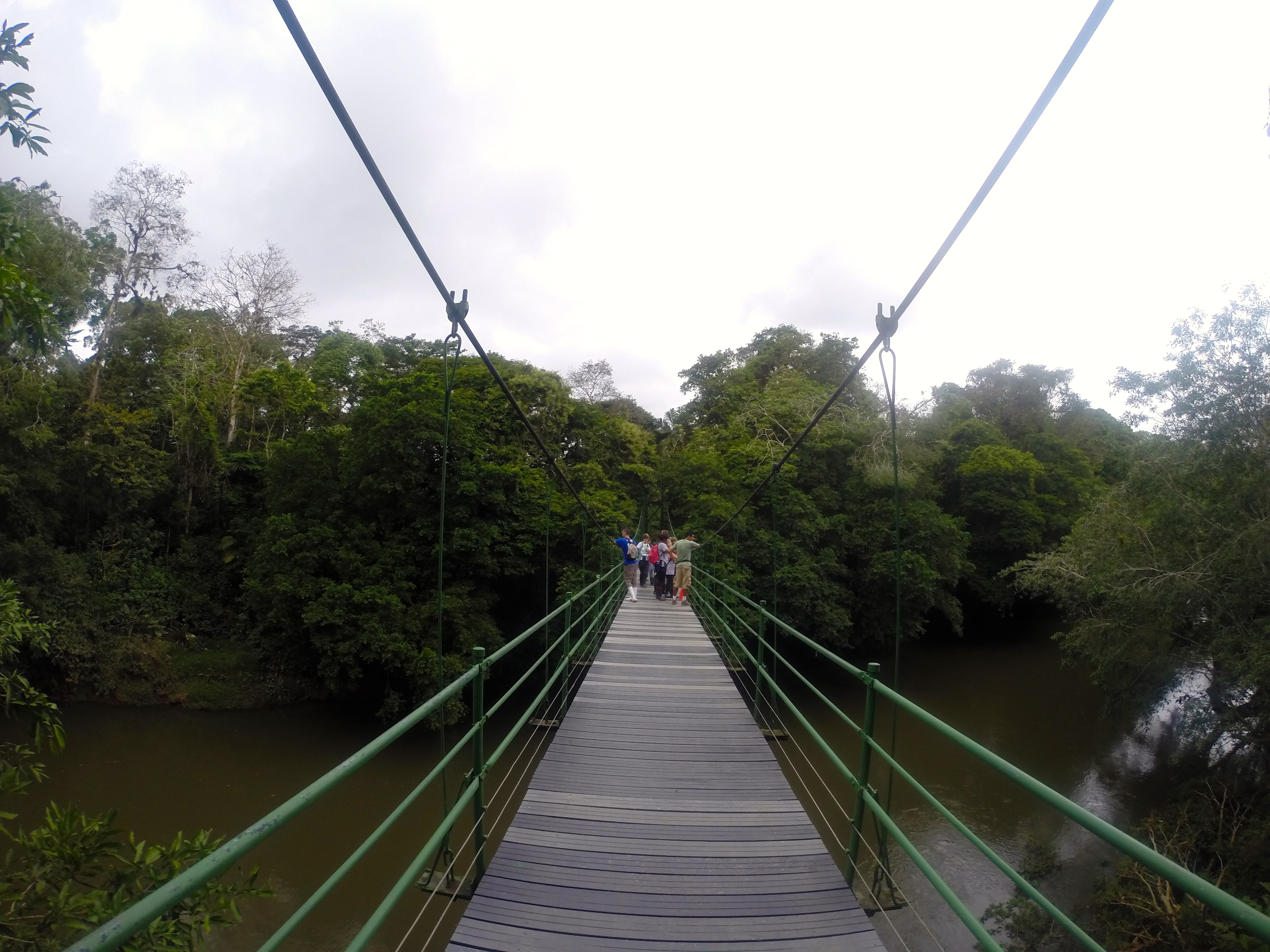 We awoke bright and early with the calls of blue-grey tanagers to have one last meal at Hotel Rincon before setting off on our three-hour bus journey north to La Selva Biological Station. After enjoying a traditional Costa Rican breakfast consisting of fresh fruit, eggs, rice and beans, we piled into the bus. With no traffic in sight, we sped out of San Jose and stopped to admire the clouds cascading over the volcanoes, which run through the center of the country like a backbone. We made our way through Parque Nacional Braulio Carrillo along steep winding roads lush with vegetation. Amidst the giant palms and ferns we glimpsed waterfalls and, when the mist cleared, sheer drop-offs. When we emerged from the park, cattle pastures and pineapple plantations appeared on either side. Native to Brazil, the pineapple has become an increasingly important agricultural product of Costa Rica, but poses significant threats from pesticide run-off into local watersheds (yet we continue to enjoy this fruit with almost every meal). Finally we arrived in Puerto Viejo, the small town outside of La Selva Biological Station, and found a hardware store where our Spanish was tested as we bought rubber boots, which would become our best friends are we journeyed into the forest. 
Boots in hand and heavy bags on backs, we arrived at La Selva and were greeted by a delicious lunch. We spent the rest of the afternoon moving into our rooms in the River Station and exploring. Before dinner we attended an orientation talk to the station given by Carlos de la Rosa, the director of La Selva. One of the highlights of his talk was learning about the discoveries occurring all the time at the station; quite recently, two new species of bromeliad-dwelling dragonflies were found just outside the dining hall! Previously, only one type of such species was known, and is found only in Cuba and Jamaica. After dinner, we were treated to another talk by researcher Ralph Saporito, who discussed his fascinating research on poison dart frogs (some of us had spotted the main star of his talk, the Strawberry Poison Dart Frog, earlier that afternoon down by the river)!
With our headlamps illuminating the darkness, we watched out for vipers and observed leaf-cutter ants carrying foliage and flowers back to their nest as we meandered back through the forest to River Station. The hum of cicadas and frogs will surely lull us to sleep tonight as we rest up for a full day of research 
tomorrow
.
- Morgan Winston and Jessie Salter
Left - The canopy towers overhead.
Middle - Our dinner guest, a praying mantis
Right -  Rio sucio, this river runs yellow from volcanic run-off.
Top Left - Collared peccaries are abundant at La Selva.
Top Right - One of the best places at the station, the dining hall.
Bottom Left - On the road from San Jose to La Selva.
Bottom Right - Storm troopers, clearly.