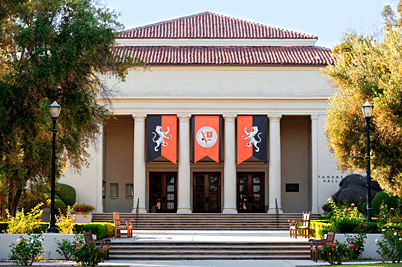 Six new professors with impressive backgrounds in teaching and research are joining the Occidental faculty this fall.
Sanjeev Khagram, who will assume the position of the John Parke Young Chair in Global Political Economy in the department of diplomacy and world affairs, is currently associate professor of international studies and public affairs at the University of Washington. He received his B.A. (developmental studies/engineering, 1999), M.A. (economics and policy, 1992) and Ph.D. (political science, 1990) at Stanford University, where he subsequently taught. From 2008-2010, he was the Wyss Visiting Professor at Harvard Business School. From 2004-2005, he served as acting dean of the Desmond Tutu Peace Center, Trust, and Foundation.
Hussein Banai, who is joining the department of diplomacy and world affairs as an assistant professor, received his Ph.D. from Brown University, where he teaches. He received a master's of science from the London School of Economics and Political Science in 2005, and his B.A. in political science from York University in 2003. He was a research affiliate at the Center for International Studies at MIT from 2009 to 2011. He is the co-author of Becoming Enemies: U.S.-Iran Relations and the Iran-Iraq War. Fluent in Farsi and Arabic, his research interests include international political and legal theory; human rights; democratic theory; diplomacy; and Arab and Persian intellectual history.
James Edward Ford III, joining the department of English and comparative literary studies as an assistant professor, received his Ph.D. from the department of Africana studies at the University of Notre Dame in 2009, and his B.A. from Morehouse College in 2003. His research interests include late-19th-century, 20th-century, and 21st-century African-American literature; black radicalism; W.E.B. Du Bois; psychoanalysis; ethics; and Messianism. He has lectured widely at conferences and symposiums across the United States, including at Rutgers, Wesleyan, and the University of Massachusetts at Amherst.
Cheryl Y.M. Okumura, who will be joining the biology department as an assistant professor, is currently a postdoctoral fellow at UC San Diego and a lecturer at San Diego State University. She received her Ph.D. from UCLA in microbiology, immunology and molecular genetics in 2007. She received her B.A. from Pomona College in molecular biology in 2000. She has also worked as a teaching assistant at the Marine Biological Laboratory in Woods Hole, Mass., as well as at UCLA and Pomona.
Andrew Jalil will be joining the economics department as an assistant professor from Reed College. Jalil, who received his Ph.D. in economics from UC Berkeley, will be teaching intermediate macroecononics and an advanced macroeconomics course on policy since the Great Depression this year. He received his undergraduate degrees in economics and applied mathematics at Brown. In 2004,  he received the Wall Street Journal Prize for Top Brown University Graduate in Economics.
Casey Nelson Blake has been named the Billington Professor of History, a one-year appointment made jointly with the Huntington Library. A history and American studies professor at Columbia University since 1999, he received his Ph.D. (history) from the University of Rochester in 1987 and his B.A. (history) from Wesleyan University in 1978. He has also taught at Reed College, Indiana University, and Washington University, and was the founding director of the American studies program at Columbia College. He is the editor of the book series The Arts and Intellectual Life in the United States. He is currently writing Public Art and the Civic Imagination in Modernist America for the University of Chicago Press. He is the recipient of a Fulbright Senior Lectureship (2006), a National Endowment for the Humanities Fellowship (2001-02), a Woodrow Wilson International Center for Scholars Fellowship (1994-95), and a Thomas J. Watson Fellowship (1978-79), among other honors and awards.