Occidental College and the Huntington Library co-founded the Ray Allen Billington Visiting Professorship in United States History. The Billington Visiting Professorship has brought some of the country's leading historians to Oxy.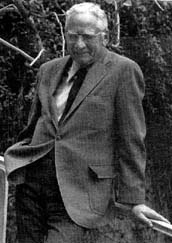 With funding made possible by the estate of historian Ray Allen Billington and supplemented by a grant from the Times Mirror Foundation, the professorship honors the tradition of fine teacher/scholars at American liberal arts colleges.
This innovative professorship is a fitting legacy for Billington. A leader in the scholarly community, he served as president of the American Studies Association, the Western History Association, and the Organization of American Historians.
He was a superb historian whose scholarly books covered such varied fields as racism, ethnocentrism, biography, and western history. At the Huntington, where he was a senior research associate from 1963 until his death in 1981, he made highly effective use of the Frederick Jackson Turner papers to produce Frederick Jackson Turner: Historian, Scholar, Teacher, which won the coveted Bancroft Prize.
Billington also had strong ties to liberal arts colleges. He taught at Smith College from 1937-1944, and in the 1970s served as trustee at Occidental, which he described as "my favorite college of all the West, one that I have more or less adopted in my own mind as the institution here with which I would most like to be associated."
---
2018-2019 Billington Visiting Professor: Professor Michael Vorenberg, Brown University
Michael Vorenberg has taught in the History Department at Brown University since 1999.  His work focuses on the American Civil War, Abraham Lincoln, and the U.S. Constitution.  He received his AB, AM, and PhD from Harvard University.  The author of Final Freedom: The Civil War, the Abolition of Slavery, and the Thirteenth Amendment (Cambridge University Press, 2001), which was a finalist for the Lincoln Prize, he is also the editor of The Emancipation Proclamation: A Brief History with Documents (Bedford/St. Martin's, 2010).  Currently he is completing a book to be published by Alfred A. Knopf titled Lincoln's Peace, about the struggle—in many ways still ongoing—to end the American Civil War.  He is the recipient of fellowships from the American Council of Learned Societies and the National Endowment for the Humanities.  At Brown, he has received the McLoughlin Prize for teaching and the Romer Prize for advising.  From 2004 to 2007, he was a member of Brown's steering committee on slavery and justice.  His first book, about the Thirteenth Amendment, received renewed attention in 2012 when it was used as one of the major sources for Stephen Spielberg's film, Lincoln.
---
Past Billington Awardees
2016-2017 | Bethel Saler, Haverford College
2014-2015 | Frank Guridy, The University of Texas at Austin
2012-2013 | Casey Blake, Columbia University
2010-2011 | Daniel Horowitz, Smith College
2008-2009 | Jared Orsi, Colorado State University
2006-2007 | Jonathan Earle, University of Kansas
2004-2005 | Douglas Monroy, Colorado College
2002-2003 | Matt Gallman, University of Florida
2001-2002 | Sharon Ullman, Bryn Mawr College
2000-2001 | Victoria Bissell Brown, Grinnell College
1999-2000 | Richard Buel, Wesleyan University
For more information call (323) 259-2751