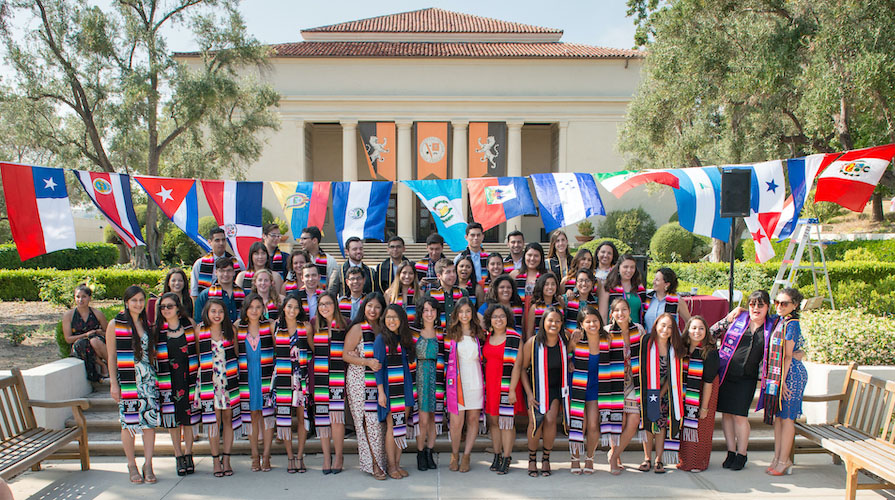 For this year's Latinx Heritage Month, taking place September 15 through October 15, virtual events and exhibits will celebrate Latinx heritage at Occidental and in the creative world.
In partnership with the Academic Commons and Special Collections & Archives, the Intercultural Community Center (ICC) presents a new series of events for "Belonging in the Academic Commons," a collaborative program designed to celebrate historically underrepresented national holidays in an informative and interactive way.
The program's celebration of Latinx Heritage will include:
Throughout Latinx Heritage Month, Occidental has been highlighting notable Latino/a alumni on various social media channels. Take a moment to learn more about these Oxy alumni.
Activist, scholar and organizer
Ernesto Galarza '27
, was born in Jalcocotán, Nayarit, Mexico in 1905 and immigrated to California with his family after the Mexican Revolution began. Galarza received a scholarship to attend Oxy, where he studied political science and worked summers as a farm laborer. After continuing on to graduate studies at Stanford and Columbia (where he was the first Chicano grad student at both), Galarza became a union organizer and leader, helping to direct numerous strikes, exposing abuse of Mexican-American farmworkers and setting the stage for Cesar Chavez and the United Farm Workers. Today he is regarded as one of the founders of the field of Chicano studies. His acclaimed memoir, Barrio Boy, was reissued by the University of Notre Dame Press in 2012.
Velma Montoya '59 was the first Oxy student, and Latina, to earn a diplomacy and world affairs degree. The noteworthy Mexican-American economist was born in Los Angeles and was one of the first members of Crossroads Africa, a privately financed precursor of the Peace Corps that sent students to underdeveloped African nations to help develop needed infrastructure. After receiving her Ph.D. in economics from UCLA, Montoya served in the Reagan and Bush administrations as a member of the White House Coordinating Council on Women and the Occupational Safety and Health Review Commission before returning to California to teach at various colleges and universities.
Angel Cervantes '94
quickly discovered his natural ability to lead and inspire others. After creating a multicultural coalition on campus, he became the first Latino to win the seat of ASOC president, facing obstacles during his presidency while creating unity among the campus community. He displayed his leadership skills again when he became one of the national student leaders of the massive Prop. 187 walkouts in 1994. Angel went on to establish Occidental's Latino Scholarship Fund and continues to be connected to campus as a board member of OCLAA, all while teaching for LAUSD for 24 years and at Glendale Community College for 20 years and counting.
Magdalena Arenas '92 arrived for her first year at college with nothing but a desk lamp. One of 11 children of Mexican immigrant parents, she worked her way through Oxy by tutoring and cleaning houses as well as working in the Dean of Student's Office all four years through the work-study program. After receiving the distinguished Thomas J. Watson Fellowship, the biology major traveled to Mexico, Puerto Rico, England, Spain, France and Canada to learn of midwifery as a pillar of healthcare in migrant populations through the World Health Organization. She returned to L.A. and attended USC Medical School. She now works as a pulmonologist at Huntington Hospital and serves on Oxy's Board of Trustees.